A Planners' Call to Action: The 2020 Census
Planners must embrace their role as facilitators of effective outreach to ensure that an undercount of the nation's younger, lower income, and black and Hispanic residents is avoided in the 2020 Census. In this guest post, U.S. Census Bureau Associate Director for Field Operations Timothy Olson offers ways in which planners can support a complete and accurate 2020 Census.
---
Our nation's next census will take place during the spring of 2020. In addition to the paper questionnaire, people will be able to respond — for the first time — to the Census online and over the phone in 12 non-English languages. Census responses are confidential and cannot be shared with any other entity, including immigration authorities or law enforcement agencies.
Responses to the census are critically important to our nation's future. For the next 10 years, responses will determine how we are represented in Congress and will guide the allocation of billions of federal dollars to states and local and tribal governments each year for infrastructure and services such as schools, transportation projects, public safety, and health care.
Yet getting an accurate count of all persons living in the United States is difficult.
The 2020 Census will be conducted during a presidential primary that could potentially obscure the census campaign's message that participating in the census is important, easy, and safe. Societal polarization and distrust of government are on the rise. Some people fear that the 2020 Census will be used against them, leading to deportation or loss of benefits. Overcoming these challenges with accurate information at the neighborhood level is vital to ensure an accurate count in 2020.
Planners' Role
Planners play a very important role in helping the Census Bureau achieve an accurate and complete count:
You provide technical assistance to one of the more than 2,500 Complete Count Committees formed throughout the nation, serving as a valuable resource that helps your community's volunteers understand how to communicate with and motivate hard-to-count populations living in their community. A national listing of Complete Count Committees can be found online, including each committee's point of contact.
You serve as the liaison between elected officials and census officials.
You assist the public if contacted with questions about the census.
You participate in mapping and address list development programs for your community, including the Boundary and Annexation Survey, the New Construction Program, and the Participant Statistical Areas Program.
You help monitor neighborhood-level census self-response rates during the spring of 2020 and help your community's Complete Count Committee understand the data so they can respond with outreach tailored to low responding neighborhoods.
You are the local expert on all things related to census. Residents rely on you to provide information on how to be counted or how they can become one of the more than 500,000 temporary census workers hired in 2020.
Census Bureau Resources
The Census Bureau offers many resources designed to assist planners in their role of helping to ensure everyone living in your community is represented in the decennial count.
The best source for authoritative information is the official Census Bureau website, which includes technical documentation, data sets, geographic and address program resources, and information designed for the public regarding the 2020 Census and our hundreds of ongoing surveys.
Materials specific to the 2020 Census include promotional content with messaging about this year's campaign theme "Shape your future. Start here," schedules, and information on how people can respond to the census starting in mid-March 2020.
The Response Outreach Area Mapper (ROAM) is an online mapping tool that provides demographic and socioeconomic characteristics of all populations at the census tract level, including projected response rates for the 2020 Census. Local committees can use the ROAM to plan outreach efforts for those populations least likely to respond to the census.
As the Census Bureau joins with states and local communities to finalize preparations for the nation's 24th decennial census, planners are well positioned to shape our nation's future by getting involved locally, helping to ensure that every person living in this nation is counted once, only once, and in the right place.
Top image: 2020 Census form with U.S. flag. Getty Images photo.
---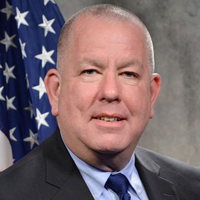 About the Author
Timothy P. Olson
Tim Olson serves as the associate director for field operations with executive responsibility for data collection conducted by the U.S. Census Bureau for all surveys and censuses.
---
June 28, 2019
By Timothy Olson
---
---