I'm No Regulator — I'm Creative!
My students view themselves as creative, innovative changemakers.
I see some unease among them as they learn about the regulatory world of conditional use permits, sign ordinances, and parking requirements. They are concerned about the role that creativity will play in their careers. Once in practice, junior planners may feel that the more mundane tasks assigned to them don't tap their creativity.
So what can a creative planner do? I have two perspectives that support my view that creativity abounds in planning.
The first point is to recognize that there are more opportunities to be creative in contemporary planning practice. The range of planning work has expanded to include implementation-oriented activities. Rather than wait for proposals to come to the zoning counter, planners make things happen through new forms of action. Instead of being limited to administering zoning and subdivision regulations in the office, planners bring about improvements in the field. Books like Gabe Klein's Start-Up City show how the quick world of start-ups can be introduced to urban planning by emphasizing public entrepreneurship.
In my hometown of Los Angeles, young planners work inside and outside government on active transportation, the Los Angeles River greening effort, and local placemaking projects. Sometimes the initiative comes from community stakeholders, with the public sector getting out of the way; in other instances, creativity is happening within bureaucratic agencies.
Examples of this creativity include programs that incentivize and support communities in developing bike corrals, road diets, parklets, and other temporary public-space uses. Similarly, those working in the arts are embracing cultural programming as an alternative to the "plop-art" approach of placing sculptures in office building plazas.
In short, there is an enormous opportunity in creative, nonregulatory work for planners. But one needs to go get it. Even young entrepreneurs developing apps that direct parkers to available spaces are engaged in creative work. Our time can be a renaissance in the profession, pushing planners out of whatever stodginess we might have possessed.
My second point is about the many planners who work in a regulatory setting.
This work is essential to ensuring that development outcomes support the community vision. It fulfills the profession's aspirations of rationality, comprehensiveness, and fair process. Can implementing planning regulations be creative? I think so. We underestimate the kind of problem-solving creativity that is less visible compared to designs, projects, or apps.
For example, it requires enormous imagination and creativity to write zoning regulations that fulfill public goals while allowing for design innovation, changing conditions, and technological innovation. Right now, the City of Los Angeles and consultant Code Studio are remaking the city's zoning code to accomplish these things through transparency and ease of use.
There is creativity in implementing codes as well. Finding a resolution between competing interests in development regulation requires creativity. Planners working the counter imagine and negotiate project modifications that create win-win situations. They invent new ways to mitigate impacts and craft new strategies that realize public benefits.
Creativity is also found in people work. A planner facilitating an internal design review team uses creativity in bringing different departmental perspectives into the discussion and finding resolutions that move projects forward.
Creativity is everywhere in planning. It may not look the same as it does in art, architecture, or app design, and young planners may need to work their way a bit up the career ladder to find it. But we are a profession of creative problem-solvers. Let's recognize that and embrace our own brand of planning creativity.
Top image: Attendees at APA's 2015 National Planning Conference were asked to complete the phrase "I advocate for ..." They covered this whiteboard with their responses. Photo by Joe Szurszewski.
---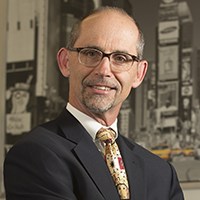 About the Author
Richard Willson, FAICP
Richard Willson, FAICP, is a professor in the Department of Urban and Regional Planning at Cal Poly Pomona. He has also served as department chair, interim dean, and independent planning consultant. Willson's research addresses planning practice and parking policy. His book, A Guide for the Idealist: How to Launch and Navigate Your Planning Career, amplifies the themes in this blog series. Willson is also the author of Parking Reform Made Easy (Island Press, 2013) and Parking Management for Smart Growth (2015). Willson holds a PhD in urban planning from the University of California, Los Angeles, a Master of Planning from the University of Southern California, and a Bachelor of Environmental Studies from the University of Waterloo.
---
January 17, 2017
By Richard Willson, FAICP
---
---