APA Ambassador Gives San Francisco Youth a Fresh Look at the City
There are 125,000 children growing up in San Francisco. For many, their swing set is provided by the Recreation & Parks Department, and their transportation is the buses and subway of the San Francisco Municipal Transportation Authority. Yet, many of them do not have the opportunity to learn about urban planning as a field of study and profession.
There are 53,00 students enrolled in the San Francisco Unified School District who are required to learn how to read and write before they graduate, but there isn't the same formal exposure to "Urban Planning 101" despite living out their daily lives in a city.
In Toward Cosmopolis, Leonie Sandercock calls into question what counts as knowledge in urban planning and the methods that we use as planners to understand cities. In her view, a rational planning model that stems from the scientific method is not enough to truly know the diversity of experiences and viewpoints of those who live in cities. She calls for elevating and recognizing other forms of "knowing," such as knowing through dialogue, experience, local knowledge, and symbolic and non-verbal evidence.
After reading Sandercock, I was deeply curious. Do the children of the city think of themselves as urban planners? What if they were given an opportunity to learn a bit more about their homes, parks, transportation systems, and neighborhoods, and how they came to exist?
If this process were demystified, would they feel empowered to act and advocate on behalf of their communities, or at the very least see themselves as possessing the knowledge of urban planners as Sandercock's framework suggests that they have?
These questions informed our thinking as we planned a workshop for San Francisco high school youth between the ages of 14–18 who are part of Campaign Academy, a program of the Chinatown Community Development Center.
Campaign Academy is a youth empowerment program that aims to involve youth as advocates for improving their community and neighborhood. Many of the youth stay involved throughout their high school and university career; a few of them have even come back to work as full-time staff for the organization or work professionally in related community development fields. Past youth advocates have successfully advocated for the Free Muni transportation program for youth and seniors, as well as pedestrian safety improvements in Chinatown.
The goal of the workshop was to provide them with tools to observe the city, make sense of what they were seeing, and synthesize their observations. As the youth will be traveling to New York City for a study trip to learn about the similarities and differences between the two cities' Vision Zero programs, this workshop was aimed to provide them with two skills: first, ways to collect data, and second, methods to analyze and synthesize their data.
Workshop Prompts
The workshop gave the students three prompts:
Pick one variable to measure for the next five minutes (e.g., number of young children crossing the street) and note the frequency of how many times that incident happened. || Knowing through symbolic and non-verbal evidence.
Interview someone at the nearby park and asked how they arrived at their destination. Create a visual journey map that shows their route and their experiences along the way. || Knowing through dialogue and local knowledge.
Walk along a city block as yourself and observe how the walk feels for you. Then walk the same city block walk while putting yourself in the shoes of someone else who experiences the city differently, such as someone who is visually impaired or uses a wheelchair. || Knowing through experience.
What Students Learned
After the youth completed the prompts, we came back together as a group to debrief and discuss what they learned.
For the first exercise, the youth chose to count the number who were visually impaired, which they deduced from observing the use of a long cane; the number of jaywalkers at an interaction; and finally the number of cars that crossed an intersection in both directions. We discussed what the data allowed them to know, but most importantly, what was not measured or missing from a holistic picture.
For example, one student mentioned that they counted only the number of cars, but not the number of people in the cars, so they were unable to truly understand how many people were moving through the intersection in cars during the observation period.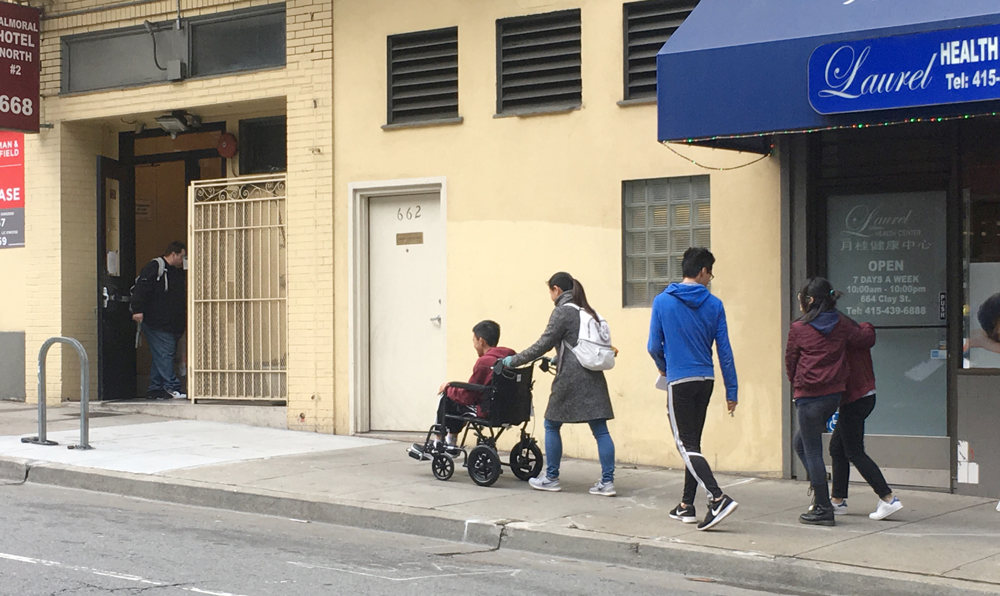 For the second exercise, students mentioned the difficulties of approaching random passersby at the local park to conduct intercept surveys. They said it felt difficult and awkward at times and empathized with planners and other professionals who collect data by conducting surveys. However, they also mentioned the importance of getting past discomfort of meeting with people face to face, as it was helpful to understand nuances and greater detail in these responses that would not have been possible in quantitative data alone.
Finally, students discussed the differences between conducting the city block walk first as themselves ("normal," "nothing special") and then as someone who used a wheelchair or was visually impaired. In a wheelchair, the youth suddenly noticed how they were taking up more space on the sidewalk, the uneven slope and pavement, and how they were moving at a much slower pace and had to maneuver around other pedestrians on the sidewalk.
The experience of students who used the blindfold was also memorable, as they described the sensation of "not knowing if something was going to hit them" and complete dependence on their team members to guide them and tell them where they should put their footing. However, they recognized that doing the first walk as themselves in which it felt "normal" was, in fact, a privilege, simply because they did not recognize the difficulties that the same walk could pose to other people.
In the end, the students concluded that planners have many different tools at their disposal to understand how people use and experience a city and that some were more difficult than others to carry out. They noted that it was important to empathize with people with different abilities by literally putting themselves in other people's shoes and that it yielded new learnings that would design the city to work better for everyone.
Tomorrow's Planners
The world's urban population is growing, and two-thirds of humanity will be living in cities by the next generation. Said another way: more and more young people will know nothing else but their experiences growing up and living in cities.
Children and youth constitute a growing majority of the urban population, but their perspectives are often not included in city designs. Asking critically about what we consider to be planning, and who we consider as planners is key to addressing this discrepancy.
To address this, we can think about engaging those living in cities who already have knowledge about how cities work from their lived experiences as young people. Rather than consulting and getting their feedback only when it's needed, we can engage them sooner by providing tools that they can use to gather and synthesize data about cities so that they can share this with a broader audience. Here is one example of what this might look like.
Maybe one day the children of the city will develop even better tools to generate knowledge and ways of understanding the city. This would help all of us planners do our jobs better.
Top image: Deland Chan, AICP, leads a youth workshop. Photo courtesy of Rosa Chen.
---
About the Author
Deland Chan, AICP, LEED AP ND
Deland Chan is an urban planner, researcher, and director of Community-Based Learning in the Program on Urban Studies at Stanford University. She is a co-founder of the Stanford Human Cities Initiative, which seeks to create a better shared and sustainable urban future through education and research.
---
March 22, 2018
By Deland Chan, AICP
---
---