APA Foundation: One Member's Adventures in Planning
The APA Foundation invests in future leaders through the Judith McManus Price and Charles Abrams Scholarships. Supporting students as they move through their planning education ensures that the best and brightest are able to contribute to the field of planning.
The Foundation and its initiatives have threaded their way through the career journey of John Reinhardt, AICP, one of the Abrams Scholarship recipients.
John Reinhardt and the Abrams Scholarship
In 2007, John Reinhardt received the Charles Abrams Scholarship while pursuing his planning degree at the University of Pennsylvania.
In Baltimore for in his first job out of college, Reinhardt saw the challenges and opportunities happening in the city around him and discovered that there was a profession focused on viewing these comprehensively.
"[Before starting graduate school] I was reflecting on what I was really drawn to," he said. "After discovering planning, I realized that was what I wanted to do. Planning connected the many topics I was interested in intersected, and I knew that it would give me a lot of opportunity to cut across disciplines, across areas of focus."
Moving from emergency management to international research to data visualization to transportation planning, Reinhardt's own career path reflects the advice he shares with New York Metro Chapter's emerging professionals:
"Planning offers the opportunity to build your own career, to choose your own adventure. You can focus on one area as a specialist or choose a more varied path as a generalist. It provides the opportunity to always learn new things and to gain new skills."
About the Abrams Scholarship
Charles Abrams was an internationally recognized authority on housing and urban affairs who died in 1970. In his honor, the American Planning Association administers a scholarship fund established by his widow and a number of his colleagues.
Graduate students who are enrolled or have been accepted for enrollment at one of the five schools at which Charles Abrams taught: Columbia University, Harvard University, MIT, New School University, or the University of Pennsylvania. Students must be citizens of the United States.
Participating in Dutch Dialogues
In 2008, Reinhardt quickly put the emergency management experience gained from his first job and his graduate planning education to the test in New Orleans. As part of the APA Foundation's investment in post-disaster communities, APA staff — including Reinhardt — and member experts launched the Dutch Dialogues with key local and international partners.
"The [Dutch Dialogues] were set up as learning exchanges and workshops in order to develop a new water management paradigm," Reinhardt explained. "After [Hurricane Katrina], there was a lot of pressure to rebuild, to get things back on track. But it was also an opportunity to learn from the past and explore new solutions."
APA members and leaders recognized that Dutch water management expertise is unparalleled — and not just management designed to keep water away from people and places. Instead of barriers, the Dutch philosophy reflects a different way of approaching water, respecting water.
According to Reinhardt: "The participating organizations all realized that there is a way not just to manage the water, but to live with the water. With our partners, we put together interdisciplinary teams and brought them to the same table: scientists, geologists, landscape architects, a historian, and others. Bringing all of these people together with urban planners to learn, work, get different perspectives — it was really powerful."
Check out the Navigating New Orleans and Celebrate the Water from the Planning magazine archive to learn more about the Dutch Dialogues and recovery after Hurricane Katrina — and read the Greater New Orleans Urban Water Plan.
APA Foundation Impact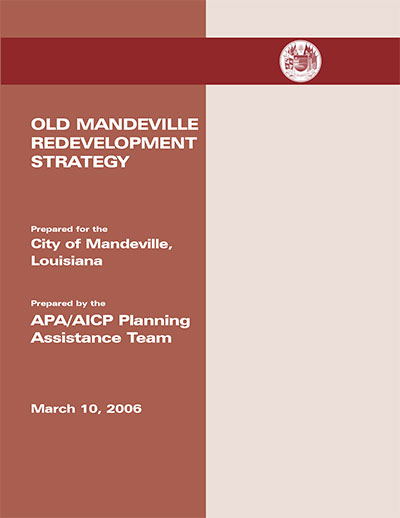 In addition to Dutch Dialogues, the APA Foundation supported a series of Community Planning Assistance Teams (CPATs) to assist communities after Hurricane Katrina. Each CPAT developed a report highlighting the team's process and final recommendations:
2005–2008
Slidell, Louisiana
Mandeville, Louisiana
Henderson Point, Mississippi
New Orleans, Louisiana
Career and Community Engagement
Reinhardt's foray into innovative programs with APA led to other leading-edge topics. The chance to work at IBM on a Smart Cities platform called City Forward reflected Reinhardt's commitment to making complex problems accessible — giving citizens and governments the chance to engage through an open data platform and making sure that people stayed at the center of decision making.
Moving next to manage MTA's outreach program for Phase 1 of the Second Avenue Subway in New York City, and now managing an interdisciplinary team working through the challenges of keeping traffic moving during the redevelopment of LaGuardia Airport, Reinhardt continues to cut across disciplines:
"[My experiences have made me] a translator between different professions, different constituent groups, between engineering and policy and outreach and design. If you don't want to be a technical expert in one area, you can sit at the center of those things, creating the connections needed to solve complex and challenging problems. I'm constantly learning, constantly growing."
Second Avenue Subway Art
Commissioned by MTA Arts & Design, the Second Avenue Subway's Phase 1 comprises the most expansive permanent public art installation in New York history. These art installations represent the vibrance and cultural diversity of New York — a city continually on the move.
Artists
Jean Shin – 63rd Street: Elevated, 2017, Laminated glass, glass mosaic, and ceramic tile
Vik Muniz – 72nd Street: Perfect Strangers, 2017, Glass mosaic and laminated glass
Chuck Close – 86th Street: Subway Portraits, 2017, Glass and ceramic mosaic, ceramic tile
Sarah Sze – 96th Street: Blueprint for a Landscape, 2017, Porcelain tile
For further information on MTA Arts & Design and its art, visit http://web.mta.info/mta/aft/.
Top image: Greater New Orleans Urban Water Plan: Joining the Orleans and London Avenue canals, the Lafitte Blueway is an essential part of an interconnected waterway network in New Orleans, providing drainage, circulating water, and bridging between disconnected communities. Photo courtesy Angela Lawson.
---
About the Author
Elizabeth Hartig is a consultant for the APA Foundation.
---
March 26, 2018
By Elizabeth Hartig
---
---