Picking the Path to Your Next Promotion
Junior planners want to be senior planners, senior planners want to be directors.
What are the best ways to make this progression happen?
This is a good time for promotions. The economy is strong and pressing issues such as housing affordability and climate change demand new planning initiatives. Director positions are opening up because of baby-boom generation retirements. As mid-level managers move up, junior planners should have many opportunities for advancement.
The first step is to calibrate your expectations. Pressing for a promotion by the sixth month in a job does not impress. Show value to the organization before expecting promotion by doing the work in front of you as well as you can. View these experiences, even in mundane tasks, in the frame of your intention for promotion.
Learn today what will help you in the future when you are managing other people doing those tasks. If tasks are boring and repetitive, for example, how do you keep your attention to detail and stay motivated? How will you motivate a team doing repetitive tasks when you are a supervisor?
Second, ask yourself why you want a promotion. Of course, more money, a better title, and more authority are great, but are they consistent with your personal goals? Are you ready for greater responsibility? Are you ready for a more "hands-off" relationship with planning tasks? Do you have the skills for the higher-level position? If not, you may want to pursue experiences, certifications, professional development, or an additional degree.
Promotion usually brings greater management responsibilities. Are you prepared to be a supervisor? In the meantime, seek management training on your own and volunteer to organize efforts appropriate to your current position.
Develop your reputation in the field. Cultivate mentors within and outside your organization, bring visibility to your work and your organization in professional conferences, take leadership roles in professional organizations, and develop a clear professional identity.
What are you known for?
Assuming that the timing is good and that you are ready, here are three approaches:
Seek an Internal Promotion
Seek internal promotions if you like the organization, it fits with your agenda as a planner, and it presents good promotion possibilities.
Are supervisors grooming you for advancement? Are there mentoring programs to support new managers? Does the organization promote from within? Are positions opening up or are new initiatives being started? If the answers to many of these questions are yes, make your interest known and take advantage of opportunities to shine. Make your supervisor look good, but make sure that they know you want to advance.
Leave and Come Back
If you like your current organization but find that most hires are from the outside, adopt a "leave and come back" strategy. Work somewhere else for a few years. You may be more appealing because of these experiences.
Hanging around too long waiting for promotions could make you appear stale — you are a known quantity while the outside applicant is flashy. Also, your supervisor may find you so valuable that they want to keep you in your current position as long as possible.
find a Strategic Pathway
Gaining experience in different types of planning organizations can make you effective in your ideal future position. For example, if your goal is to own your own consulting firm, some public sector agency experience may help you work more effectively with future public sector clients.
Also, positioning yourself in a growing subfield of planning, such as climate change mitigation and adaptation, may lead to quicker to promotion.
Summing up
Progressing through the normal range of promotions, within or through different organizations, offers experiences with all the dimensions of planning, from technical analysis, to managing a team, to supporting political deliberations.
Be assertive on this path, but don't appear impatient or obsess on promotion. Planning work is good work. Enjoy the ride.
Top image: Getty Images illustration.
---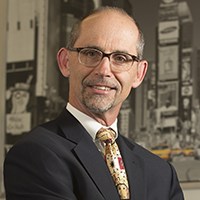 About the Author
Richard Willson, FAICP
Richard Willson, FAICP, is a professor in the Department of Urban and Regional Planning at Cal Poly Pomona. He has also served as department chair, interim dean, and independent planning consultant. Willson's research addresses planning practice and parking policy. His book, A Guide for the Idealist: How to Launch and Navigate Your Planning Career, amplifies the themes in this blog series. Willson is also the author of Parking Reform Made Easy (Island Press, 2013) and Parking Management for Smart Growth (2015). Willson holds a PhD in urban planning from the University of California, Los Angeles, a Master of Planning from the University of Southern California, and a Bachelor of Environmental Studies from the University of Waterloo.
---
November 20, 2018
By Richard Willson, FAICP
---
---