(Kind of) Speaking Clearly on the Job
Communication is a core planning skill. Planners are advised to speak plainly and avoid jargon. Most planners do.
This post is about an outbreak of equivocation in the broader culture, epitomized by people who say "kind of" once (or twice!) in a sentence. I hope we can keep this way of speaking out of the planning profession.
"Kind of" and its cousin "sort of" have no justification in professional discourse. A planner either recommends a variance or they don't. While there may be qualifications, planners don't "kind of" recommend a variance.
Habitual users of "kind of" may intend to avoid offense by indicating that their statement is not definitive but rather generally pointing in a direction. This tendency parallels a broader societal shift from professionals asserting claims to objectivity to an embrace of relativism. The idea of the planner as a "top-down expert" who knows all the answers has lost favor. Instead, planners are embracing roles as communicative experts who are respectful of different values and perspectives. This is a good thing but does not require equivocation.
It is essential to understand the variety of values and perspectives held by community members, but there are facts on the ground and better and worse solutions to problems. Climate change is real. Income inequality is large. Affordable housing is scarce. Economic development is uneven.
If a planner uses "kind of" and "sort of" they will not sound convinced of what they are saying.
A planner can speak clearly about their values and professional understanding, logic, and recommendation without being an arrogant, top-down professional. The key is to be comfortable in your views and genuinely interested in others' points of view.
Clear declarative statements can also set the stage for dialogue. For example: "I recommend acting on climate change because of risks to the environment, economy, and equity. What do you think, and why?"
Let's speak plainly so people can know what we mean. That's a prerequisite for productive dialogue.
Top image: Getty Images photo.
---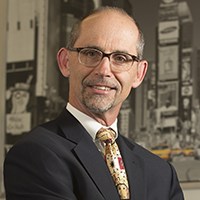 About the Author
Richard Willson, FAICP
Richard Willson, FAICP, is a professor in the Department of Urban and Regional Planning at Cal Poly Pomona. He has also served as department chair, interim dean, and independent planning consultant. Willson's research addresses planning practice and parking policy. His book, A Guide for the Idealist: How to Launch and Navigate Your Planning Career, amplifies the themes in this blog series. Willson is also the author of Parking Reform Made Easy (Island Press, 2013) and Parking Management for Smart Growth (2015). Willson holds a PhD in urban planning from the University of California, Los Angeles, a Master of Planning from the University of Southern California, and a Bachelor of Environmental Studies from the University of Waterloo.
---
March 18, 2019
By Richard Willson, FAICP
---
---