Resources for APA Chapters and Divisions
APA's Community Assistance Program includes the direct planning services of the CPAT program and the Community Planning Workshop. APA encourages Chapters and Divisions to create their own pro bono, direct service community assistance programs. Several Chapters have established programs and others have begun the process of starting their own. APA recommends Chapter and Division programs that resemble the one to two-day Community Planning Workshop model versus the three to five-day CPAT model. Division programs should focus on their topical interest. In addition to giving back to communities in need, pro bono programs also serve as a CM opportunity for AICP members. To assist the efforts of Chapters and Divisions, APA offers the following resources.
Community Planning Assistance Teams (CPAT)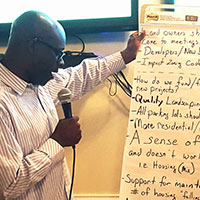 The CPAT program offers assistance to underserved communities both nationally and internationally. Resources on the CPAT webpage include the CPAT community proposal form that can be used as a starting template in finding communities to work with; the community checklist that includes a more detailed list of considerations for projects; the online volunteer form that can be used to solicit interested planners; and dedicated CPAT project webpages that include downloadable final reports and updates that offer insights into how the volunteer projects were organized and carried out.
Engaging Communities with Pro Bono Planning
In this recorded webinar, representatives from California, Mississippi, South Carolina and Washington discussed their respective programs, what has worked for them and examples of projects they have conducted. Topic areas include how to start and maintain a program, promoting the program, recruitment of volunteers, and evaluation of community applications. This free webinar is worth 1 CM.
AICP Community Planning Workshops
Workshops are held in or near the host city of the National Planning Conference every year. They are one-day charrettes that engage communities on a focused planning challenge. Chapter programs are generally more akin to this model versus the multi-day CPAT model.
APA Chapters With Community Assistance Programs
Help Bring CPAT to One of Your Communities
Another way APA Chapters and Divisions can get involved is to identify communities in need of assistance and help them complete a proposal for APA National's CPAT program.
Spread the Word
Tell others about APA-National's CPAT program in your presentations at conference sessions or talks to organizations. We've created presentation slides and talking points for you. There's also a CPAT flyer in both English and Spanish you can leave as a take-away or send to communities that may be interested.
CPAT Flyer (English/Spanish version)
Disaster Recovery
FEMA's Community Planning and Capacity Building Recovery Support Function is interested in working more closely with APA on post-disaster recovery efforts. FEMA recognizes the importance of planning in disaster recovery and both organizations have discussed and seek to explore collaborative opportunities to assist disaster-affected communities. Chapters and Divisions are encouraged to contact APA when opportunities arise.
CPAT Technical Assistance Resources for Post–Disaster Communities
APA staff is available to discuss opportunities and answer your questions. Please contact us at CPAT@planning.org or call Ryan Scherzinger, Programs Manager, at 312-786-6359.