Keynote Speakers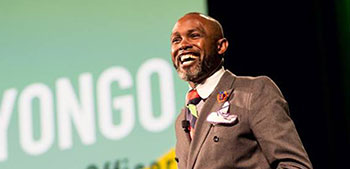 Opening Keynote: Derreck Kayongo
Ugandan refugee, visionary, and renowned human rights activist Derreck Kayongo will tell his courageous story of survival, social entrepreneurship, and humanitarianism, and share the life lessons he learned along the way.
Kayongo is the founder of the Global Soap Project, which recycles used hotel soap and redistributes it to impoverished populations around the world. His guiding principles inspire enterprise and creative problem solving to create tangible change.
Closing Keynote: Angela Glover Blackwell
Angela Glover Blackwell has dedicated her life to advancing economic and social equity. She is the founder and CEO of PolicyLink, a national research and action institute committed to those goals. Under Blackwell's leadership, PolicyLink has gained national prominence in the movement to use public policy to improve access and opportunity for all low-income people and communities of color, particularly in the areas of health, housing, transportation, and infrastructure.
Blackwell, who co-authored Uncommon Common Ground: Race and America's Future, is considered an authority on race and equality issues in America.