APA's 2018 National Planning Conference is the premier planning event of the year. NPC18 will bring together the hottest topics, the latest tools, and the leading voices with something new to say.
With hundreds of sessions and cutting-edge presentations on offer, you can dig deeper into your specialty or explore new topics.
Strong Roots. Big Plans.
NPC18 isn't just about planning — it's about building a community of great planners.
We bring together thousands of planners, planning commissioners, appointed and elected officials, and students to discuss fresh ideas and innovative planning. The National Planning Conference is the best place to find a mentor, connect with colleagues, and meet planners from around the world.
This year's program includes numerous networking opportunities and the Career Zone's popular Mentor Match, Resume Clinic, and Employer Connection.
NPC18 Registration Includes:
All sessions
Welcome Reception at the National World War II Museum
Opening and closing keynotes
Exhibitor Meet and Greet Reception at the Exhibit Hall
Awards Luncheon invitation*
(full paid registration only — see Policies for details)
Access to PowerPoint presentations after the conference
Access to session recordings after the conference
*Important! If you plan to attend the Awards Luncheon, be sure to reserve a ticket before the conference begins. Space is limited, and we expect all available tickets to be claimed.
Use Our Conference-at-a-Glance for a Snapshot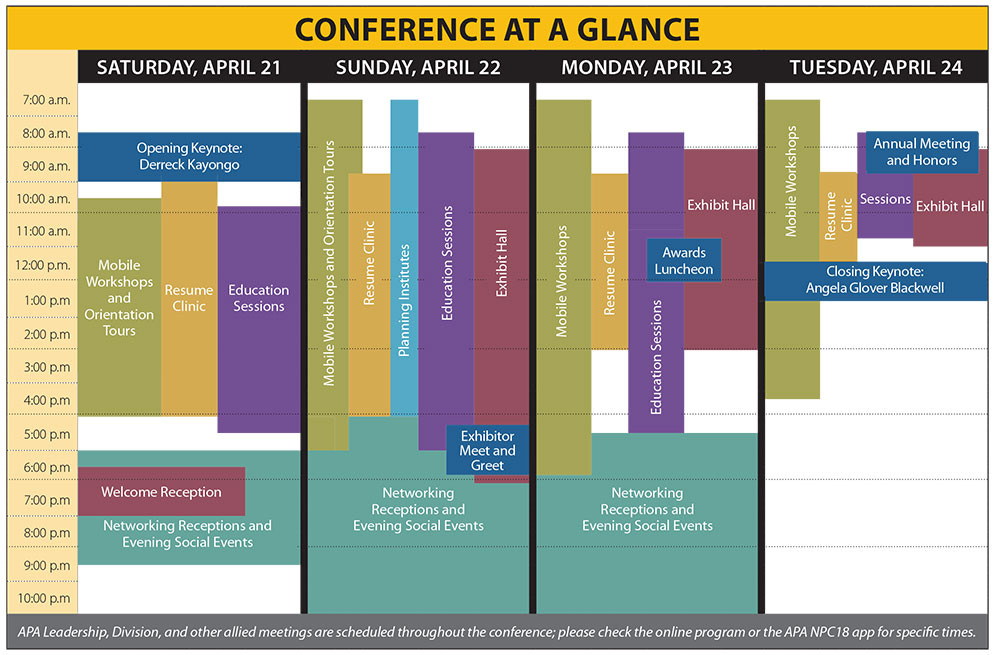 Where Has NPC Been? Where Is It Going?