Why Attend NPC18?
Start With Three Great Reasons
Explore New Orleans During its Tricentennial: New Orleans is celebrating a major milestone in 2018 — the 300th anniversary of the city's founding. The birthplace of jazz, home to Creole and Cajun cuisine, and known for its world culture, New Orleans is the epitome of strong roots and big plans. While in town, visit both old and new neighborhoods — each with its own unique character — to see how planning in the city has evolved over the last three centuries.
Move to the Forefront: Join the conversation about current issues, trends, challenges, and solutions that are shaping planning today. Get smarter at sessions and workshops offering the latest and best in professional planning education.
Grow Your Network: Grab this chance to boost your career and further your personal and professional goals. Meet old friends, renew acquaintances, and build key relationships.
Making the Case to Attend
There are as many reasons to attend APA's National Planning Conference as there are planners. We're highlighting just 10 — five for you and five to help you make the case to your boss.
Reasons for You
Planning keeps changing.
Every year NPC brings together the hottest topics, the latest tools, and the leading voices with something new to say about what matters most to you.
You've arrived — and want the planning world to know.
For students and recent grads, NPC is the best place to build a network of professional contacts, peers, and mentors.
You're ready for a career move.
Whether you're actively job hunting or just scoping out your options, you can make good use of APA's Career Zone. Plus, you'll come away loaded with new contacts .
It's time to hit "refresh."
With hundreds of sessions to explore, you can dive deeper into your specialty, stretch into different areas, and go home with a whole new outlook.
The global view is amazing.
Engage with people from all over the world who have similar questions to yours — and who may have the answers.
Reasons for Your Boss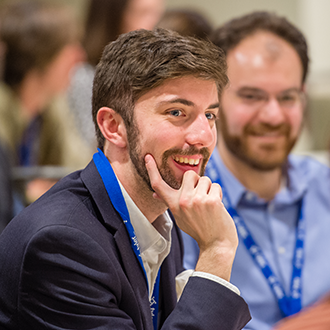 You'll be a more effective employee.
What you learn will help you work smarter, faster, and better.
You'll bring back new ideas.
You'll return with new ideas, solutions, and skills to raise the level of play for your whole team.
You'll make valuable connections.
Conference contacts can be real lifesavers when you face an unexpected challenge.
You'll pick up new tools.
The Planning Expo and Tech Zone might have the solutions your office has been looking for.
You'll save money ...
... if you register during the early rate period. Plus you can get APA's discount at partner hotels. Stay tuned for these key dates when registration opens in December 2017.
Attendee Testimonials
"The conference is a great chance to share information, challenge our assumptions, and learn about new ideas" - William Anderson, FAICP
"Incredible. That's how I would describe the connection I was able to make through APA's Mentor Match program at the National Planning Conference in Phoenix. My connection with my mentor has become a professional relationship and a strong friendship, and it led me to find my future employer." - Matthew Nahrstedt
"APA has been wonderful not only for me but for much of our staff. Members of the Rhodeside & Harwell staff have organized and presented sessions at the National Planning Conference. It's a great experience for them to be able to get out in front of colleagues, make a name for themselves and make contacts." - Deanna Rhodeside
Tell Your Own NPC Story
Do you have a story to tell about a personal impact — professional, social, or educational — that you experienced from a past National Planning Conference? Then tell us! Email your story, along with your contact information, to NPCImpact@planning.org. All stories will be considered.