Win-Win-Win Urbanism: Sustainability, Equity, Resilience
Sunday, April 14, 2019 from 1 p.m. - 2:15 p.m. PDT
Add to My Log
LEARNING OUTCOMES
Identify the potential co-benefits from sustainability and resilience planning for all communities, including vulnerable populations and under-invested neighborhoods.
Discover how to advocate for community benefit agreements that address risks of displacement and/or improve health and wellness in communities experiencing poverty.
Learn where to seek out innovative funding sources for sustainable and equitable development.
MORE SESSION DETAILS
The San Francisco Bay Area is poised to make substantial resilience investments to protect communities and assets from sea level rise. Design that is thoughtful and coordinated from the beginning can address affordability, climate change, and resilience head on and deliver an impactful suite of co-benefits to the public, to the environment, and to users. Explore new tools and lessons learned from the recent Resilient by Design Bay Area challenge (RbD). Examine diverse neighborhood-scale development projects including Sunnydale, with a comprehensive sustainable neighborhood transformation plan addressing economic, social and environment goals, and the Central SoMa Plan, an environmental justice neighborhood with ambitious affordable housing and sustainability goals, as well as new public parks serving as integrated resilience and flood management features. Topics also include Mission Rock and PPS, essential projects addressing the public realm, demonstrating how open space can be designed for inclusivity as well as sustainability as we design for greater density and affordability. Tools include community engagement, racial equity frameworks, community benefit agreements, land trusts, mitigation funds, social impact bonds, innovative construction methods, and more. Get perspectives on city planning, non-profit development, urban design and affordable housing design.


Session Speakers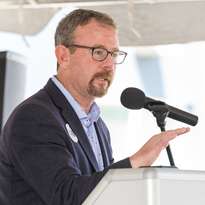 Doug Shoemaker
Mercy Housing California
San Francisco, CA
Sandra Mendler
Mithun
Mill Valley, CA
Lisa J. Fisher
San Francisco Planning Department
San Francisco, CA