On Demand: Managing Complex Relationships in Planning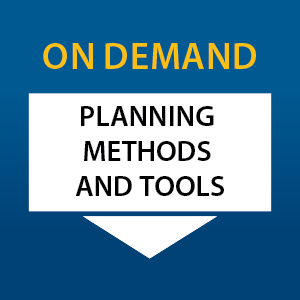 Certification Maintenance
---
---
Differing values. Diverse demands. Divergent viewpoints. It's easy to get caught in the middle. How can you keep the community moving forward — and keep your public, personal, and professional lives in balance? Learn the secrets of managing different personalities in difficult situations. This program is suitable for planning commissioners and planners.
Cosponsored by the Lincoln Institute of Land Policy.
Group Viewing: The group viewing option allows you to purchase access to a streaming presentation, then gather as many people as desired together to watch the group showing of the product. After you purchase access to group viewing, you may wait until you are ready for the showing to activate it. Upon activation, you have six months to host your group viewings.
This is a commission and board training product.
---
About the Speakers
Robert Mitchell
Robert P. Mitchell, FAICP is the Principal of his planning consulting business in Boston MA and a Fellow of AICP. Planning. With over 30 years experience at the state, regional and local governments and non-profit organizations, he specializes in land use issues; comprehensive & strategic planning; innovative zoning tools and techniques; and sustainable development. Additionally he provides training programs to public officials and professionals on land use, strategic planning, ethics, and meeting management topics. He was the Planning Director in Amherst MA for 19 years and previously the Planning Director in Burlington VT and Amherst MA He was the former Special Assistant for Sustainable Development for the State of Massachusetts. In addition he was an Adjunct Professor at the University of Massachusetts Department of Landscape Architecture & Regional Planning for 20 years. He was a Council member on the Boston region Metropolitan Area Planning Council for 12 years. He is co-author of the Guidebook to Massachusetts Land Planning & Zoning. In his work he has led planning teams in creating award winning work on strategic plans, a Smart Growth and Smart Energy tool kit, a Comprehensive Regional Land Use and Economic Development Plan, creation of innovate zoning codes, and was co-creator of the Massachusetts Citizen Planner Training Collaborative a statewide training organization for planners and planning officials. He has been trainer for CPTC for 20+ years. He has been a speaker at more than 200 conferences, workshops, public meetings and webinars on a wide variety of topics, including ethics, zoning, successful meetings, planning topics, roles and responsibilities of planning commissions and zoning boards of appeals, development review processes and more. He is a past AICP Commissioner from Region I and Past President of the Massachusetts Chapter of APA. He is the Chair of the Sustainable Development Committee of the APA-MA Chapter. He has received the Distinguished Service Award from the APA-MA Chapter three times; the Outstanding Professional Planner award from the Massachusetts Association of Planning Directors; the Charles Downe Memorial Award for Outstanding Service to the Planning Profession; and the Distinguished alumni Award from the University of Massachusetts Department of Landscape Architecture and Regional Planning.
Kathleen Garcia
Kathleen Garcia is the Planning & Community Development Director for the City of Del Mar, CA. She is responsible for the development review, long range planning, building department, code enforcement, and Clean Water Program for this coastal community. In addition to her municipal responsibilities, Kathleen teaches the Sustainable Planning course in the Urban Studies and Planning Program at the University of California San Diego. Prior to the City of Del Mar, Kathleen was a partner with Wallace Roberts & Todd LLC, a national planning and design firm, where she produced plans and designs for various civic, institutional, and community projects. Kathleen has held multiple civic appointments, including as a Planning Commissioner for the City of San Diego (2000 – 2008) and Design Review Board member for the University of California Riverside. Her education includes a Bachelor of Arts in Landscape Architecture from the University of California Berkeley and a Master of Landscape Architecture from Harvard University.
W. Shedrick Coleman
W. Shedrick Coleman, AIA is Principal of SHEDDarchitecture and practices architecture, land planning, and interior design. He is registered in Georgia and Texas. Shedrick has served two terms as chairman of the Chatham County–Savannah Metropolitan Planning Commission (MPC) in Georgia and is in his 11th year of service to the community as a commissioner. The planning commission is the joint city-county planning agency responsible for comprehensive planning and zoning recommendations to the member governments and for historic and natural preservation, community, transportation, and land use planning. He is currently serving in his second term on the APA National Board of Directors and serves on the APA Foundation Board of Directors. Shedrick has chaired the APA Design Awards in 2015, 2016, and 2017 , the APA Fellowship Committee, and the APA Planning Commissioners Committee. Shedrick has been an active presenter at the National Planning Conference since 2011 in Boston.
Bruce Peshoff
Bruce Peshoff, Principal, Planning Works. Specializing in the integration of land use planning, law and fiscal analysis, Bruce Peshoff applies his expertise to find opportunities where others see challenges. Facilitation, negotiation and data-based alternative scenarios and suitability analyses form the core of his planning approach, ensuring that communities have the tools, training and support they need to implement plans and regulations. Prior to establishing Planning Works, Bruce was a project manager for Robert Freilich's Planning Group and a project manager for a regional (Great Lakes) planning consulting firm. His public sector experience includes working in the Transportation and Current Planning Divisions of a joint city/county planning department; as the chief environmental planner/investigator for a municipal law department and as the principal neighborhood planner for a NeighborWorks non-profit housing and economic development corporation. He is the past chair of two APA Planning and Law Division committees, and is a past-member of the Jackson County (MO) Economic Development Forum. Bruce regularly speaks at local, regional and national conferences, and is a regular volunteer to citizen planner education programs.