On Demand: Creating Successful Meetings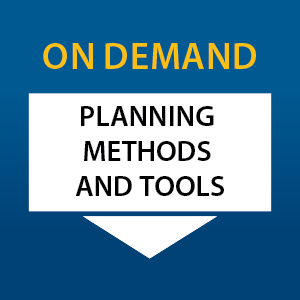 Certification Maintenance
---
---
What's the secret of successful meetings? Master the rules of procedure and open-meetings requirements with this helpful presentation. Discover ways to make meetings inclusive, welcoming, and productive. Explore the roles of the chair and members of the commission or board. Learn to get what you need from your staff and attorney. And find out how to give presenters the platform they need while ensuring the public has a voice. Like a good meeting, this presentation is efficient, effective, and energized.
Co-sponsor: Lincoln Institute of Land Policy
Group viewing: any organization, firm, or agency may purchase these products for group viewing. Group viewing is limited to the product being viewed on 10 different computers or points of access. No limit is set on how many people can view the product on each of the 10 computers or points of access.
Your viewing access to this product is for 6 months after the point at which you first activate the product for viewing.
This is a commission and board training product.
---
About the Speakers
Nixon Adams
No Bio Available
Robert Mitchell
Robert P. Mitchell, FAICP is the Principal of his planning consulting business in Boston MA and a Fellow of AICP. Planning. With over 30 years experience at the state, regional and local governments and non-profit organizations, he specializes in land use issues; comprehensive & strategic planning; innovative zoning tools and techniques; and sustainable development. Additionally he provides training programs to public officials and professionals on land use, strategic planning, ethics, and meeting management topics. He was the Planning Director in Amherst MA for 19 years and previously the Planning Director in Burlington VT and Amherst MA He was the former Special Assistant for Sustainable Development for the State of Massachusetts. In addition he was an Adjunct Professor at the University of Massachusetts Department of Landscape Architecture & Regional Planning for 20 years. He was a Council member on the Boston region Metropolitan Area Planning Council for 12 years. He is co-author of the Guidebook to Massachusetts Land Planning & Zoning. In his work he has led planning teams in creating award winning work on strategic plans, a Smart Growth and Smart Energy tool kit, a Comprehensive Regional Land Use and Economic Development Plan, creation of innovate zoning codes, and was co-creator of the Massachusetts Citizen Planner Training Collaborative a statewide training organization for planners and planning officials. He has been trainer for CPTC for 20+ years. He has been a speaker at more than 200 conferences, workshops, public meetings and webinars on a wide variety of topics, including ethics, zoning, successful meetings, planning topics, roles and responsibilities of planning commissions and zoning boards of appeals, development review processes and more. He is a past AICP Commissioner from Region I and Past President of the Massachusetts Chapter of APA. He is the Chair of the Sustainable Development Committee of the APA-MA Chapter. He has received the Distinguished Service Award from the APA-MA Chapter three times; the Outstanding Professional Planner award from the Massachusetts Association of Planning Directors; the Charles Downe Memorial Award for Outstanding Service to the Planning Profession; and the Distinguished alumni Award from the University of Massachusetts Department of Landscape Architecture and Regional Planning.
C. Gregory Dale
Greg Dale is a founding Principal with McBride Dale Clarion. Mr. Dale is a Fellow of the American Institute of Certified Planners, having been active in the planning profession since 1981. He has managed planning projects throughout the country and has expertise in regional plans, comprehensive plans, growth management plans, land use regulations, citizen outreach programs, planning for historic areas and expert testimony on planning, zoning and land use development issues. Mr. Dale has drafted or assisted with award-winning plans for Charleston County, South Carolina; Beaufort County, South Carolina; Williamson County, Tennessee; Will County, Illinois; City of Franklin, Tennessee; and the Southern Nevada Regional Planning Commission. Mr. Dale drafted an innovative sustainability chapter in the Fredericksburg, Virginia, plan and is a co-author of an update to The Citizen's Guide to Planning and The Planning Commissioners Guide. He has also managed or assisted with significant planning projects in Bradley County, Tennessee; Henrico County, Virginia; Hanover County, Virginia; Suffolk, Virginia; Beaufort County, South Carolina; Williamson County, Tennessee; and North Las Vegas, Nevada.