Introduction to the Planning Commission: Part Two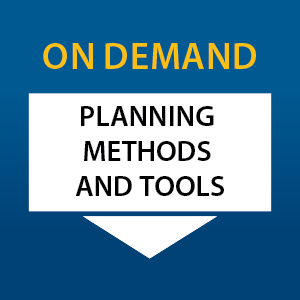 Certification Maintenance
---
---
Explore the players in the planning process and how plans are updated, revised, and redone. Learn about plan implementation and how to engage citizens, resolve conflicts, and forge relationships.
Co-sponsor: Lincoln Institute of Land Policy
Group Viewing: Training products for planning commissioners and the public may be used for group viewing.
This is a commission and board training product.
---
About the Speakers
Martha Mason Semmes
Martha Mason Semmes, FAICP Middleburg Town Administrator Martha Mason Semmes, FAICP is a municipal manager and urban planner with almost 40 years of experience, including special expertise in the areas of economic development, historic preservation, land use planning, and zoning. Ms. Semmes holds a B.S. degree, Magna Cum Laude, in Environmental Studies from Duke University and a Master's degree from the Department of City and Regional Planning, University of North Carolina-Chapel Hill. Ms. Semmes has served as the Town Administrator for Middleburg, Virginia since November 2010. Her previous professional positions include Director of Planning and Zoning for the Town of Purcellville; Main Street Coordinator/Community Development Specialist for the Loudoun County Department of Economic Development; Town Planner & Zoning Administrator for Middleburg, Virginia; and Director of Planning, Zoning & Development for Leesburg, Virginia. She has also provided private planning consulting services for communities throughout Virginia and has served as an expert witness in land use and zoning matters. Ms. Semmes is a charter member of the American Planning Association (APA), a Fellow of the American Institute of Certified Planners (FAICP) and a member of ICMA and the Virginia Local Government Managers Association (VLGMA). She has served in various capacities on the boards of the Virginia Chapter of APA, the Virginia Downtown Development Association, and the Virginia Association of Zoning Officials and presently serves on the Loudoun County Design Cabinet and the VLGMA Strategic Planning Committee. Ms. Semmes has been a speaker at professional conferences, a panelist for National APA webinars, and an instructor and guest lecturer on planning and historic preservation at the undergraduate and graduate school levels for the University of Virginia and Virginia Tech. She has also served on the Graduate Program Technical Review Committee for the Virginia Tech Dept. of Urban Affairs and Planning.
Dale Lay
No Bio Available
Michael Chandler
Michael Chandler is the Director of Education for the Land Use Education Program (LUEP) at Virginia Tech and a planning consultant. In his LUEP role he manages and conducts the state and national award winning Virginia Certified Planning Commissioner Program as well as the Virginia Certified Boards of Zoning Appeals (BZA) Program. To date more than 3,000 Virginians have participated in the 10-week long program for planning commissioners and more than 1,000 persons have completed the 10-week long BZA program. Dr. Chandler has presented planning commission training programs and zoning board training programs in 43 of the 50 states over the past 20 years. He holds a masters degree in urban and regional planning and a PhD in public administration. He has worked as a professional planner, has been a planning commissioner (3 years) and was a member of the Blacksburg, VA town council for 18 years. He also served a 4 year term on the APA national board of directors in addition to being a member of the faculty at Virginia Tech for 27 years.