Informed Decisions: A Guide to Gathering Facts and Evidence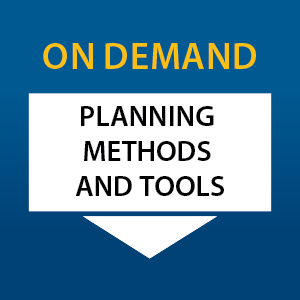 Staff Testing Pricing
$0.01
Certification Maintenance
---
---
Good decisions are based on strong supporting facts and evidence. Learn to gather the facts efficiently on site visits, through testimony, and from staff reports. Find out when site visits are legal and advisable, and learn to organize and document them effectively. Discover techniques to make hearing and recording public testimony more efficient. Hear what goes into solid, legally sound staff reports. You'll come away better prepared to build the case for good planning.
Co-sponsor: Lincoln Institute of Land Policy
This is a commission and board training product.
---
About the Speakers
David Theriaque
No Bio Available
Martha Mason Semmes
Martha Mason Semmes, FAICP Middleburg Town Administrator Martha Mason Semmes, FAICP is a municipal manager and urban planner with almost 40 years of experience, including special expertise in the areas of economic development, historic preservation, land use planning, and zoning. Ms. Semmes holds a B.S. degree, Magna Cum Laude, in Environmental Studies from Duke University and a Master's degree from the Department of City and Regional Planning, University of North Carolina-Chapel Hill. Ms. Semmes has served as the Town Administrator for Middleburg, Virginia since November 2010. Her previous professional positions include Director of Planning and Zoning for the Town of Purcellville; Main Street Coordinator/Community Development Specialist for the Loudoun County Department of Economic Development; Town Planner & Zoning Administrator for Middleburg, Virginia; and Director of Planning, Zoning & Development for Leesburg, Virginia. She has also provided private planning consulting services for communities throughout Virginia and has served as an expert witness in land use and zoning matters. Ms. Semmes is a charter member of the American Planning Association (APA), a Fellow of the American Institute of Certified Planners (FAICP) and a member of ICMA and the Virginia Local Government Managers Association (VLGMA). She has served in various capacities on the boards of the Virginia Chapter of APA, the Virginia Downtown Development Association, and the Virginia Association of Zoning Officials and presently serves on the Loudoun County Design Cabinet and the VLGMA Strategic Planning Committee. Ms. Semmes has been a speaker at professional conferences, a panelist for National APA webinars, and an instructor and guest lecturer on planning and historic preservation at the undergraduate and graduate school levels for the University of Virginia and Virginia Tech. She has also served on the Graduate Program Technical Review Committee for the Virginia Tech Dept. of Urban Affairs and Planning.
Eric Kelly
Emeritus Professor of Urban Planning at Ball State University (retired in 2017) and an independent planning consultant. A frequent litigation consultant and expert witness on cases involving the regulation of signs, billboards and/or adult businesses. Has consulted with more than 100 local governments in more than 35 states. Since 1995, Kelly has been general editor of the 10-volume Matthew Bender set Zoning and Land Use Controls. An author or co-author of seven technical reports published in the Planning Advisory Service Reports series of the American Planning Association, including Everything you always wanted to know about regulating sex businesses with Connie Cooper. Kelly is a past national president of the American Planning Association, and in 1999, he was inducted as one of the members of College of Fellows of the American Institute of Certified Planners. Kelly holds Master of City Planning and Juris Doctor degrees from the University of Pennsylvania and a Ph.D. in public policy from the Union Institute. He is a member of the Colorado bar. He completed Yoga Teacher Training in 2017 and now teaches Yoga -- mostly for people new to Yoga -- at several locations.
Carolyn Torma
As the Director of Education and Citizen Engagement for the American Planning Association, Carolyn Torma develops education that leads the profession of planning and provides fundamentals on best practices. Education areas include youth engagement and training for planning commissioners and officials. She edits the publication, "The Commissioner". She serves as the director for the National Planning Conference education program working with an array of work groups. Other programs include the annual webinar series on varied topics such as "Planning Law Review" and the live conference webcasts such as "Negotiation Skills for Planners." The APA education program works with many partners to deliver programs as live workshops, on demand programs, articles, and webinars. Previously, she worked in historic preservation in Michigan, Kentucky, and South Dakota. Responsibilities included developing the state preservation plan, creating the "Architecture and Community History" course, and overseeing survey, folk arts, historical archaeology, and designation. Her published articles focus on ethnic architecture and the architecture of work. She was a Bush Leadership Fellow in urban affairs and public policy at the University of Delaware. She holds a master's degree from Emory University and an undergraduate degree from the University of Michigan.