Planning and Zoning for Solar Energy: Updated Edition
PAS Essential Info Packet 30
By American Planning Association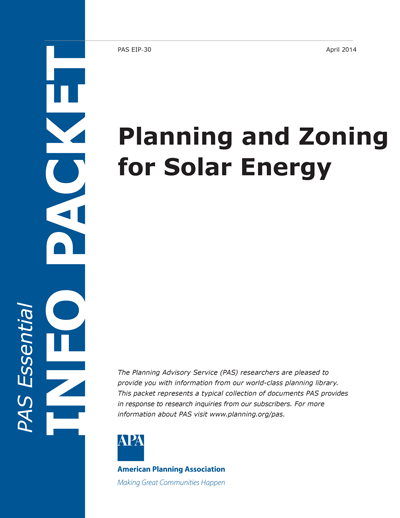 APA member & PAS subscriber
$0.00
---
This packet is available free to all as part of APA's participation in the SunShot Solar Outreach Partnership (SolarOPs), an initiative of the U.S. Department of Energy (DOE).
Do your community's plans and ordinances address solar energy systems? As the nation's centers of electricity consumption, cities and counties are uniquely positioned to support economic growth, strengthen America's energy independence, and reduce pollution by converting to solar energy. Planners have important roles to play in making sure their communities' plans and land use regulations allow and encourage this clean, safe energy source.
This PAS Essential Info Packet provides an extensive collection of sample ordinances on topics including solar access, solar siting, and solar energy systems, along with many examples of how communities are adding solar provisions to their comprehensive, subarea, and functional plans.
---
Product Details
Date Published
April 1, 2014
Publisher
APA Planning Advisory Service