Regulating Short-Term Residential Rentals
Essential Info Packet 37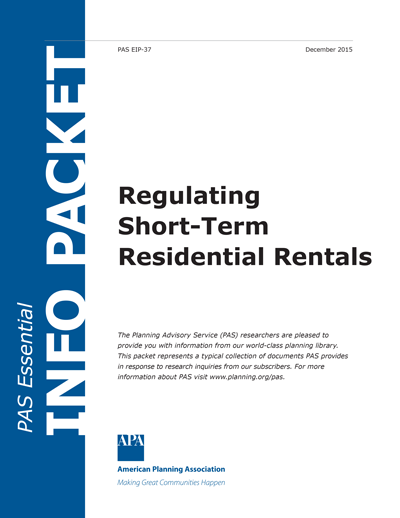 APA member & PAS subscriber
$0.00
---
The concept of renting rooms or homes on a temporary basis is not new. Vacation rentals have long been common in beachfront communities, resort towns, and other destination hotspots. But with the recent rise of web-based booking services such as Airbnb or HomeStay, the number of short-term residential rentals (usually defined as rentals of less than 30 days) has grown dramatically and heightened awareness of this practice within more communities. And in addition to more traditional, commercially focused vacation rental properties, more and more home owners (and in some cases tenants) are offering the use of their residences — or rooms within their residences — as temporary rentals, either sporadically or on an ongoing basis.
In the pre-Airbnb era, many tourism-based communities addressed vacation rentals in their codes directly through licensing or zoning requirements to allow this important local economic activity to occur while mitigating any potential negative impacts. Typical standards for these short-term rentals often require property owners to obtain short-term rental permits and business licenses; establish minimum and maximum rental timeframes and maximum occupancies for rental units; address potential nuisance issues such as noise, parking, and trash removal; and in some cases require one-time or annual inspections.
The post-Airbnb era has brought new opportunities and challenges, however. Advocates praise the new prospects arising for owners to supplement their incomes and make use of underutilized spaces by offering rooms or entire homes to visitors for remuneration, and they promote the economic ripple effects of housing tourists in neighborhoods throughout a city rather than in a single hotel district. Detractors point to the potential nuisance impacts of new short-term residential rentals on adjacent homes and apartments, have concerns about the economic impacts of unregulated competition to hotels and traditional bed and breakfast establishments as well as the loss of local revenue from transient occupancy taxes, and question the bigger impacts of short-term residential rentals on local rental housing markets and affordability.
From a regulatory standpoint, local governments without short-term rental provisions in their codes have no way to address concerns, while those with existing vacation rental ordinances find most Internet-mediated rentals to be illegal units whose owners have not obtained required licenses or paid required taxes (and who may not even realize such requirements exist). Industry advocates propose establishing a new use category for this new species of Internet-mediated short-term residential rentals to differentiate it from bed and breakfast, boarding house, or hotel uses, and recommend adopting regulations sanctioning short-term rentals with an easy-to-complete registration with the locality, a modest permit fee, and the payment of all applicable taxes.
An ever-increasing number of communities across the country are examining this issue and adopting ordinances addressing short-term rentals. Most of these ordinances follow the general framework described above: they define short-term residential rentals as a distinct use and establish licensing, permitting, or taxation requirements, as well as operational or procedural standards to protect safety and mitigate potential nuisances. But nearly every community has its own twist. Some differentiate between traditional vacation rental properties and rentals of owner-occupied units; some base their requirements on whether the owner is present in the home during the rental or whether the entire unit or individual rooms are being rented. Some communities have passed zoning amendments specifying permitting requirements for short-term residential rentals and imposing performance standards or separation requirements on these units; others simply use business licensing ordinances to focus on registration of units and payment of any applicable taxes and fees.
Practically speaking, the key is coming up with regulations that are clear, easily enforced, and do not make residents out to be scofflaws unnecessarily. The use of these online booking sites is growing and shows no sign of slowing down, making it a drain for communities to enforce blanket prohibitions or onerous regulations. Though some communities have hired additional code enforcement officials to scan online hosting platform postings and carry out proactive "sting" operations, most communities rely on a complaints-based system to enforce compliance.
This Essential Info Packet provides a wide-ranging look at the topic of short-term residential rentals and how communities are addressing this issue. A section of background resources provides articles, reports, and websites that examine the potential impacts of short-term residential rentals on communities, analyze the ways in which local governments are responding, and advocate for various ways to address short-term rentals in local codes and ordinances. The next section offers a number of staff reports from a number of local governments, both those that are just beginning to explore the issues involved with regulating short-term rentals as well as those who have drafted and adopted new regulations for this use. These reports provide a comprehensive look at the many issues surrounding short-term rentals and the costs and benefits local governments are weighing as they contemplate and move forward with regulatory actions. And finally, a collection of sample zoning and licensing ordinances from more than 20 cities and counties across the country demonstrates the many ways in which local governments have codified regulatory controls on short-term residential rentals. Where city websites offer a webpage for information on short-term rentals, those URLs have been included.
Short-term residential rentals are a hot topic and a dynamic area of discussion and regulatory action. Though all the ordinances presented in this packet were current as of publication, many of the cities represented told PAS that updates to adopted ordinances were either already in process or being contemplated by local officials. As it appears that codes will be changing especially quickly around this topic, be sure to check municipal websites or code hosting sites for the most up-to-date versions going forward.
---
Product Details
Date Published
Dec. 1, 2015
Publisher
APA Planning Advisory Service