Justin Garrett Moore — Urban Designer
Justin Garrett Moore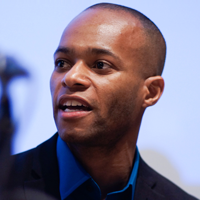 I am an urban designer and the executive director of the New York City Public Design Commission. At the Public Design Commission, my work is focused on prioritizing the quality and excellence of the public realm, and fostering accessibility, diversity, and inclusion in the city's public buildings, spaces, and art.
We are a part of the Mayor's Office and work with various city agencies to ensure the quality and consistency of design and construction of our public works. We also work to advance Mayor de Blasio's administration goals around promoting improved sustainability, resilience, and equity for all of our great city's neighborhoods.
I also have a few other professional and personal roles. I teach part-time for the urban design and urban planning programs at Columbia University GSAPP, and I run, along with my family, a social enterprise based in Indianapolis called Urban Patch.
Tell us more about Urban Patch. How did the formation of that come about, and can you tell us a bit about how that impacts your career?
Urban Patch has a few different origins. First, is that during my graduate study at Columbia University I worked in an urban ecosystems studio in Baltimore with Professor Brian McGrath and Dr. Steward Pickett. In that course, we learned about the link between human social and economic change and the natural and built environment, including a framework borrowed from ecology called "urban patch dynamics."
That early interest an understanding for how complex environments and systems change and sustain has informed much of my larger thinking about urban design, planning, and development. Second, is that back in 2010 I began doing some research on family history, especially about my paternal grandfather, Albert Allen Moore. It turns out that he ran one of the largest urban agriculture programs in the country back in the 1940s–'50s in Indianapolis for an organization called Flanner House.
The work they did on social, economic, and environmental revitalization for their black and urban community was inspiring. So my family and I decided that we would bring the past forward, and recreate and reinvent some of the work that my grandfather's generation did in our community.
In 2011, we purchased a long-vacant house and a vacant lot, and fixed them up, using an "urban patch dynamics" model for the improvement of our neighborhood. Since then we have taken this incremental and citizen-led approach to growing our family-owned social enterprise in Indianapolis's inner city. It has been an incredibly rewarding and humbling experience to have a direct impact, even at the scale of our family's involvement and investment in the neighborhoods that have been our home for generations.
It is a kind of grassroots and truly community-based work that is not always possible in my more traditional career in urban design, planning, and government. I believe that this keeps me grounded and also understanding in my work professionally and as an educator.
Career Influences
Tell us more about your CPAT experience and how it influenced your work and/or life outlook.
I was fortunate to be a team leader for APA's first international Community Planning Assistance Team (CPAT) in Belize City, Belize in 2016.
I have worked in other cities and a consulting capacity before and in interdisciplinary teams. But the CPAT experience was a unique opportunity to do so with people from such a broad variety of background and expertise in such a focused format. We were lucky to have experts in resiliency planning, community engagement, transportation, economic revitalization, and urban design to collaborate and lend their expertise to a city and community context that has some pretty complex planning and design challenges.
The CPAT model provided the framework and human resources needed to facilitate a meaningful and structured interaction with the local partners. The Belize City experience certainly has influenced my outlook on the value of collaboration and sharing urban design and planning expertise needed in communities and cities where there are large populations of black people. It was important to recognize that the issues that this city in Central America was dealing with mirrored some of the same challenges that are found in our urban communities in the United States.
A special moment was when I shared my work developing small-scale projects — housing rehabilitation, murals, garden plots, and even tree planting were what the leaders and community stakeholders in Belize City found as viable and relatable to their people and the potential for their neighborhood and built environment.
Afterward, my outlook on this kind of work is something that I see as something that needs further development and articulation, understanding in our fields. And in the development of the report and recommendations to the city, the orientation for what value we can bring to the city came from a different direction than what one might expect from a group of American planners and designers working in an international context.
Succeeding in Urban Design
What skills and personality traits lend themselves to success in your field?
Urban design is such a diverse and interdisciplinary field that it is hard to ascribe success to any particular set of skills and traits.
I have seen people with many different combinations become successful and effective in their roles. A very technical and even introverted person can be successful in figuring out the particular details of a regulation or policy or design the details that make a public space truly work.
A very collaborative extrovert can facilitate the interactions needed to resolve a tough planning-and-design conflict in a contentious project.
Surprises and Recognition
What has been the best surprise in your career?
I suppose the best surprise is that I ended up being an urban designer, and with some great mentorship and opportunities, was able to figure this out relatively early in my career.
I went to architecture school for a total of seven years. After finishing school, I had the opportunity to work at the NYC Planning Department's Brooklyn Office, and my first project there was one of the most transformative redevelopment plans in the city's recent history.
When I began the work, it was actually a surprise the amount of impact I could have in helping to figure out big and difficult urban problems through design, and the amount of support and value that those in leadership at the agency had in the younger staff to help problem-solve for some of our city's most challenging issues and contexts. This allowed for us to grow professionally and personally, and I feel fortunate that that was the case.
There are many environments where this is not the case, and especially for people of color, women, or otherwise underrepresented groups in the built environment fields.
Tell us a bit about your recognition by the Obama White House at the South Lawn Festival.
I will admit that I, a 37-year-old grown man, jumped up and down on my bed when I got the email that I had been selected to attend the South by South Lawn Festival (SXSL) at President Obama's White House.
Both my work in the public sector to create great urban environments, and my work with Urban Patch to show how citizen-led revitalization is possible, are grounded in the ongoing drive and challenge to be a committed, creative, and conscious urban designer.
It was incredibly meaningful to be recognized for my work along so many talented and exceptional people, and it was also meaningful to be invited to the Obama White House.
To attend SXSL was to participate in something that underlined the importance of ideas, inclusion, responsibility, and action all together being central to what truly "makes America great." I have no doubt that President Obama's challenge to use innovation, creativity, and collaboration to address the challenges of climate change and inequality will stay with me and motivate my work for years to come.
Career Advice
What advice do you have for someone who hopes to find a job similar to yours?
While I now work in a more urban planning and policy capacity, my particular role and interest is in urban design, and with an explicit design expertise and focus. In other words, my depth of knowledge is on the spatial, design, and built environment realm of practice.
Over the years, I have worked with a lot of people, who do design-related work, i.e., design review, design policy, planning-design process, without actually having real design background and education. I think it is not necessarily required, but to do this work well, you do need the ability to think spatially, creatively, generatively.
Education in architecture, landscape architecture, or urban design, and/or years of practice in those same fields is still the best means to develop that expertise.
Education
2004 Columbia University GSAPP, M. Arch. + M.S. AUD (urban design) dual degree
2001 University of Florida, B. Design, major in architecture
1997 Arlington High School, Indianapolis, Indiana
First planning job:
My first planning job was in 2005, for the NYC Department of City Planning's Brooklyn Office as an urban designer and city planner. I was hired to work as the lead urban designer for the Greenpoint and Williamsburg rezoning that was nearing completion. My work focused on the urban design for large waterfront development sites with mixed-use high-density development with affordable housing and the creation of new waterfront public open spaces and parks.
Influences and Outside Interests
What do you do outside of work that helps you be successful?
It will sound silly, but I am very active on Twitter, and I would go as far to say that I would not be as successful, particularly at my age, without the power of that platform to share ideas and interests with a global audience.
I learn so much and connect with so many great people around any number of issues that I find important both personally and professionally. It is hard work to keep up to date and tend to the many different kinds of interactions and relationships that develop in this sphere. But it has helped to make me more open and aware of things outside of my regular sphere of influence and way of working and thinking.
Any influential people?
I was fortunate to have had early in my career a great mentor, and architect and urban designer with a conceptual, critical, and socially focused and interdisciplinary mode of urban practice, Mojdeh Baratloo.
I also was influenced early in my career by the cohort of leaders that helped to shape New York City in the past decade during Michael Bloomberg's administration. Amanda Burden, Janette Sadik-Kahn, and Shaun Donovan helped me to recognize the value of the public sector, but also the power of local action to take risks and make truly transformative changes.
Now in my current role, I look to leaders like Mitchell J. Silver here in New York, Theaster Gates in Chicago, Maurice Cox and Mitch McEwen in Detroit, and others who I see have been innovative and effective in their roles in promoting positive changes in urban communities and their fields.