Association and APA Member News
Intersections
5 Key Takeaways from the 2019 Policy and Advocacy Conference
On September 23, APA took to Washington, D.C., for an intensive three-day crash course on planning policy and advocacy. Here are the top takeaways.
1. Housing and infrastructure are among the top policy priorities heading into 2020
That's at the local, state, and federal levels, according to sessions like the state legislative roundtable and the Daniel Burnham Forum on Big Ideas, presented with the Lincoln Institute of Land Policy. Watch this year's panel on equitable redevelopment and inclusive growth in legacy cities.
2. The conference put planners in front of local and federal leaders
Attendees heard from a variety of policy makers, like Seth Appleton from the U.S. Department of Housing and Urban Development and U.S. Rep. Denny Heck (D-Wash.), who were on hand to share the federal regulatory and legislative actions on deck for 2020.
3. Good planning makes for great storytelling
Planners' Day on Capitol Hill kicked off with the announcement of this year's Great Places in America. Armed with the stories behind their Great Neighborhoods, Public Spaces, and Streets, attendees were able to communicate the impact of inclusive, well-planned projects with their representatives in more than 180 congressional meetings. See the full list of 2019 designees.
4. Everyone can be an advocate
Take it from first-timer Christie Holland, who took over APA's Instagram Stories during Planner's Day on Capitol Hill. Get some advocacy tips and retrace her steps @americanplanningassociation.
5. Advocacy isn't a one-and-done effort
Planners need to stay engaged — and with the new year and a new season of legislative sessions around the corner, it's the perfect time to join APA's Planners Advocacy Network. Find resources and sharpen your advocacy skills.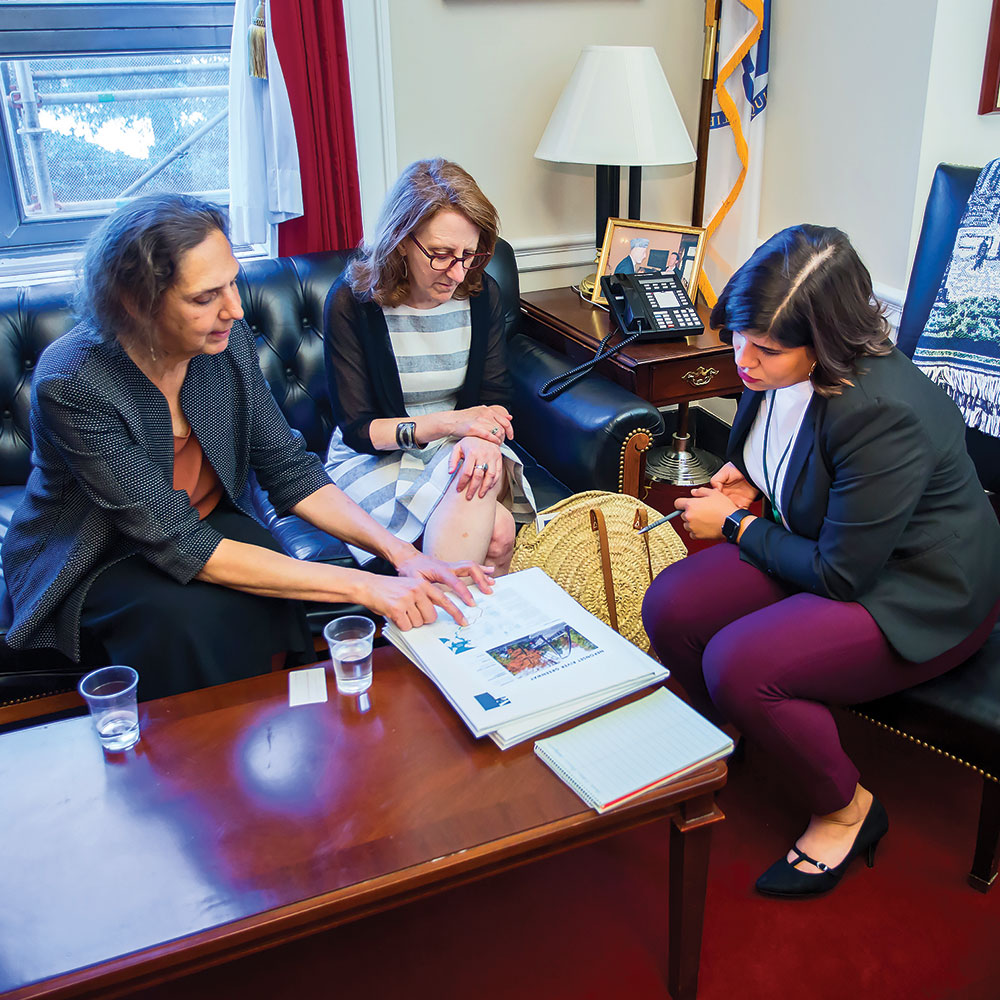 ---
Teens Take the Lead on Local Climate Action
When it comes to climate change, high school students seem to be at the forefront of advocacy efforts. Sixteen-year-old Greta Thunberg made headlines in September when she spoke before the United Nations, urging world leaders to take action. That same month, the student-lead Climate Strike saw more than seven million people protesting around the world.
That spirit was evident at Towson University in Maryland this summer, when eight student groups met as part of the Urban Climate Acton Network, a national youth corps dedicated to combating climate change. Through a series of sessions, workshops, and games, the groups learned how to tackle some of the most pressing environmental issues facing their own communities.
Silvia Vargas, AICP, helped students compose Zip-Odes, short poems based on the digits of their zip codes, an activity created by O, Miami and WLRN. A team from American Samoa performed their piece to the rhythm of a traditional song and dance.
Game of Floods, a role-playing activity about a fictitious community facing sea-level rise, cast students as stakeholders. Participants worked in groups to implement resilient policies while facing restrictions like limited budgets, competing community interests, and infrastructure needs. The students found some creative solutions, like sharing funding between teams.
UCAN participants are now tasked with taking the things they've learned back home. Over the course of the next year, they will work to implement projects with the help of technical advisors, addressing topics like sustainability and sea-level rise in their own communities.
Partnership Spotlight
Led by the National Aquarium, UCAN is a collaboration with the Antarctic and Southern Ocean Coalition, the National Religious Partnership for the Environment, and APA. The project was made possible in part by the Institute of Museum and Library Services.
— Johamary Peña
Peña is a research associate at APA.
---
Introducing 2019's Foundation Scholarship Winners
Since 2015, the APA Foundation has supported the best and brightest students in planning through nearly $100,000 in scholarships, including the Charles Abrams Scholarship and this year's inaugural APA Foundation Scholarships. The 2019 recipients are setting the curve, dedicating a diverse set of experiences, interests, and educational pursuits to one common goal: planning for just, equitable communities.
Vanessa Toro Barragán
Massachusetts Institute of Technology, Urban Studies and Planning
"My vision in this career is to find opportunities that leverage my privilege toward social transformation while allowing my shared identity to inform my understanding of challenges and relationships with communities." Colombian-born and Texas-bred, Barragán has collaborated with youth leaders in Colombia and is working on a climate adaptation plan in Boston.
Priscila Coli
University of California, Berkeley, City and Regional Planning
"My academic and professional trajectory to date has sought to find ways to cope with unequal urban growth that alienates and excludes the majority of the population in cities in the Global South." With six years as a Rio de Janeiro planner, Coli has on-the-ground experience in sustainability and redressing disparities in urban infrastructure.
Alexandra Duprey
Tufts University, Urban and Environmental Policy and Planning
"As a planner, I will try to artfully mold development with careful consideration for natural resources and the changing climate." Duprey developed a dedication to advancing social and environmental justice in the planning profession while interning at a sustainable development nongovernmental organization in India and working as a transportation planner in Florida.
Valeria Henao Cano
University of Colorado, Denver, Urban and Regional Planning
"I see my involvement in planning as a strategy to bring relief and visibility to those to whom the right to the city has been denied." A former resident and architect of Medellin, Colombia, Henao Cano wants to use planning to improve the quality of life in marginalized communities, especially through growing and improving the self governing of informal urban areas.
Claire Jaffe
University of Pennsylvania, City Planning
"We are learning that we can't keep building places like we used to. We have to challenge the status quo." While interning at a transportation consulting firm that specializes in bike and pedestrian planning, Jaffe organizes a variety of networking events, panel discussions, resource groups, and other events for women and LGBTQ people working in and studying planning.
Laier-Rayshon Smith
Harvard University, Urban Planning
"Planning is perfectly positioned to lead the way to ensure that the urban environment, and our experiences within it, are as equitable as we can formulate." Informed by his childhood in Pittsburgh and experience in the nonprofit world, Smith takes a multidisciplinary approach to infusing equity in the built environment by working at the intersections of social interaction, policy, and design.
---
Dates to Remember
November
6 APA Texas chapter conference
7 APA Delaware annual meeting
13 APA New England chapter conference
15 Nominations for the Student Project Awards and Outstanding Student Organization due.
---
Intersections is compiled and edited by Lindsay Nieman. Send info to lnieman@planning.org.