Ivis García
Hispanic, Latino, Latina, or Latinx?
When this professor was asked for article recommendations on the differences between the terms "Hispanic" and "Latino/ a/x," she found a gap — and decided to fill it with her own piece. "As a Puerto Rican who became a Latina after moving to the U.S., I was largely unaware of the evolution of these terms. I learned so much about my own cultural background by writing about it," she says.
David Wasserman
The Art of Learning by Example
Through his work at the junction of urban planning and civic analytics, this planner hopes his investigations into artificial intelligence help planners recenter conversations about outcomes — "and contribute to wider discussions on how we manage the intersection of data, context, and community values," he says.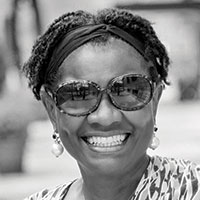 Emma Lockridge
This Detroit-based photographer uses her camera to illustrate the impact pollution has on her community. "It's out of sight, out of mind for most people," she says. "My images are a wake-up call for the need for overdue remedies to help Black people, like myself, who are most often trapped in poisoned places due to systemic racism." See more of her work in Planning web exclusive: "Life in 48217."