Megapolitan America
A New Vision for Understanding America's Metropolitan Geography
By Arthur Nelson, FAICP, Robert Lang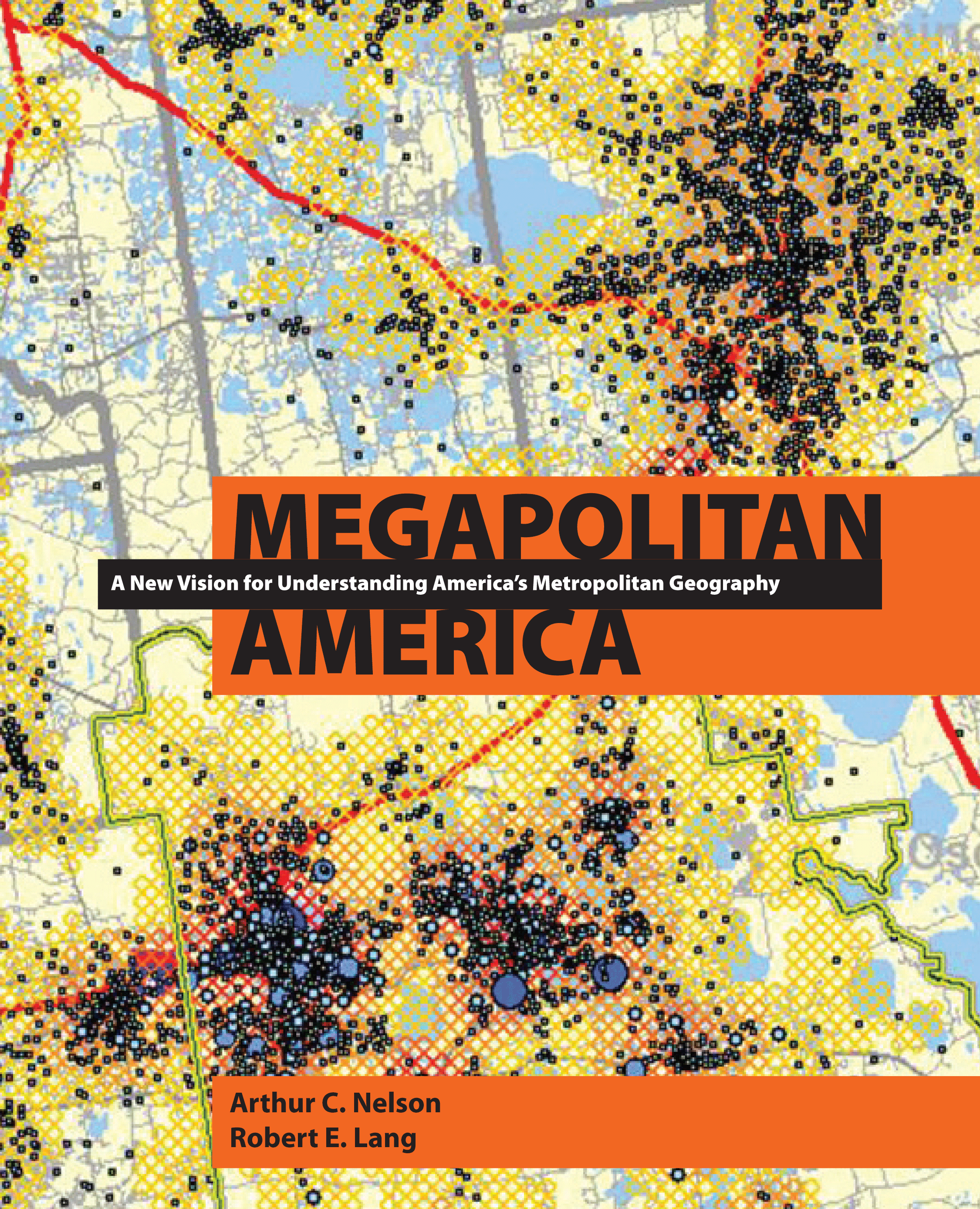 In popular imagination, America is the land of wide open spaces. But in reality, much of it is more densely populated than Europe. Two-thirds of the U.S. population lives on less than 20 percent of the privately owned land, clustered in 20-some megapolitan areas — networks of metropolitan centers fused by common economic, physical, social, and cultural traits.
The book draws on de...
Read More
---
---
Product Details
Date Published
Aug. 1, 2011
Publisher
APA Planners Press
About the Authors
Arthur Nelson
Dr. Arthur C. (Christian "Chris") Nelson, FAICP, is Professor of Planning and Real Estate Development in the College of Architecture, Planning, and Landscape Architecture and Professor of Geography and Development in the College of Social and Behavioral Sciences at the University of Arizona. He is also Presidential Professor Emeritus of City & Metropolitan Planning in the College of Architecture + Planning, Professor Emeritus of Finance in the Daved Eccles School of Business, Executive Director Emeritus of the Metropolitan Research Center, and Director of Emeritus of the Master of Real Estate Development Program at the University of Utah. For the past forty years, Dr. Nelson has conducted pioneering research in public facility finance, economic development, transportation and land use planning, and metropolitan development patterns. He has written nearly 30 books and more than 300 other works, and has made more than 300 scholarly and professional presentations. His current research focuses on how changing demographics and preferences will reshape metropolitan America.
Robert Lang
None
Table of Contents
Foreword by Armando Carbonell
Prologue: From Cities to Megapolitans
The New Kid in Town: Megapolitan Areas and Clusters
From Megalopolis to Megapolitan
The Evolving Megapolitan Idea
Progression of Thought
Organization of Megapolitan America
Part 1: From Cities to Megaregions
City and Metropolitan Form
Concentric Ring or Monocentric City and Metropolitan Form
Sector City and Metropolitan Form
Multinuclear or Polycentric City and Metropolitan Form
The Extended Metropolis
Megaregions and National Regions
Summary Observations
Part 2: Megapolitan Convergence
Soft-Nosed, Self-Organized Planning
The New Metropolitan Governance: Tied to Federal Formula
The Business of Megapolitans: Cooperating on Economic Development
The Megapolitan Footprint: Managing Land and Water
The State and the Megapolitan: Conflict and Convergence
Endnote
Part 3: Defining What Is Megapolitan
Metropolitan Evolution
The Metroplex Model
Urban Realms
The New Metropolitan Form
Metropolitan and Megapolitan Commuting
Methods
Reviews
"This book is part planning manual, part atlas, part reference guide, part call to action — all about the most important economic and social development taking place in the country today. Arthur Nelson and Robert Lang's description of the nation's 'megapolitan' regions will change the way we think of the economy and how we all have come to live. Let's hope it also changes the way we act in the future."
—Bill Bishop, author of The Big Sort: Why the Clustering of Like-Minded America Is Tearing Us Apart
"This is an extraordinary book. It completely and — in my largely lay judgment — correctly reorients our thinking about where our cities and communities are going both physically and in terms of actual living. What an extraordinary contribution to our thinking on these issues. This should be required reading — and I rarely say that — for every governor, mayor, legislator, city council member, Chamber of Commerce member, and, indeed, citizen!"
—Michael K. Young, President, University of Washington