A Planners Guide to Community and Regional Food Planning (PAS 554)
Transforming Food Environments, Facilitating Healthy Eating
By Samina Raja, Branden Born, Jessica Russell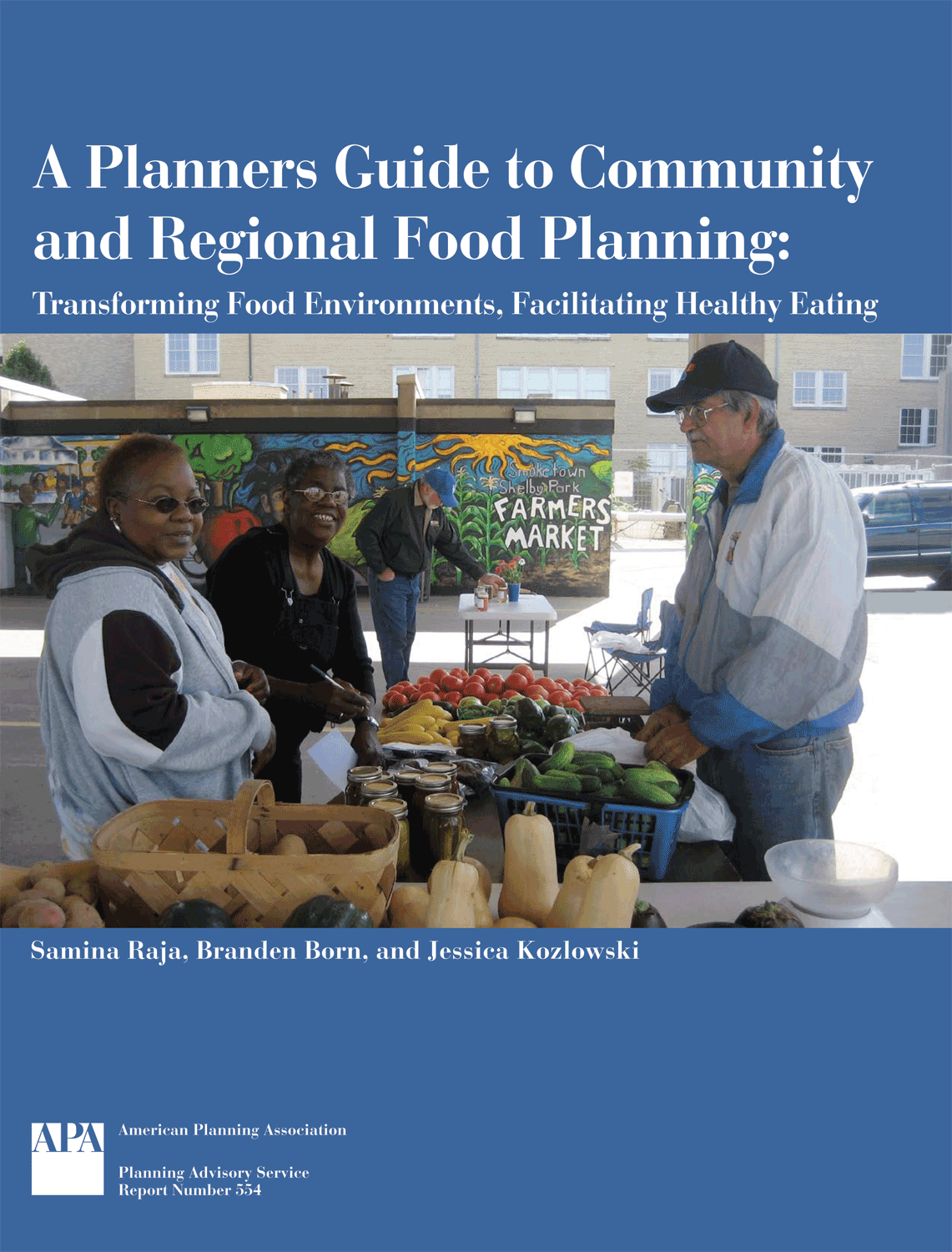 Food nourishes us, enriches our celebrations, and sustains life itself. Yet not everyone in the United States has equal access to healthy food. Some of us live in neighborhoods where grocery stores carry a greater variety of potato chips than vegetables, while some of us cannot afford vegetables even when they are available.
This PAS Report by Samina Raja, Branden Born, and Jessica Kozlowski...
Read More
---
Product Details
Date Published
Oct. 15, 2008
Publisher
APA Planning Advisory Service
About the Authors
Samina Raja
None
Branden Born
None
Jessica Russell
None
Table of Contents
Chapter 1. Food, Healthy Eating, and Planning
What Is Community and Regional Food Planning?
Chapter 2. Current Efforts to Promote Healthy Eating Through Community and Regional Food Planning
Examples of Programmatic Efforts
Policy Efforts
Planning and Zoning
Chapter 3. A Nationwide Survey of Planners About Promoting Healthy Eating Through Planning
Planners' Opinions About the Profession's Involvement in Food and Healthy Eating Issues
Planning Organizations' Involvement in Planning for Healthful Food Access and Healthy Eating
Major Barriers to Planning Organizations' Involvement in Promoting Access to Healthful Foods
Chapter 4. Six Communities' Efforts to Promote Healthy Eating
Marin County, California: Comprehensive Planning to Facilitate Production of Healthful Foods and Food Security
Madison, Wisconsin: Increasing Access to Healthy Foods by Strengthening the Local Food System
Philadelphia: Bringing Food Retail to Underserved Neighborhoods Through Innovative Financing
Louisville, Kentucky: Healthful Food Environments In and Around Public Housing Sites
Portland, Oregon: Using a Food Policy Council to Promote Healthy Eating
Buffalo, New York: Empowering Youth to Transform Urban Food Environments and Neighborhoods
Chapter 5. Understanding and Measuring Food Environments
Characteristics of Food Environments
Measuring Access to Healthful Foods
Chapter 6. Planning Strategies to Improve Food Environments and Facilitate Healthy Eating
Information Generation
Programmatic Efforts
Plan Making and Design
Regulatory and Zoning Reform
Conclusion
End Notes
List of References and Bibliography