The Big Easy, The Crescent City, the Birthplace of Jazz — the City of New Orleans goes by many names, but there's only one of this American original. In 2018, this vibrant city hosts the National Planning Conference.
Experience Our Host City
Laissez Le Bons Temps Roulez
Let the good times roll in New Orleans.
Things to Do
Culture
New Orleans is a city rich in culture, history, and traditions. Dip your toe into the Big Easy's unique way of life with a few of these one-of-a-kind stops.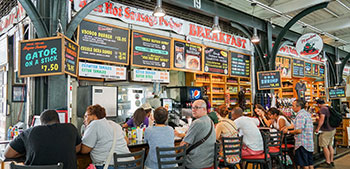 Food
It's all about the sauce in New Orleans. Crackling with a tantalizing gumbo of culinary history and cocktail culture, New Orleans is the best place to eat in America. Be sure to try some of the foods that call NOLA home during your visit. Here are just a few recommendations.
Beignets at Café du Monde
Po-Boys at Parkway or Domilise's
Gumbo at Liuzza's by the Track
Still hungry?
New Orleans is peppered with James Beard Award winners.
Music
The musical notes of jazz, brass, R&B, soul and innovative mixes are heard all over the city. Music clubs pulse with compelling live acts every night of the week. Here are just a few spots to check out:
Tricentennial
New Orleans celebrates their 300th anniversary in 2018. Join the city in celebrating their history and their future.
Anniversary highlights: