National Planning Achievement Awards 2018
In addition to the five excellence awards, the jury also selected 16 achievement award recipients for 2018. These awards recognize good planning work. Achievement award recipients are collectively recognized at the National Planning Conference's awards luncheon.
National Planning Achievement Award for a Best Practice — Gold
County of Los Angeles Department of Regional Planning
Los Angeles, California
According to the U.S. Census, the County of Los Angeles is home to an estimated 4.7 million Hispanic residents, which is more than any other county in the U.S. Approximately 80 percent of this population is Spanish-speaking. To communicate and interact more effectively with this population, the Department of Regional Planning pioneered the Spanish Planning Committee (SPC).
The SPC consists of 16 planners who routinely review and translate documents and provide live interpretation services during public hearings and community meetings. The SPC also manages and maintains the Spanish Planning Glossary, a resource that bridges the gap between planners and the communities they serve through the translation of technical planning terms. Furthermore, the SPC has increased Spanish speakers' accessibility to departmental information and planning initiatives by developing a DRP Spanish-language web page and posting on social media in Spanish.
By embracing inclusivity and diversity, the SPC is tackling the language barrier that can often prevent Spanish-speaking constituents from understanding and being involved in the planning processes that shape their communities. The SPC model is one that can be replicated within the broader planning field and society at large. Committees like SPC can be formed within planning agencies nationwide to further advance sound, ethical, and inclusionary planning that benefit local planners, the communities they serve, and the planning field as a whole.
National Planning Achievement Award for a Best Practice — Silver
Columbus-Franklin County Local Food System Planning
Columbus and Franklin County, Ohio
Columbus City Council and the Franklin County Board of Commissioners established the Columbus & Franklin County Local Food Board to oversee, prioritize, and guide implementation of cross-sector local food system work, including implementation of the Columbus and Franklin County Local Food Action Plan (LFAP) and the Green Business and Urban Agricultural Strategic Plan (GBUAP).
These initiatives advance a wide range of public health, economic, and environmental benefits for residents of the City of Columbus and Franklin County, where 24 percent of residents have difficulty accessing grocery stores, and one in five children in Columbus are more likely to suffer chronic disease because they are food insecure. Collectively these efforts inform public policy, inspire program development, foster community collaboration, guide local funding strategies, and establish the foundation for successful philanthropic and public grant applications.
In 2017, community partners in Columbus and Franklin County received over $1 million in funding to strengthen the local food system for residents. The Columbus & Franklin County Local Food Board and the collective food system planning efforts create a foundation on which these investments can be leveraged to benefit the economy, the environment, and all residents of Columbus and Franklin County.
National Planning Achievement Award for a Best Practice — Silver
San Francisco's Accessory Dwelling Unit and Unit Legalization Program
San Francisco, California
For years, the city of San Francisco faced a severe shortage of affordable housing. In 2014, with bipartisan support, the city passed legislation that legalized accessory dwelling units (ADUs), or in-law units, which were illegal in San Francisco despite the fact that many were being built without permits and exceeded the allowed density.
Simultaneously, the city adopted a pilot program in one neighborhood to allow new units to be built beyond the density requirement, which has expanded to a citywide program in 2016.
The Accessory Dwelling Unit and Unit Legalization Program outlines requirements for building and maintaining these units safely and legally. Often built at street level with a separate entrance, ADUs are smaller and more affordable that pricier homes on the market, providing ideal housing for students, immigrants, seniors, young professionals, and single parents. They cost less than $150,000 to build compared to $500,000 for new development.
Today ADUs cost on average a third of a typical unit in new development, and ADU owners can recoup the costs in a few years. Owners of existing illegal units can update them to current legal health and safety standards, and permit fees are waived. As of March 2018, 1,200 new ADUs were in the housing pipeline, compared to only 200 units added per year before 2014.
National Planning Achievement Award for a Best Practice — Silver
Planning Assistance for Thriving Communities
Metropolitan Council, St. Paul, Minnesota
Planning Assistance for Thriving Communities is a multi-format package of planning resources and knowledge-based tools compiled by the Metropolitan Council to help 188 Minnesota local governments with their comprehensive planning initiatives in response to the regional plan, Thrive MSP 2040.
Planning capacity varies widely among these agencies depending on the community's population and planning department size. The package aims to consolidate planning resources and knowledge in a centralized location for easier access and sharing by the different agencies.
Central to this package is the Local Planning Handbook, which highlights exemplary planning work of local governments around the region and covers numerous planning topics, including land use, housing, natural resources, economic development, and more. The handbook's web-based format allows for continuous updates and keeps content current and relevant. Each of the 188 local governments has its own community web page with forecast data, mapping tools, and other individualized planning information.
The accompanying Planit educational series provides networking and professional development opportunities via short instructional tutorials, webinars, expert articles, and workshops. The technical assistance package allows multiple planning agencies to access and maximize their knowledge and resources for more effective local comprehensive planning.
National Planning Achievement Award for Economic Development Planning — Gold
A Return to Past Prosperity: The ASARCO Redevelopment Project
Adams County and Denver, Colorado
The ASARCO Redevelopment Project is a coordinated effort of public and private groups to clean up and redevelop a distressed 77-acre manufacturing site in Globeville, Colorado, near Denver. It once was a thriving economic center but had a history of producing environmental waste.
When the plant's parent company, American Smelting and Refining Company (ASARCO), filed for bankruptcy and shut its doors in 2006, it left behind pollution and environmental waste so toxic that many residents underwent frequent cancer screenings to protect their health. During bankruptcy proceedings, a custodial trust was formed to oversee the property and $14.4 million dollars for remediation efforts.
Located near major transportation, the land's potential for redevelopment was recognized by city officials and community leaders, but they also saw that that it would need extensive and costly remediation to be usable again. The Redevelopment Plan called for a finance package that included a $10 million Section 108 HUD loan from Adams County, $750,000 from Denver's CDBG Program and TIF funds.
Once new legislation modifying the state's urban renewal law was passed, allowing counties to participate in urban renewal projects, the financing package — and the redevelopment plan — became a reality. Today the former industrial site is a vibrant, economic center that will ultimately bring 1,000 new jobs into the area.
National Planning Achievement Award for Environmental Planning — Gold
Marin County Community Development Agency
San Rafael, California
Climate experts estimate that sea levels could rise by 70 inches by the year 2100, and that storms could occur with greater frequency and intensity, putting coastal areas like Marin County, California's Pacific Coast at risk to sea level rise (SLR). The Community Development Agency (CDA) of Marin County launched Collaboration: Sea-Level Marin Adaptation Response Team (C-SMART) to educate coastal residents about SLR and help prepare for possible impacts, such as frequent, intense storms and flooding.
Included in C-SMART is a Vulnerability Assessment that identifies near-, medium-, and long-term vulnerabilities to natural and built assets throughout seven coastal communities, and an Adaptation Report that evaluates resiliency alternatives with a decision-making matrix to consider public benefits, environmental impacts, costs and more.
Both tools serve as the basis for continued planning to evaluate site-specific adaptation options for critical infrastructure, homes, natural resources, and more. The program also includes: local coastal program policies requiring additional building elevation to accommodate sea level rise (SLR); the Game of Floods public educational tool to help participants consider adaptation options; and Shrinking Shores, an annual event located at future beach shorelines to help visitors envision shrinking shores due to SLR. As sea levels continue to rise, Marin County's C-SMART program can help other coastal communities prepare for its impact.
National Planning Achievement Award for a Grassroots Initiative — Gold
San Francisco, California
Columbus Avenue in downtown San Francisco is home to heavy vehicle traffic as well as many restaurants and cafes with outdoor seating areas. When three high school students noticed that a new city parklet on Columbus Avenue had put an eating area out into the street closer to traffic, they wondered: "Is it safe?" That question led to their study of the street's design and air pollution levels — a project they called Street Air.
For one year, the teens — Zelda Zivny, Milo Wetherall and Charlie Millenbah — studied traffic patterns and measured air quality on Columbus Avenue using calibrated air monitors. They conveyed their findings in a short documentary film, Columbus Discovers Air Pollution, and shared their general design recommendations for outdoor eating areas. The teens have expanded their research to study the effects of street-level pollution on nearby restaurant interiors and staff.
The film has drawn widespread attention, including from the San Francisco Planning Department, which invited the students to do community outreach for a redesign initiative for Columbus Avenue. The teens have participated in Q&A sessions at film festivals, and received awards from APA's California Chapter and APA's Northern California Chapter. The groundbreaking research highlights pollution as an urban planning issue and shows how pollution-free outdoor dining areas can be designed for better health and safety.
National Planning Achievement Award for Implementation — Gold
Jamestown, New York
Located 70 miles west of Buffalo, Jamestown is a former manufacturing hub with a population of approximately 35,000. The downtown weakened as its population and manufacturing base eroded. Adopted in 2006, the Jamestown Urban Design Plan outlines a revitalization strategy for the city's historic downtown. Developed through a collaborative process, the plan creates a vision for future economic growth in the aftermath of long-term economic change.
Several plan initiatives have attracted new jobs, created new community destinations, and fostered business investment. The Jamestown Renaissance Corporation was formed to implement the plan and bring capital, residents, and businesses downtown.
The Chadakoin Riverfront, once overgrown and lined with abandoned buildings, has become an attractive Riverwalk Trail connecting to downtown and Chautauqua Lake. Facade improvements have revived 36 buildings along Main Street, and a renovated historic building now houses 60 market-rate apartments and several restaurants. The new $50 million National Comedy Center leverages the city's heritage as the birthplace of comedian Lucille Ball.
After Jamestown's listing on the National Register of Historic Places in 2014, the city became eligible for historic tax credits, which have attracted further investment: a vacant department store is being developed into the Jamestown Renaissance Center to host civic and charity events, and a once-vacant train station now is a multi-modal transportation center. The city's unified vision plan is recognized by the state of New York as a model for revitalization.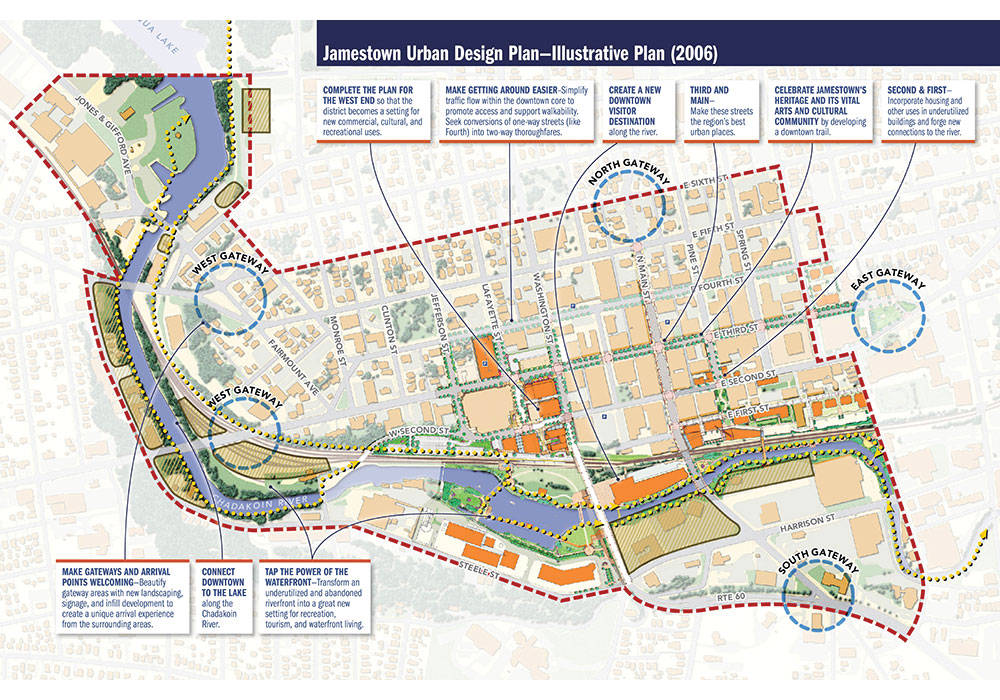 National Planning Achievement Award for Public Outreach — Gold
Denver Metro Region, Colorado
The Community Vision Plan for the High Line Canal is a collaborative effort between High Line Canal Conservancy, Denver Water, and representatives from 11 jurisdictions along the canal's 71-mile route to identify a shared vision to preserve and enhance a beloved greenway. Built in the late 1800s, the High Line Canal is a delivery system for irrigation water, but the earthen canal consistently loses over 70 percent of its water through evaporation or seepage and is not a sustainable delivery approach. The canal's leaky nature created its own ecosystem — a greenway that attracts more than 500,000 recreational users annually.
Preserving the canal required persuading residents and recreational users that the greenway was at an important crossroads. Through community presentations, open houses, surveys, and workshops, the planning team led by Sasaki with Matrix Design Group and PlaceMatters framed the planning process as a story, complete with chapters describing the canal's history and future possibilities.
"The Adventure on the High Line Canal" helped residents envision a sustainable future for the canal and made them part of the planning process. The canal is a valued recreational resource, and now, with community input and support, a shared vision for its future will ensure it is preserved as a natural, varied, and connected greenway for future generations.
National Planning Achievement Award for Public Outreach — Silver
San Jose, California
In San Jose, California, home to more than one million residents of diverse ethnicities, the most frequently asked question at the city's planning department is: "What are the requirements for a home addition?"
In response, the city produced a video tutorial, Designing an Addition to Your Single-Family Residence, which has been available on the city's website since September 2016. Six minutes in length, in an easy-to-understand format, the video graphically illustrates complex planning concepts and zoning code requirements for additions in the Single-Family Residence Zoning Districts.
The video provides permit instructions, identifies when additional development permits are needed, and includes links to helpful resources. Additionally, the video enhances the department's customer service and serves as a valuable training tool for new staff. The information can be easily accessed by residents 24/7, is ADA compliant for the visually and hearing-impaired, and is translated into both Spanish and Vietnamese.
Planners used to spend many hours interpreting and repeating zoning requirements, explaining the planning permit process and submittal requirements to customers. The video's clear and consistent explanations of these topics helps staff by freeing up their time to assist additional customers and review more complex projects. Within the first six months, the video received 1,700 views and generated cost savings of nearly $64,400 in staff time.
National Planning Achievement Award for Public Outreach — Silver
Innovations in Public Engagement
Newark, New Jersey
Innovations in Public Engagement is a public outreach program developed by the North Jersey Transportation Planning Authority (NJTPA) — which oversees planning for the 13-county region in northern and central New Jersey — and the Voorhees Transportation Center at Rutgers University. After two years researching outreach activities by planning organizations in the U.S. and worldwide, NJTPA and Voorhees catalogued nearly 400 public engagement activities in a Tools and Approaches database.
NJTPA adapted some of the more innovative engagement practices for its outreach work for its regional transportation plan, specifically to reach millennials, low-income residents, teens, and individuals with limited English language skills — groups most affected by transportation issues.
For young adults and millennials, the "Set the Table" dinner party program features a "Meeting-in-a-Box" which includes a discussion card game with questions to guide conversations. "NJTPA On-Air" pop-up booths designed to look like a radio studio were set up at public events to encourage kids to record their thoughts about the future of transportation. Workshops held in ESL classes gave students practice communicating about issues affecting their community.
These non-traditional approaches, coupled with NJTPA's broader outreach (interactive workshops, online engagement, and pop-up booths at community events) conducted in each of its subregions, drew nearly 3,000 people to participate in outreach activities, exceeding the numbers from more traditional engagement efforts.
National Planning Achievement Award for Transportation Planning — Gold
Washington, D.C.
The Long-Range Transportation Plan (LRTP), the first performance-based, multi-modal transportation plan developed by the National Park Service, sets forth a 20-year, data-driven vision to improve access to park units for people of all ages and abilities.
With input from more than 80 subject matter experts, the planning team — composed of planners, scientists, engineers, and data analysts — examined transportation issues from different perspectives resulting in a coordinated, cross-disciplinary approach addressing issues of fiscal responsibility, visitor experience, natural and cultural resource protection, and investment performance.
The plan's goals include: stabilizing the condition of the most important transportation infrastructure; integrating resource preservation principles into transportation design; improving information to help travelers navigate through parks; identifying and mitigating congestion; and applying roughly $400 million annually toward high-priority projects that enhance visitor enjoyment and safety.
The plan's comprehensive financial analysis of all available transportation funding sources enables a performance-based planning approach. The resulting investment strategy targets infrastructure of the highest priority, such as primary park access and loop roads, bridges, transit systems, and multiuse trails, specifying the percentage of funds to be allocated to those transportation modes. Performance measures are also established for the completion of new analysis tools and management systems that can reduce impacts on natural and cultural resources, mitigate congestion, and improve visitor information and safety.
National Planning Achievement Award for Transportation Planning — Silver
Grand Rapids Vital Streets Plan
Grand Rapids, Michigan
After a 2013 report by the Grand Rapids Sustainable Streets Task Force found that 371 of 588 miles of city streets — roughly 60 percent — were in poor condition, a 25-member Vital Streets Oversight Committee (VSOC) developed a detailed plan for street improvements.
Developed over 12 months and adopted in December 2016, the Grand Rapids Vital Streets Plan outlines the principles and design goals for rebuilding more accessible, safe streets that integrates green infrastructure and protects the region's waterways. The plan aims to reduce single-occupant vehicle travel from 95 percent in 2016 to 45 percent by 2035, and reduce fatalities and serious injuries from traffic accidents.
Design guidelines specify the design controls and streetscape elements needed to ensure projects meet established goals. Equity analysis identifies neighborhoods with the greatest need for street improvements and areas that serve populations that rely heavily on public transit and other non-vehicle transportation.
The plan defines street types — specific to Grand Rapids — based on transportation function and surrounding land use, and creates a framework for the newly formed Community Engagement Division to assist with the city's outreach activities. The Vital Streets Plan is an ongoing effort to create a more healthy, safe, and livable city.
National Planning Achievement Award for Transportation Planning — Silver
Charlotte, North Carolina
In Charlotte more than 250,000 residents don't drive or own a car, and the city is working to provide more non-vehicle transportation options. Charlotte WALKS, the city's first comprehensive pedestrian plan addresses three main priorities: creating a safe environment for pedestrians; providing a useful street network and land use mix to allow residents to accomplish daily needs within a walkable proximity; and making the streets and neighborhoods more comfortable and inviting.
The plan's "One Less Trip" study finds that even the smallest incremental changes in transportation policy and behavior can provide positive environmental and economic benefits, including job creation, household savings, improved health and well-being, and reduced gas emissions.
The city is spending $7.5 million annually on improvements to increase walkability, including 24 miles of sidewalks, 91 new pedestrian crossings and 84 improved crossings. $1.4 million of that funding will improve safety along high-volume urban trails. A plan recommendation that has already been implemented is the Charlotte Placemaking Hub, which emphasizes streets as public spaces, allowing Charlotte residents to install pilot projects in the city's right-of-way. The plan's Open Streets 704 program helps bicyclists and pedestrians reimagine the streets as places for fun and exploration.
As the city's population continues to grow at an average of 44 people per day, Charlotte WALKS will guide the city's efforts to improve and expand non-vehicle transportation options.
National Planning Achievement Award for Urban Design — Gold
Chelsea, Massachusetts
At only 2.2 square miles, Chelsea, Massachusetts, serves the region's port operations. For years state regulations protected the waterfront for industrial use, in direct conflict with local zoning for public waterfront access. The Rock Chapel Marine/P.O.R.T. redevelopment model represents a compromise of the two opposing perspectives, resulting in a shared space based on seasonal use.
During the winter, the facility is used for stockpiling and distributing rock salt. In the summer, when industry is less active, it becomes The P.O.R.T., a public recreation area and event space for charity events, movie nights, and art walks. Salt dock workers, often underemployed during the summer, help maintain the park landscapes and work at public events.
The shared space incorporates many original industrial elements in the facility's design. Oil tanks were cut down and filled with soil to create a waterfront amphitheater, while loading racks for oil trucks and barges became viewing platforms. Illustrated bilingual signs identify the physical structures that were repurposed. To create the open outdoor space, salt stockpiles were strategically placed to act as a sound buffer between the site and adjacent neighborhood.
By blending public and private interests, Rock Chapel Marine/P.O.R.T. has become a unique visitor destination.
National Planning Achievement Award for Urban Design — Silver
Queens, New York
For decades, the Rockaway Boardwalks in Queens, New York, have attracted surfers and beachcombers from around the world. After Hurricane Sandy demolished the iconic visitor attraction in 2012, the New York City Department of Parks and Recreation and the New York City Economic Development Corporation commissioned a design team to reimagine the six miles of beachfront into a more resilient version that could withstand future storms.
From the pile foundations to the walking surfaces, the entire boardwalk was rebuilt with reinforced concrete and raised to three feet above the new base flood elevation recommended by FEMA. Ramps installed at access points from the street and beach sides now reach the walking surface that was raised three to five feet higher than the original boardwalk.
The boardwalk is situated on a newly planted sand dune that stabilizes and replenishes new beach infill, supplemented by four-and-a-half miles of sand retaining walls and sand fences along the route. Blue concrete planks with glow-in-the-dark speckles spell out "Rockaway" on the boardwalk, visible to air travelers passing overhead, day or night. The entire peninsula was redeveloped with parks, playgrounds, skate parks, and performance spaces.
The redesigned Rockaways Boardwalk, dubbed the Dune Walk, reopened to the public in 2017, restoring vitality to the coastal community and demonstrating a fresh approach to coastal infrastructure in an era of climate change.