Affordable housing. Urban design. Disaster recovery and resilience. Economic development. Artificial intelligence. These are just some of the topics APA's podcast delves into with deep curiosity, expert analysis, and affecting, true-life stories. Throughout every episode of the podcast, listeners of all backgrounds — from those ensconced in the daily challenges and rewards of planning to those coming to the field with fresh eyes — get a firsthand look at what it means to be a planner in a world that needs them now more than ever.
---
---
Recent Episodes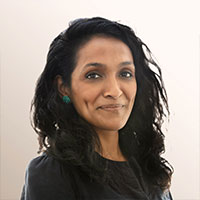 Planner and City Official Nithya Raman's Vision to End Homelessness in Los Angeles
In this episode of the People Behind the Plans podcast series, urban planner and L.A. City Council member Nithya Raman shares her vision for reducing homelessness. She also offers tips for working more effectively with city government, and explains how planners can use their expertise to educate and galvanize communities for positive change.
Critical Conversations in Transportation Planning: Olatunji Oboi Reed
In this podcast episode, Olatunji Oboi Reed, founding President & CEO of Equiticity, discusses emerging research on the ways in which a neighborhood's infrastructure can have an impact on reducing violence, and how Equiticity's Mobility Rituals are increasing social cohesion and collective efficacy through bike rides, neighborhood walking tours, and public transit excursions. 
Navigating Mobility Justice With Naomi Doerner
As a growing number of cities develop mobility justice initiatives, Naomi Doerner, MUP, is helping planners navigate these efforts to address systemic inequities and barriers in transportation. Doerner, principal and director of equity, diversity, and inclusion at Nelson\Nygaard Consulting Associates and former program manager of Seattle's innovative Transportation Equity Program, sat down with host Courtney Kashima, AICP, to talk about what mobility justice looks like in practice, including some inspirational examples from around the world. 
The Intersection of Hip Hop and Planning with Michael Ford
In this special episode of the People Behind the Plans podcast, guest host Jason Pugh, AICP, AIA, NOMA, LEED AP, president of the National Organization of Minority Architects (NOMA), sits down with Michael Ford, AIA, NOMA, keynote speaker at the 2022 APA National Planning Conference. In this live-recorded discussion in San Diego, Ford and Pugh talk about the unique connection between hip hop, urban design, community engagement, and so much more. 
San Diego County Tackles Affordable Housing and Climate Change
Dahvia Lynch, AICP, the director of Planning & Development Services for San Diego County, talks about her agency's bold plans for housing and climate change, an accessory development unit program that helped drive a 70 percent uptick in ADUs, and an agricultural conservation program that has permanently set aside nearly 80,000 acres. The agency is also taking a connected approach to housing and vehicle miles traveled, while supporting electric vehicle adoption.
Cascading Hazards with Dr. Michael Greenberg
In this episode of the Resilience Roundtable series, host Rich Roths, AICP, speaks with Michael Greenberg, Ph.D, distinguished professor at the Edward J. Bloustein School of Planning and Public Policy at Rutgers University. The two discuss the concept of cascading hazards, what they are, where are they more prevalent, how they are prepared for and mitigated against through plans at local, state and federal levels of government. 
Fighting Climate Change in Cities With BioDiversity and Nature-Based Design
In this episode of the People Behind the Plans podcast series, host Courtney Kashima, AICP, is joined by Rasmus Astrup, partner and design principal at Danish urban design and landscape architecture practice SLA. Rasmus and Courtney discuss the importance of biodiversity and nature-based solutions to address the needs of cities to mitigate against the effects of climate change and specific issues like extreme urban heat. 
TikTok's TalkingCities Makes Urban Planning Fast and Easy to Grasp
Urban planning is going viral on TikTok. TalkingCities, a popular account run by Paul Stout, distills urban planning concepts into bitesized videos. APA's Lindsay Nieman chats with Paul about how he got started, what planning subjects he's most interested in, and why TikTok makes his channel's success possible.
Artificial Intelligence and Urban Planning: What Planners Need to Know Now
Artificial intelligence experts Neda Madi and Tom Sanchez join APA research director Petra Hurtado, AICP, to discuss why planners need to pay attention to AI (hint: it's already being used in many planning contexts). They talk in-depth about the potential impacts on communities, as well as how planners can mitigate the negative ones.
Philadelphia Is Transforming Vacant Lots into Climate-Resilient Pollinator Gardens
Planning and community health manager Sagar Shah speaks with Jen Mihills of the National Wildlife Federation and Samir Dalal of the Pennsylvania Horticultural Society about cleaning and greening vacant lots in Philadelphia. The two provide actionable advice to planners looking to use similarly low-cost but high-impact solutions in their own communities.
We Need to Outthink Wildfire, Not Try to Eliminate It
With an unprecedented season of wildfires barely in our rearview mirror, National Fire Protection Association (NFPA) veteran Michele Steinberg comes on the Resilience Roundtable podcast series to talk about wildfire mitigation and prevention. Her conversation with host Jim Schwab, FAICP, revolves around the NFPA's newest policy initiative, Outthink Wildfire.
The City-Making Process Gets Focused on Diversity, Equity, and Inclusion in This Planner's Work
Cherie Jzar, AICP, has worked in a wide range of planning areas. Now she's bringing her expertise to a new initiative: building more equitable policies and practices as the City of Gastonia's Diversity, Equity, and Inclusion Coordinator. Listen as she speaks with APA editor-in-chief Meghan Stromberg about her work experience and takeaways from centering her career, regardless of a position's focus, on social justice.
"Feminist City" Author Leslie Kern on Envisioning More Equitable Urban Spaces
Author Leslie Kern joins host Courtney Kashima, AICP, on this episode of People Behind the Plans to discuss her latest work, Feminist City: Claiming Space in a Man-Made World. The two explore the myriad challenges women face living in and navigating spaces built largely for a narrow subset of the population.
---
APA Podcast Series
Planners of every discipline share the impactful work they do. Led by host Courtney Kashima, AICP, these conversations illuminate the essential hows and whys of planning.
Listen to experts discuss how autonomous vehicles could (and should) fit into the public right-of-way.
Planners and allied professionals who make resilience their mission, even in the face of devastating natural hazards, share their stories and best practices.
---
Have an Idea for a Podcast Episode or Series?
Is there a planning topic we haven't covered that you can't stop thinking about? Have you become aware of a planner doing exciting work in the field who deserves to be featured? Or do you just want to send us a note on how we're doing? Send your ideas, comments, and feedback to podcast@planning.org, and we'll get back to you as soon as we can.