Eleven times a year, thousands of readers — planners and the public alike — turn to the latest Planning magazine. Each new issue is full of innovative ideas that are reshaping communities across America and around the world.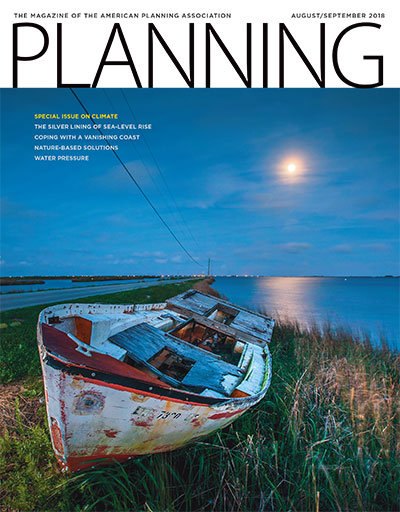 August/September 2018
Special Issue on Climate
Ideally, resilience planning not only prepares communities for futures affected by climate change, but also identifies and acts on associated opportunities for economic development, public engagement, and increased equity. The August/September issue of Planning finds communities that are embracing opportunities for positive change as they prepare to meet the challenges of rising seas (in Virginia), coastal subsidence (in Louisiana), and extended drought (throughout the Southwest).
Planning Subscribers
Featured Articles
Norfolk, Virginia, is investing in resiliency, reports Brian Barth.
Clement Lau takes a coast-to-coast tour of the parks making their communities more resilient to climate change.
Louisiana learns to adapt to a vanishing coast. Story by Emilie Bahr.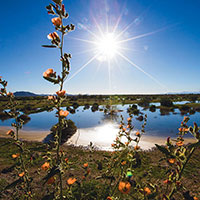 As temperatures rise and water levels fall, inland communities are taking action to make sure they aren't left high and dry. Allen Best reports.
News & Departments
A regular column by Chief Executive Officer James M. Drinan.
Student engagement, farm bill update, upcoming APA conferences.
This Month's Question
Which climate change issue is impacting your community the most?
Storytelling, housing, the opioid epidemic.
Volcanic activity, restored wetlands, crowded cemeteries.
The climate change fight goes local.
A bimonthly department aimed at planning commissioners. Edited by Kimberley Jacques.
Reid Ewing looks at three transportation agencies doing land-use planning.
Sustainable urban design, flooding scandals, equity in resiliency.
More on climate change and resiliency, from podcasts to satellite imaging.
AV planning shouldn't ignore freight.
Cover: Photo by Ted Jackson.
Resources
Subscribe to Planning Magazine