New from APA Research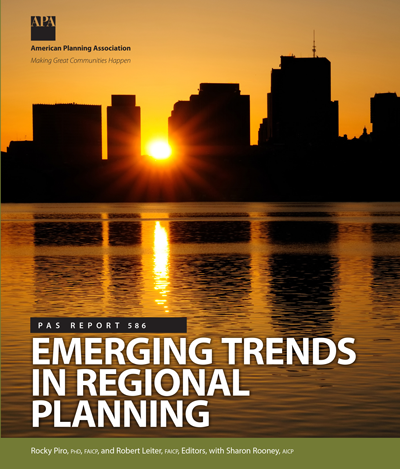 Emerging Trends in Regional Planning (PAS 586)
The latest PAS Report identifies emerging trends in regional planning; explores how regions are planning for water and land resources, economic development, housing, climate change, and public health; and highlights five U.S. regions leading the way in regional integrated planning.
Current Research
Discover research on sustaining, improving, and creating vital communities
Through an overarching collaborative strategy that brings together members of APA and the American Public Health Association, this project is building local capacity to address population health goals and promote the inclusion of health in non-traditional sectors.
In cooperation with the Association of State Floodplain Managers, APA is conducting a series of quarterly webinars for practitioners on hazard mitigation planning and its connections with recovery planning and preparedness.
The Nature Conservancy is working in partnership with APA and other organizations to develop a green infrastructure siting guide for municipal leaders and staff responsible for community planning, floodplain and stormwater management, and redevelopment activities.
APA's Planning and Community Health Center is embarking on a project to further the education, training, and development of Health Impact Assessments (HIA) as an integral part of planning practice to integrate the use of HIA into plans and policies that shape the built environment.
APA is working with the National Recreation and Park Association and the Low Impact Development Center to improve environmental and social outcomes in underserved communities through green infrastructure in local parks.
APA is leading an initiative to establish standards and a designation program for integrating sustainability into comprehensive plans. This work aims to improve plan quality while asserting the planning profession's role as a leader in the sustainability arena.
National Centers for Planning
APA's National Centers for Planning are dedicated to helping planners create communities of lasting value.
Inquiry Answer Service
Research on Demand
When searching the Internet isn't enough, our research team will find the answer you need, along with the plans, ordinances, articles, and reports to back it up.