AICP Commission Biographies
---
President
Mitchell J. Silver, FAICP
Mitchell Silver became commissioner of the New York City Department of Parks in May 2014. He is a past president of the American Planning Association and an award-winning planner with 35 years of experience. Silver is internationally recognized for his leadership in the planning profession and his contributions to contemporary planning issues. As Parks Commissioner, he oversees management, planning, and operations of 30,000 acres of parkland. Prior to returning to his native New York City, he served as the chief planning and development officer for Raleigh, North Carolina, where he led the comprehensive plan update process and a rewriting of the development code to create a vibrant 21st century city. As one of the nation's most celebrated urban thinkers, Silver was elected to Planetizen's list of the 100 Most Influential Urbanists in 2017.
---
Immediate Past President
Deborah Alaimo Lawlor, FAICP, PP
Debbie Lawlor has over 35 years of experience, specializing in land use and environmental planning. She is discipline leader for planning services for Maser Consulting, P.A., where she manages a team of 10 planners. Previously, she worked for the New Jersey Meadowlands Commission. Lawlor has held leadership positions in APA's Regional and Intergovernmental Planning Division and APA's New Jersey Chapter, which honored her in 2009 with its distinguished service award. She holds a BS in environmental planning and design and an MA in geography, both from Rutgers University.
---
Secretary-Treasurer, Commissioner Region V
Karen Wolf, FAICP
Karen Wolf has more than two decades of planning experience in King County, Washington. She oversaw one of the first research projects in the country that established a link between urban form, transportation accessibility, and public health. She has been an adjunct professor and guest lecturer at the University of Washington. She served on the AICP Exam Committee and on the committee for the AICP Certified Environmental Planner exam. Wolf also is a member of the University of Washington Professionals Council, chair of the Citizens Advisory Committee for the Seattle Children's Hospital, and a member of the King County Employee Giving Program Committee.
---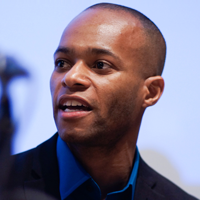 Commissioner Region I
Justin Garrett Moore, AICP
Justin Moore is an urban designer and the executive director of the NYC Public Design Commission. He has extensive experience in urban planning and design — from large-scale urban systems, policies, and projects to grassroots and community-based planning, design, and arts initiatives. At the commission, he focuses on prioritizing quality and excellence for the public realm, and fostering accessibility, diversity, and inclusion in public buildings, spaces, and art. Moore is also a member of the Urban Design Forum and Next City's Vanguard, and teaches at Columbia University GSAPP's urban design and planning programs. He is also the co-founder of Urban Patch, a social enterprise that focuses on community revitalization and design in American inner cities.
---
Commissioner Region II
Arlova J. Vonhm, AICP
Arlova Vonhm is the zoning administrator and zoning division chief for Arlington County, Virginia. Vonhm's professional planning career spans over 20 years, including private practice and the public sector, at the local and regional level. She derives genuine pleasure from public service and is committed to the equitable implementation of planning policy. Vonhm received an undergraduate degree from the University of Virginia and a Master of Urban and Regional Planning from the University of Michigan. She served on the board of the National Capital Area Chapter of APA for six years, including four years as a Professional Development Officer.
---
Commissioner Region III
Kimberley Mickelson, AICP
Kim Mickelson is a land-use attorney and planner, representing cities, planning departments, and related boards and commissions. She works with those entities to develop comprehensive plans and land development regulations that work best for that community. She holds three degrees from the University of Texas. She is an adjunct professor of practice in the master in urban planning program at Texas A&M University, where she has taught planning law and plan implementation in connection with projects by Texas Target Communities. She is a past president of the APA Texas Chapter, chair of the Local Host Subcommittee for the 2020 National Planning Conference, and former chair of the APA Research Committee. She has served on the Legislative and Policy Council and the PAB's Innovation and Communication in Planning Education Task Force.
---
Commissioner Region IV
Erin N. Perdu, AICP
Erin Perdu is the community planning and economic development director for WSB in Minneapolis. She has been a practicing planner for over 20 years, working primarily in the upper Midwest and Texas. Her career spans both the public and private sectors, including a 12-year stint at the helm of the consulting firm she founded, ENP & Associates. Perdu's passions include long-range planning, community engagement, and bringing national best practices to communities of all sizes. She holds a Bachelor of Science from Stanford University (Earth Systems) and Master of Science (Natural Resources) and Master of Urban Planning degrees from the University of Michigan.
---
Commissioner Region VI
Francisco J. Contreras, AICP
Francisco Contreras is the City of West Hollywood's acting economic development director and innovation manager. He has over 15 years of experience in urban planning, civic innovation, smart cities, strategic initiatives, and capital project management. Contreras currently leads West Hollywood's smart city program that explores the introduction of new technology, data, and smart infrastructure to improve the delivery of city services and enhance the community's quality of life. Since 2015, Contreras has served on the AICP National Membership Standards Committee as Region VI Representative, among other volunteer work at the local chapter and national level. Contreras has a bachelor's degree in urban studies from Stanford University and dual master's degrees in architecture and urban planning from UCLA.
---
Liaisons
---
Chapter Presidents Council
Tim Gladhill, AICP
Tim Gladhill is president of APA's Minnesota Chapter and community development director for the City of Ramsey, Minnesota. He has nearly two decades of public service with a focus on planning, economic development, and public administration. Gladhill has served as the chair of the Chapter Presidents Council Certification and Education Committee. He has a Bachelor of Science in Urban Studies and Bachelor of Science in Geography from Minnesota State University, Mankato, and a Master of Geographic Science with a minor in public policy from the University of Minnesota.
---
Divisions Council
David R. Gattis, FAICP
David Gattis is a city planning and management consultant. He retired as deputy city manager for the City of Benbrook, Texas, in December 2016. Gattis authored the Benbrook Comprehensive Plan, which was recognized as the best comprehensive plan by the Texas Chapter in 1991. Gattis is a retired certified floodplain manager and a retired credentialed manager in the International City/County Management Association. He served as chair of the APA Divisions Council, has served as chair of both the Small Town and Rural Division and the Environmental Planning Division, was president of the Texas Chapter (and currently its historian), and a former member of the Board of Directors of the Texas Municipal League. He was elected a life member of the Texas City Management Association in 2018.
---
Student Representative Council
Kohl Malo
Kohl Malo is a planner currently working in Tampa, Florida. He recently graduated from Florida State University with his Master's in Urban & Regional Planning, and today works to find elegant solutions to problems in transportation and land use. As the SRC Region III Rep, Kohl finds ways to elevate the profile and opportunities for students and young professionals in the south and southeast, as well as nationwide, through programs that link students and young professionals with opportunities in the private, public, and non-profit sector. Kohl loves to travel and learning about the tools different cultures use to shape their environment and economies.
---