The Gold Standard in America's Neighborhoods, Streets, and Public Spaces
Each year, APA recognizes outstanding people, planning work, and places — representing the best in planning and community impact. During the National Community Planning Month each October, we celebrate how planning improves lives and communities of lasting value.
Suggest a Place
Now accepting suggestions for Great Places in America in 2017.
Know a great neighborhood, street, or public space? Suggest it today! APA accepts suggestions year-round.
What Makes a Place Great?
APA has defined characterics and guidelines for great neighborhoods, public spaces, and streets. APA also considers geography, population, demographics, and setting (rural, suburban, urban).
People's Choice
We all have places dear to our heart. APA invites members and all Americans to select their own Great Place in America — the People's Choice designee. Designees are chosen through a two-step process. Look for more information in October.
Explore the Great Places Close Up
Get up close and personal with all 245 neighborhoods, streets and public spaces named Great Places in America on our story map.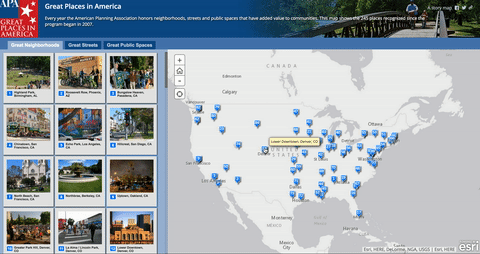 Previous Designees
Order Your Great Places in America Bronze Plaque
Plaques to mark these recognized places may be ordered by local governments, businesses, donors, or organizations.
Celebrate Your Great Place in Style
APA offers a wide selection of clothing and office products featuring Great Places in America.