Short North Arts District: Columbus, Ohio
In the 1970s, Short North was known as a rough, crime-ridden neighborhood north of downtown Columbus, Ohio, and close to the Ohio State University campus. Derelict buildings with boarded-up windows lined High Street, offering a stark contrast to the newly built convention center nearby. Isolated from the Central Business District by a section of highway, Short North languished. It was time for a change.
A visionary group of citizen advocates, inspired by the successful redevelopment of nearby German Village, a 2011 APA Great Neighborhood in America, was optimistic that a similar turnaround was possible for Short North. Community champions, including local developer and private property owner Sandy Wood and planners and local business owners John Allen and Greg Carr, dreamed of a neighborhood that preserved the historic architecture and charm of Columbus landmarks and invited neighbors to visit something special. Short North Arts District was soon born.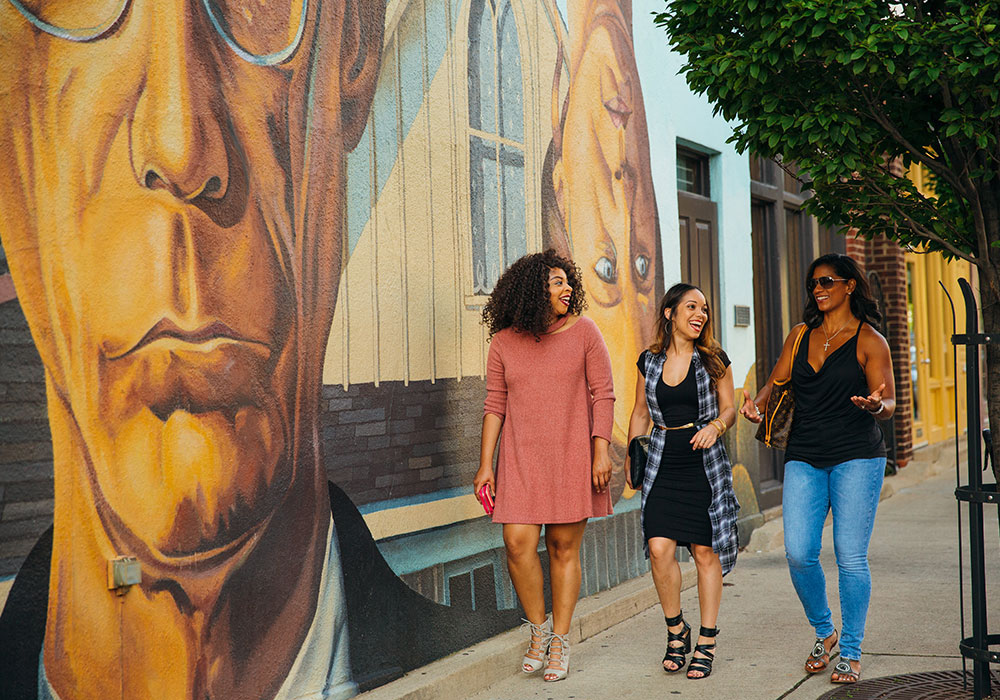 With their shared vision of what Short North could become, community members moved swiftly to establish its identity as a place where artistic culture and small businesses were celebrated. The Short North Business Association was founded to seek city funding for reforms to transform the neighborhood from a blighted space to a supportive space where locally owned businesses could thrive.
Local art gallery owners supported the neighborhood's earliest art education programming with "Cooperative Opening," debuting new exhibits on the first Saturday of every month. The monthly event, dubbed Gallery Hop in 1985, found immediate success, drawing both new visitors and new business owners to the once-forgotten neighborhood.
Planning for the care and future of Short North stands out for its community-driven, grassroots approach. Many local public and private organizations have had a hand in shaping the nationally recognized neighborhood, including the Neighborhood Design Center, Battelle Memorial Research Institute, Short North Alliance, and Short North Special Improvement District. Their shared vision and perseverance guided the successful revitalization.
"The neighborhood is a gem in our community, attracting visitors from around the world and giving them authentic experiences of our creative, diverse and collaborative city."
—Brian Ross, President & CEO of Experience Columbus
Today, Short North Arts District is regarded as a pioneer in urban revitalization in Central Ohio, and the "art and soul" of the City of Columbus. Since 2003, the number of businesses has more than doubled, and almost 90 percent are locally owned or headquartered. The residential population has grown by more than 30 percent since 2000. As a district that serves many, Short North Arts District is both an economic engine and a cultural touchstone.