Latest PAS Report
Creating Planning Documents
Planners routinely create plans, reports, and guides to capture research, recommendations, program or process details, and stakeholder input. Creating these deliverables is a complex undertaking.
Creating Planning Documents presents recommended practices for creating high-quality planning documents and reports. The report offers step-by-step guidance and includes sample templates for readers to customize.
Planning Magazine
Each month, APA's member magazine shows how innovative planning programs and techniques are reshaping America's communities.
---
Journal of the American Planning Association
JAPA is the quarterly, peer-reviewed journal of record for the planning profession. Since 1935, JAPA has published planning research, commentaries, and book reviews.
PAS Reports
Each quarter APA's Planning Advisory Service publishes a PAS Report providing authoritative guidance on current issues and innovative practices.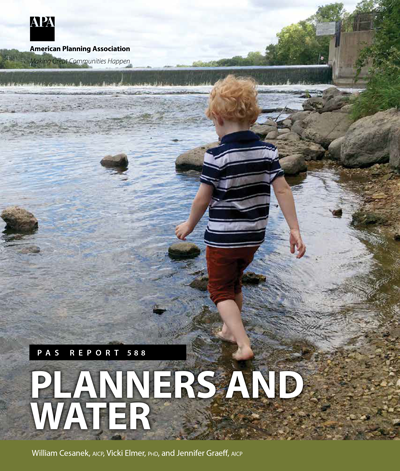 Recent Report
What was once a trickle of concern has turned into a torrent of worry about water. How can planners shore up the situation in their communities? This PAS Report explores how.
Specialty Publications
Zoning Practice helps guide you as you write and administer smart development codes.
The Commissioner is full of features and practical tips that will help you make critical decisions in the best interest of your community.
Interact is APA's award-winning e-newsletter for APA members.