New from Planners Press
The Ethical Planning Practitioner
This guidebook is based on the current AICP Code of Ethics. Author Jerry Weitz, FAICP, rolls out 76 scenarios and each comes with tools to explore the answers on your own or with a group. Available in paperback and e-book formats. A valuable extra feature for AICP members is a multimedia, on-demand education package offering CM Ethics credits.
CM | 1.5
Planning Magazine
Each month, APA's member magazine shows how innovative planning programs and techniques are reshaping America's communities.
---
Journal of the American Planning Association
JAPA is the quarterly, peer-reviewed journal of record for the planning profession. Since 1935, JAPA has published planning research, commentaries, and book reviews.
PAS Research
Each quarter APA's Planning Advisory Service publishes a new PAS Report providing authoritative guidance on current issues and innovative practices.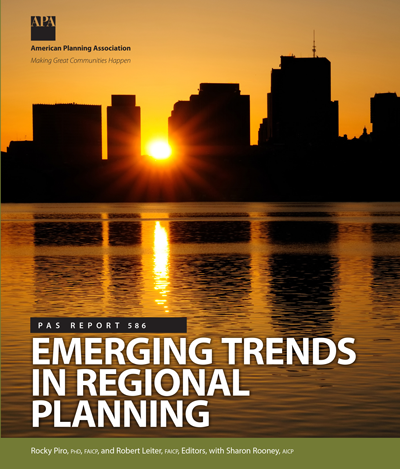 Latest Report
Highlights emerging trends and state-of-the-art practice in regional planning across the U.S.
Specialty Publications
Zoning Practice helps guide you as you write and administer smart development codes.
The Commissioner is full of features and practical tips that will help you make critical decisions in the best interest of your community.
Interact is APA's award-winning e-newsletter for APA members.