Launching Your Planning Career: A Guide for Idealists
The planning profession is rooted in the optimistic idea of betterment: transforming communities from the ground up to achieve livability, sustainability, and social justice. Attaining this entails a healthy measure of idealism. However, it also requires that young planners are realists, prepared for long timeframes, ethical dilemmas, warring stakeholders, and red tape.
For young planners, facing these obstacles unprepared can be deflating, or worse, disillusioning.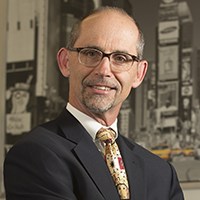 Richard Willson, FAICP, draws on his years of experience in the classroom, as a researcher, and as a mentor to young planners. His insights provide processes for making choices in the career "launching" phase — addressing decision making, doubt, types of work, and work settings.
This blog series is amplified in Richard Willson's books, A Guide for the Idealist: How to Launch and Navigate Your Planning Career, and Reflective Planning Practice: Theory, Cases and Methods, and The books include frameworks, case studies, reflective methods, advice, and personal anecdotes. They are available now at Routledge, Amazon, and most retailers.
"A Guide for the Idealist" Posts
July 29, 2022
February 25, 2022
October 18, 2021
January 15, 2021
November 13, 2020
August 18, 2020
July 27, 2020
January 10, 2020
December 13, 2019
October 15, 2019
August 6, 2019
July 9, 2019
April 8, 2019
February 11, 2019
January 8, 2019
October 16, 2018
September 12, 2018
August 13, 2018
July 24, 2018
July 10, 2018
June 5, 2018
May 16, 2018
May 1, 2018
March 27, 2018
March 6, 2018
January 9, 2018
November 28, 2017
October 31, 2017
September 11, 2017
About the Author
Richard Willson, FAICP, is a professor in the Department of Urban and Regional Planning at Cal Poly Pomona. He has also served as department chair, interim dean, and academic strategic planner. Willson's research addresses planning theory and practice, parking policy, and climate change planning.
His book, A Guide for the Idealist: How to Launch and Navigate Your Planning Career, amplifies the themes in this blog series and provides a path to effective practice and personal development. Willson is also the author of Parking Reform Made Easy, Island Press (2013) and Parking Management for Smart Growth (2015). He consults with regional and local transportation agencies such as the Bay Area Rapid Transit District, cities, and developers of urban infill projects.
Willson holds a PhD in urban planning from the University of California, Los Angeles, a Master of Planning from the University of Southern California, and a Bachelor of Environmental Studies from the University of Waterloo.