So ... No Planning Degree?
Can a person with a degree outside of planning become a professional planner? Yes, it is surely possible.
My first thought as a professor of urban planning, not surprisingly, is that the best approach is to get a planning degree. But if another degree is not in the cards, here are some suggestions.
Urban and regional planning comprises many activities, from technical to political, and the best approach varies by context. We do not, and cannot, have a "cookbook" for planning. As a result, the planning profession does not have licensing requirements, as does engineering.
This openness makes our field innovative, multidisciplinary, and responsive. Under the "big tent" of planning, insights and skills provided by fields such as geography, economics, landscape architecture, or public health are valued.
The American Institute of Certified Planners (AICP) provides professional certification for planners. AICP anticipates that those without a planning degree may be certified. To be eligible to take the certification exam currently, however, a candidate needs planning experience — 4 years for those with a degree other than urban and regional planning.
What do employers say?
In may cases, candidates without a planning degree meet minimum job requirements. Here is an example from a typical job posting: "A bachelor's or master's degree in urban planning, geography, or related field plus at least two years of experience, or an equivalent combination of education and experience is required." Of course, meeting the minimum qualification is different than getting the job. Those with a planning degree will be highly competitive.
Here are some practical steps to increase the odds of getting a planning job without a planning degree.
Join the American Planning Association, comb through their website, attend conference and networking events, and track issues in Planning magazine and APA blogs.
Conduct informational interviews with planners.
Develop a "skills" resume that translates your knowledge and experience into tasks that planners undertake.
Obtain an internship in planning. Lacking a planning degree, you may have to volunteer until you prove your worth.
Consider the strategies provided in the Delayed Launch post in this series.
Even though you are not be eligible to take the AICP exam without planning experience, consider signing up for the AICP preparation course. It provides an overview of the contents of a planning degree. The preparation course includes articles, videos, and many other resources. Also, read books that can help you understand the activities of planning, such as Local Planning: Contemporary Principles and Practice. Since planners must have a solid legal basis for their plans and recommendations, it is also wise to find a guide to planning law in your state.
Seek planning jobs where the knowledge and skills from your non-planning degree are a good fit, and be strategic about translating your academic specialty to planning. APA has divisions that support planning specialties, which can help you make that translation.
For example, if you have a degree in environmental studies, the Environment, Natural Resources and Energy Division can help you see how environmental studies are used in planning. Similarly, if you have degree in computer programming, you might be interested in the Technology Division. There are 22 divisions available.
Another tip is to look for employers for whom a planning degree is not as critical as skills in writing, analysis, design, interacting with the public, and so on. In this regard, consulting firms and nonprofit organizations may be more flexible than public agencies.
If after a search, a planning job is not available, consider that there may be jobs that are not defined as planning that nonetheless contribute to the planning agenda.
Planning is a great career. Good luck!
Top image: Photo by the author.
---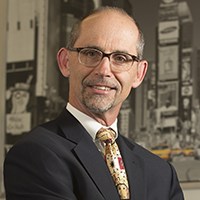 About the Author
Richard Willson, FAICP
Richard Willson, FAICP, is a professor in the Department of Urban and Regional Planning at Cal Poly Pomona. He has also served as department chair, interim dean, and independent planning consultant. Willson's research addresses planning practice and parking policy. His book, A Guide to the Idealist: How to Launch and Navigate Your Planning Career, amplifies the themes in this blog series. Willson is also the author of Parking Reform Made Easy (Island Press, 2013) and Parking Management for Smart Growth (2015). Willson holds a PhD in urban planning from the University of California, Los Angeles, a Master of Planning from the University of Southern California, and a Bachelor of Environmental Studies from the University of Waterloo.
---
September 11, 2017
By Richard Willson, FAICP
---
---