Four times a year, APA's Planning Advisory Service publishes a new PAS Report with guidance on current issues and innovative practices.
APA members and PAS subscribers can download each new report as it is posted, and can download nearly 100 reports published since 1994. PAS subscribers also receive a print copy of each new PAS report.
---
Latest Report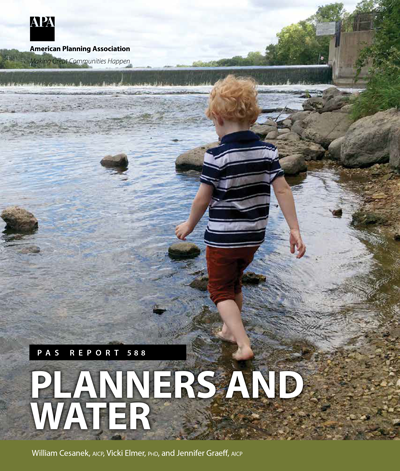 Planners and Water
The latest PAS report explores the One Water approach to integrating the water supply, wastewater, and stormwater sectors and gives planners the information they need to dive into the world of water planning and management.
Historic Reports
PAS published its first Information Report in 1949. To celebrate this history, each month we'll present a new report from the archives. We hope you enjoy these fascinating snapshots of planning issues of yesteryear.
Wholesale Produce Markets
Information Report No. 70, January 1955
In the 1950s, most fresh produce came into cities via wholesale produce markets to be bought and sold to consumers by independent grocers, but unplanned growth and land-use conflicts were hampering the effective and efficient functioning of these uses. This month's historic PAS report examines the considerations for wholesale produce market siting and operations and encourages planners to help improve local markets.
Become a PAS Report Author
We're always looking for authors to write or update PAS Reports on a variety of planning topics. Visit the archive to see the list of all past reports. If you have an idea for a PAS Report, please contact Ann Dillemuth at PasReports@planning.org.