Four times a year, APA's Planning Advisory Service publishes a new PAS Report with guidance on current issues and innovative practices.
APA members and PAS subscribers can download each new report as it is posted, and can download nearly 100 reports published since 1994. PAS subscribers also receive a print copy of each new PAS report.
---
Latest Report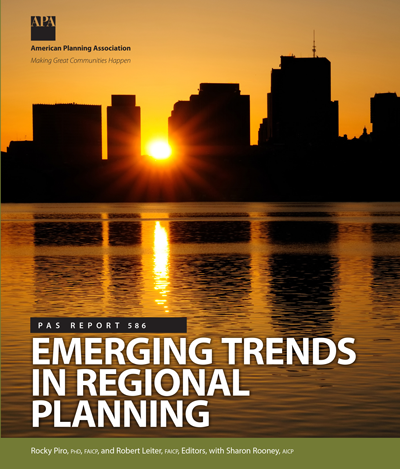 EMERGING TRENDS IN REGIONAL PLANNING 
The latest PAS Report identifies emerging trends in regional planning; explores how regions are planning for water and land resources, economic development, housing, climate change, and public health; and highlights five U.S. regions leading the way in regional integrated planning.
Historic Reports
PAS published its first Information Report in 1949. To celebrate this history, each month we'll present a new report from the archives. We hope you enjoy these fascinating snapshots of planning issues of yesteryear.
The Urbanizing Influence of the Expressway and the Need for Planning And Zoning
Information Report No. 71, February 1955
In 1955 the Eisenhower administration was preparing a $100 billion plan to create a national system of interstate highways, and planners were concerned about the unprecedented scale of urbanization these expressways would bring to suburban and rural lands. This month's historic PAS report examines the economic impacts of expressway development on land-use markets and discusses the importance of planning and regulating development around these new roadways.
Become a PAS Report Author
We're always looking for authors to write or update PAS Reports on a variety of planning topics. Visit the archive to see the list of all past reports. If you have an idea for a PAS Report, please contact Ann Dillemuth at PasReports@planning.org.