Zoning Practice helps guide you as you write and administer smart development codes.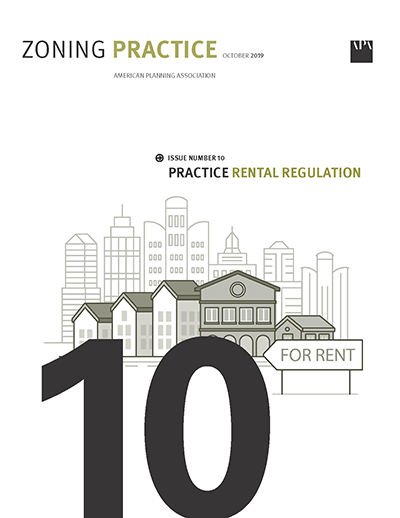 Improving Rental Housing Quality Through Effective Regulation
October 2019
This edition of Zoning Practice summarizes five distinct types of rental regulations and makes a case for adopting performance-based rental licensing, which combines periodic rental inspections with incentives for good landlord practices.  
Zoning Practice analyzes trends and spotlights innovation in local land-use and development regulation. All student members have online access to ZP. Subscribers may read ZP online or in print.
Planners and land-use attorneys responsible for drafting or administering zoning and other land-use and development regulations
Emerging professionals interested in learning more about plan implementation
Share Your Expertise
Zoning Practice welcomes proposals from outside contributors
We are especially eager to hear from potential authors with expertise on the following topics:
Zoning for a dramatic decline in demand for brick-and-mortar retail
Zoning for urban manufacturing
Zoning for major institutions (eds and meds)