Artery Hopkins: Hopkins, Minnesota
Hopkins, Minnesota, is a gritty, formerly industrial community located just west of Minneapolis. The community was adversely impacted by the intersection of Highway 169, which divided the city and cut off direct access to Mainstreet.
Today, Hopkins has a lower than average median income and housing stock that is primarily modest apartments. It is also home to a large Muslim community, bringing diversity to the city but also highlighting the need for planning to bring neighbors together and help strengthen community bonds.
The city sought to bring its people together both physically and metaphorically. The answer was the Artery, a "pedestrian seductive" bike and walking connection between the historic downtown and the planned light rail transit station on busy Excelsior Boulevard. The plan would create a street to connect Hopkins residents to transit and support the business community by bringing new customers to Hopkins on the train.
The goal was not just to make the connection friendly to bikes and pedestrians, but also to make a street so inviting that residents and visitors will linger and patronize local businesses. To achieve that goal, the street had to be completely redesigned.
The process of designing the new street took many years of planning with numerous partners and input from the entire community. Getting the hardworking and practical community to understand the benefits in spending the money to change "a perfectly good street," elevating walking and biking over automobiles, and using art to engage the community was not an easy sell.
While all of the steps in developing the project resulted in community buy-in, it was the Artery Experiment, a temporary installation of the major components of the Artery, that solidified the community's support. Seeing how the separated bikeway protected riders and how excited people were for that change, as well as the opportunity for more gathering places and art, demonstrated the project's many benefits.
"The Artery came to be after years of planning with the community and our project partners, realizing the goal of connecting people to transit and our amazing downtown while telling our unique story along the way"
—Hopkins Mayor Jason Gadd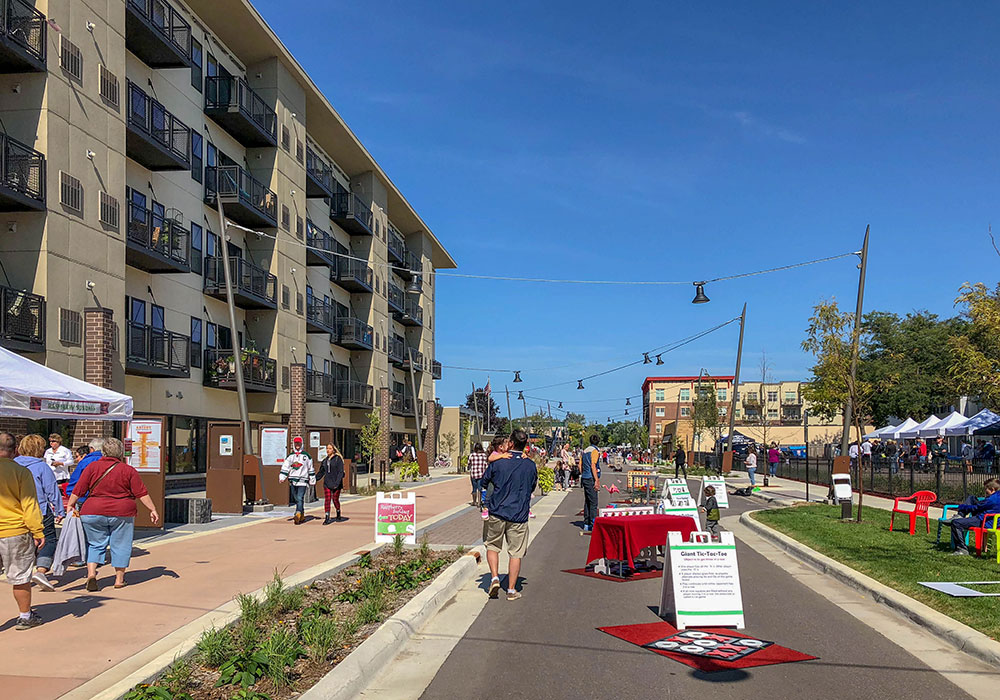 The street has unique design elements such as canopy lighting, wayfinding, edible herb gardens, and a historic timeline etched in granite. Lining the Artery and the connecting streets are a mix of small businesses, housing developments (many of which are affordable), and attractions like the Hopkins Center for the Arts.
The number of people who come to Hopkins on bike has significantly increased, and the city has installed new bike parking on every block of the downtown. Businesses are experiencing increased sales and growth as a result of the new activity.