Uncovering JAPA
Mobile Home Parks Understudied in Planning
With 18 million residents, manufactured housing constitutes the primary form of low-income homeownership in the U.S. Despite their ubiquity, manufactured homes — that is, "housing units with a permanent chassis that are built in a factory and transported to a site for installation" — are an understudied topic in planning. This is particularly true of those located in mobile home parks (MHPs), "unique land lease communities where households own their housing unit but rent the land underneath."
In "Affordable but Marginalized: A Sociospatial and Regulatory Analysis of Mobile Home Parks in the Houston Metropolitan Area" (Journal of the American Planning Association, Vol. 89, No. 2), Esther Sullivan, Carrie Makarewicz, and Andrew Rumbach set out to close this gap with a quantitative analysis of MHPs in the 132-municipality Houston Metropolitan Statistical Area (MSA).
The authors pose three questions:
How are MHPs spatially distributed within a regional housing system?
How do the sociodemographic characteristics, built environment features... and exposure to environmental hazards in areas with more MHPs compare with those of areas with fewer or no MHPs?
How are the locations of MHPs associated with local land use regulations?
To answer these questions, the authors created a novel database by crosschecking land use records from the County Appraisal District with data from the Department of Homeland Security, Reference USA, and MHVillage. In so doing, they identified 2,185 MHPs containing approximately 31,928 manufactured homes in the Houston MSA. They then classified census block groups in terms of prevalence of MHPs and municipalities in terms of regulatory tolerance of MHPs.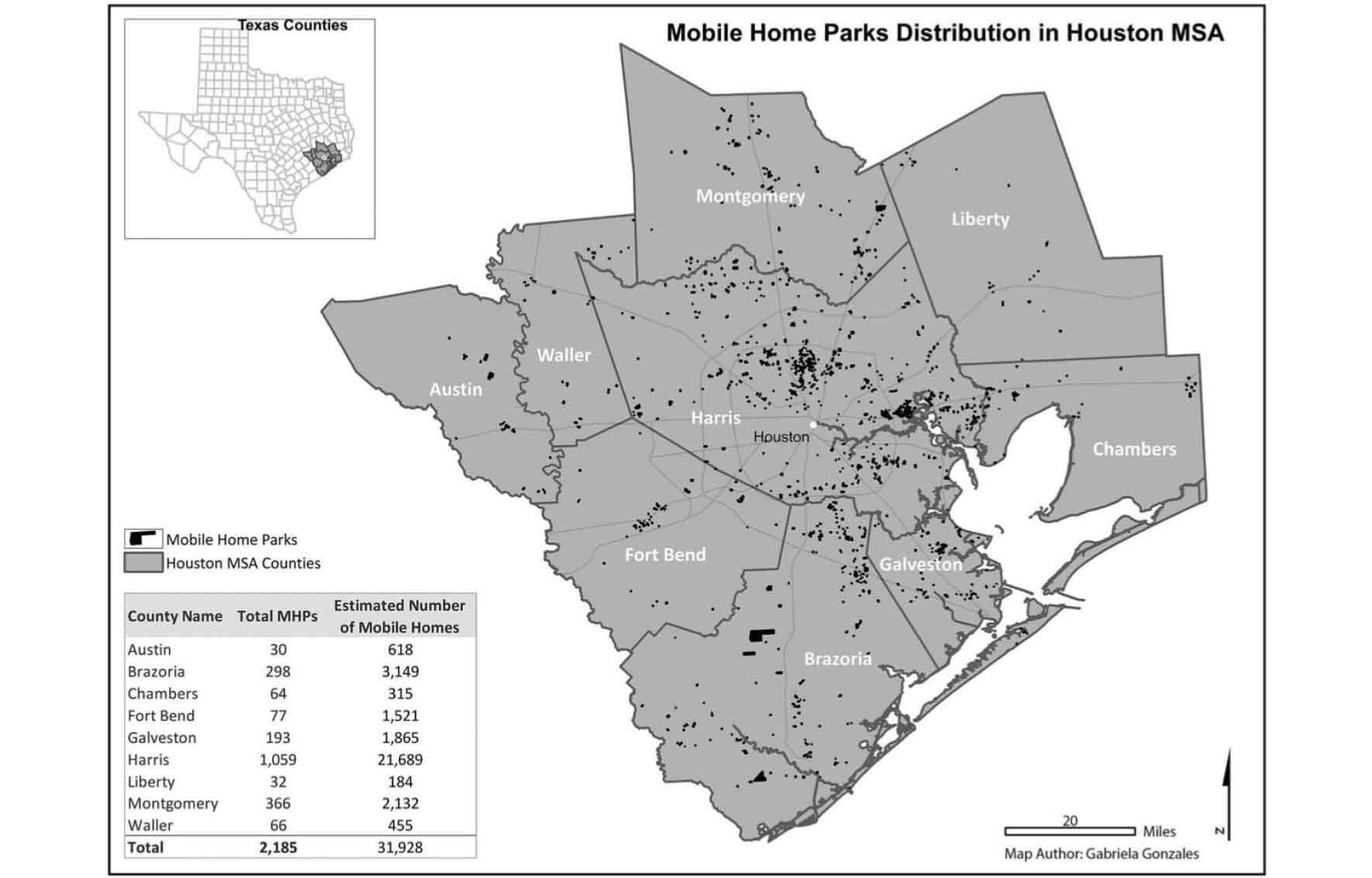 They find that "MHPs provide significant affordable housing, particularly in moderately dense urban areas." They suggest that "MHPs are home to diverse populations that face significant spatial inequalities, including greater exposure to industrial and flood hazards." However, they caution that "the regional landscape of land use regulations will continue to locate MHPs in areas with significant inequalities relative to other areas in the region."
The authors also find that communities that permit MHPs are more likely to be unincorporated. They attribute this "to the limited power of county governments to regulate development." Implicit here is the assumption that counties would restrict MHPs if they could.
Yet the authors note that most county governments have not exercised their authority to mandate hazard mitigation measures and other infrastructure in MHPs. This inaction might simply reflect negligence on the part of county governments. But I wonder if counties might be incentivized to under-regulate MHPs so as to encourage their growth and cross population thresholds for incorporation.
Whatever the explanation, the environmental risk to residents is real and should not be ignored, particularly in light of Hurricane Harvey's impact on manufactured housing, a subject the authors have explored elsewhere.
The Journal of the American Planning Association is the quarterly journal of record for the planning profession. For full access to the JAPA archive, APA members may purchase a discounted digital subscription for $36/year.
Top image: Art Wager/ iStock/Getty Images Plus.com
---
About the author
Noah Levine is a master of urban planning candidate at Harvard University.
---
April 21, 2022
By Noah Levine
---
---