Public Square: Cleveland, Ohio
Planning Excellence
Public Square is the physical and historic center of Cleveland, but for decades it was crossed by two major roads, dividing it into four smaller squares. A recent redesign has remade it into a grand gathering space in the center of downtown.
Public Square was laid out in Cleveland's original plan from 1796 by surveyors from the Connecticut Land Company. As part of Connecticut's "Western Reserve," the town was planned in the form of a traditional New England town. Public Square was the site of many historic events: President Lincoln lay in state there when his funeral train came to town, and the first electric street lights in the world were lit in 1879. Despite its history and central location, Public Square was not an appreciated space, serving primarily as a transit depot to connect from one streetcar line to another.
Two roads crossing through Public Square resulted in a space designed for cars, not people. A central part of the space's 2016 redesign was the closing of Ontario Avenue to traffic and the reduction of Superior Avenue from 77 feet wide to 48 feet. This redesign created two larger rectangular public spaces, promoting pedestrian use with new paving materials that create a distinct public space.
The previous four quadrants of Public Square were merged into a single, cohesive public park with vehicle access restricted to buses, intended for use throughout the year with a range of programs and events. The new Public Square creates a space that is inviting and flexible, and landscape creates a soft colorful space that invites people in and encourages them to stay. The northern half includes a green sloped lawn.
Well-suited for casual everyday use, this design also creates a natural amphitheater for events like movie nights and concerts. The southern half of Public Square is a hardscape plaza that includes a cafe and seating, a speaker's terrace, the Soldiers and Sailors Monument, and a mirrored-fountain water feature. This same space is transformed into a skating rink in the winter months.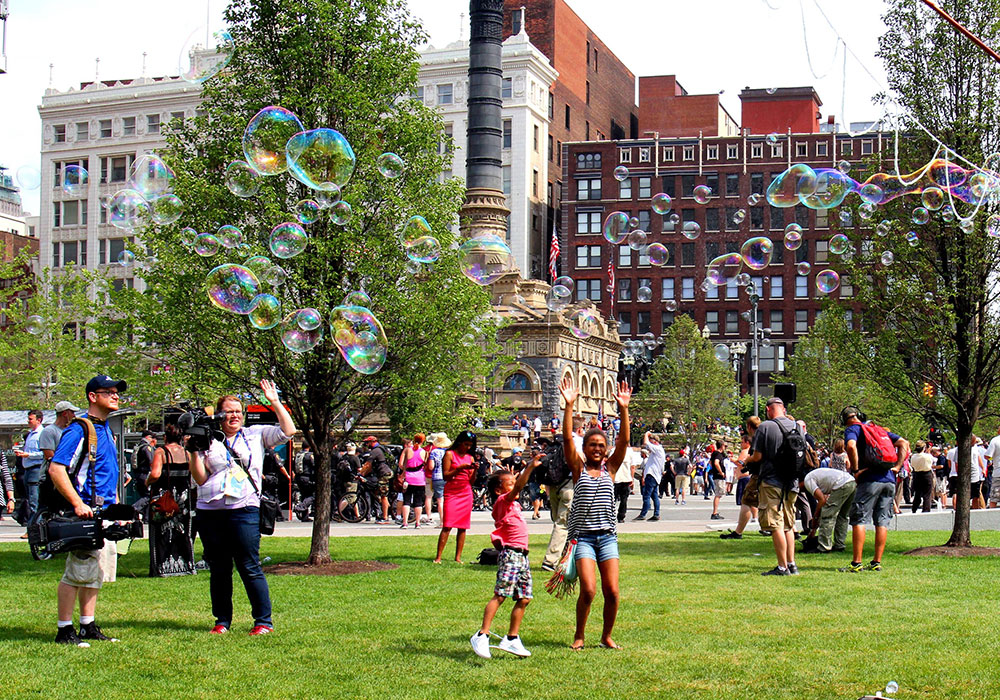 Public Square has been recreated to emphasize people rather than cars, while still allowing the square to serve as the region's main transit transfer point. The square was designed to inspire the community, promote physical, mental, and economic health, and integrate green infrastructure.
Defining Characteristics and Features
To promote outdoor events, the park includes an ice rink in the winter, fountain, and a large public green and Speaker's Terrace for public gathering and events.
A butterfly-shaped pedestrian path connects the four corners of the square, knitting it together and providing paths and sightlines that encourage strolling and lingering.
The curved walls along the path also provide seating and form a natural amphitheater at the north end of the square.
Historic buildings were considered, and the new path layout provides pedestrians with new vistas of the historic buildings lining the square.
New tree wells provide improved stormwater management and drainage to reduce runoff, which is designed as closed loop circuit to be recycled and reused.
Many free events are held throughout the year, with activity spilling into the surrounding central business district.
New curb extensions increase safety for people walking on sidewalks, promote traffic calming; new bike racks promote safe, active transit.
Completed in 2016, the reinvention of the Square is the result of a long public engagement process over how to accommodate different users.
By the Numbers
$7 million in green infrastructure went into the renovation of Public Square.
Over 3 million gallons of stormwater are managed by surface and below-ground systems to protect Lake Erie.
In the planting plan are 38,732 individually potted plants of 30-plus different species, and 137 shrubs of 7 different species.
16,000 square feet of permeable pavers feed the irrigation and water management system.
The project includes a total of 220 trees with 75 flowering trees of 17 different species. The increased green space in the square will attract birds and butterflies and other species, contributing to the ecology of downtown Cleveland.
Designated Area
Bordered by Rockwell Avenue, West Roadway, South Roadway, and East Roadway.
Learn More
A Revitalized Cleveland Is Ready for Its Close-Up
The Hot New Park at the Center of the Republican Convention
Cleveland's Public Square – then & now