Habitat III, which took place in October 2016, represented a great opportunity for APA and its membership to contribute ideas, best practices, and concerns to the agenda and to the goals for planning's contributions to the future of our communities.
Spring 2017 Update
Baltimore, New York, and other cities are already incorporating the Urban and Community Goal and indicators. Here is the complete text of the goals, targets, and indicators. If you are already working with them and incorporating them locally, please feel free to share your progress with us. Email Jeff Soule, FAICP, at jsoule@planning.org.
Goal 11.
Make cities and human settlements inclusive, safe, resilient and sustainable
11.1 By 2030, ensure access for all to adequate, safe and affordable housing and basic services and upgrade slums
11.1.1 Proportion of urban population living in slums, informal settlements or inadequate housing
11.2 By 2030, provide access to safe, affordable, accessible and sustainable transport systems for all, improving road safety, notably by expanding public transport, with special attention to the needs of those in vulnerable situations, women, and children, persons with disabilities and older persons
11.2.1 Proportion of population that has convenient access to public transport, by sex, age and persons with disabilities
11.3 By 2030, enhance inclusive and sustainable urbanization and capacity for participatory, integrated and sustainable human settlement planning and management in all countries
11.3.1 Ratio of land consumption rate to population growth rate
11.3.2 Proportion of cities with a direct participation structure of civil society in urban planning and management that operate regularly and democratically
11.4 Strengthen efforts to protect and safeguard the world's cultural and natural heritage
11.4.1 Total expenditure (public and private) per capita spent on the preservation, protection and conservation of all cultural and natural heritage, by type of heritage (cultural, natural, mixed and World Heritage Centre designation), level of government (national, regional and local/municipal), type of expenditure (operating expenditure/investment) and type of private funding (donations in kind, private non-profit sector and sponsorship)
11.5 By 2030, significantly reduce the number of deaths and the number of people affected and substantially decrease the direct economic losses relative to global gross domestic product caused by disasters, including water-related disasters, with a focus on protecting the poor and people in vulnerable situations
11.5.1 Number of deaths, missing persons and persons affected by disaster per 100,000 people
11.5.2 Direct disaster economic loss in relation to global GDP, including disaster damage to critical infrastructure and disruption of basic services
11.6 By 2030, reduce the adverse per capita environmental impact of cities, including by paying special attention to air quality and municipal and other waste management
11.6.1 Proportion of urban solid waste regularly collected and with adequate final discharge out of total urban solid waste generated, by cities
11.6.2 Annual mean levels of fine particulate matter (e.g. PM2.5 and PM10) in cities (population weighted)
 11.7 By 2030, provide universal access to safe, inclusive and accessible, green and public spaces, in particular for women and children, older persons and persons with disabilities
11.7.1 Average share of the built-up area of cities that is open space for public use for all, by sex, age and persons with disabilities
11.7.2 Proportion of persons victim of physical or sexual harassment, by sex, age, disability status and place of occurrence, in the previous 12 months
11.a Support positive economic, social and environmental links between urban, peri-urban and rural areas by strengthening national and regional development planning
11.a.1 Proportion of population living in cities that implement urban and regional development plans integrating population projections and resource needs, by size of city
11.b By 2020, substantially increase the number of cities and human settlements adopting and implementing integrated policies and plans towards inclusion, resource efficiency, mitigation and adaptation to climate change, resilience to disasters, and develop and implement, in line with the Sendai Framework for Disaster Risk Reduction 2015-2030, holistic disaster risk management at all levels 11.b.1 Proportion of local governments that adopt and implement local disaster risk reduction strategies in line with the Sendai Framework for Disaster Risk Reduction 2015-2030a
11.b.2 Number of countries with national and local disaster risk reduction strategies
11.c Support least developed countries, including through financial and technical assistance, in building sustainable and resilient buildings utilizing local materials
11.c.1 Proportion of financial support to the least developed countries that is allocated to the construction and retrofitting of sustainable, resilient and resource-efficient buildings utilizing local materials
Winter 2017 Update
Habitat III and the Sustainable Development Goals
The Global Planners Network has a recently updated website that can serve as another resource for those members and allies interested in international issues. Each of the GPN members is engaging its own members in an effort to both share the results of Habitat III and find ways to inform local plans with those goals.
In New York at the 2017 National Planning Conference, there will be two sessions on Habitat III: one related to three U.S. cities — Baltimore, New York, and San Jose — which are integrating the SDG metrics and indicators into their plans: Implementing the U.N.'s Global Agenda for Cities along with Implementing the Sustainable Development Goals, which will be a broader look at the goals themselves and the metrics recommended to track progress. Together, these two sessions will give members a good understanding of the goals, recommended indicators and how to adapt them to the local level.
Upcoming in early February is a working group meeting on the implementation of the Sustainable Development Goals, hosted by the Turkish government, which is chairing the working group. The meeting will focus on SDG 11, the Urban Goal. Among other items to be developed in detail is the role of cultural heritage as it relates to sustainability.
Sustainable Development Goals concept paper
If members have examples of ways they are incorporating these goals and indicators in their own planning — public, private and NGO — please share them with Jeff Soule, FAICP, at jsoule@planning.org. We have many outlets to showcase what's going on in the U.S. that can inform other planners' effort as well as sharing the great work going on globally.
Global consulting firm ARCADIS published a very detailed and data-driven analysis of the worlds cities in terms of sustainability last fall — and not one U.S. city cracked the top 25. (New York was ranked 26th.) Obviously there are things cities as diverse as Zürich, Singapore, London, Hong Kong, and Sydney can share with our members.
Post-Quito
The Focus Turns to Implementation
Habitat III is now history. The main outcome was the adoption of the New Urban Agenda by acclamation.
Two years of hard work and discussion led to 193 countries reaching consensus on a recommended path forward for global urbanization — no small achievement. APA and its allies were among the many private organizations reviewing and recommending the final language. Among the most important aspects are citizen participation, planning and development based on sound metrics, and transparency in governance.
While there is nothing binding about the agreement, national governments supported it and more than 1,500 non-governmental organizations offered unprecedented participation and concrete contributions. This suggests the agreement will be an important tool as cities grow and develop.
APA and Its Allies Teamed Up
APA organized a Global Planners Network (GPN) panel that featured APA President Carol Rhea, FAICP, and Tim Van Epp, AICP, chair of APA's International Division, speaking on public participation. The capacity audience — over 125 people — heard general ideas as well as specific cases from the speakers. GPN and our allies presented over 35 sessions at Habitat III.
GPN exhibit space was shared with a broad effective coalition including domestic allies, the American Society of Landscape Architects (ASLA) and the American Institute of Architects (AIA) along with international partners the International Federation of Housing and Planning (IFHP), the International Council on Monuments and Sites (ICOMOS), the Grand Circle Alliance, Paris, and the International Society of City and Regional Planners (ISOCARP). Each organization took turns staffing the booth and answering many questions. Traffic was varied but steady and at times very busy.
Viva Alameda Local Community Planning Effort
One of the highlights of the week was the Viva Alameda Urban Village project with ICOMOS after six months of planning and preparation with the local and international teams. The historic neighborhood is adjacent to the World Heritage central city. During the months leading up to Habitat III, the community identified issues and priorities with help from both international experts and city agencies. All this culminated in a local charrette on the final day with more than 150 community residents participating. After the charrette, the city and the international organizers agreed to continue to support the neighborhood and implement several recommendations.
Over the next several months, APA and its International Division will work with our allies on guidelines for implementation. Many of the New Urban Agenda recommendations are found in various PAS reports and policy guides already. There are many examples, policies and planning cases from other countries that can inform our domestic practice, just as we share our best practices abroad. The first post-Habitat meeting on the action plan will be held in New York in mid-January 2017.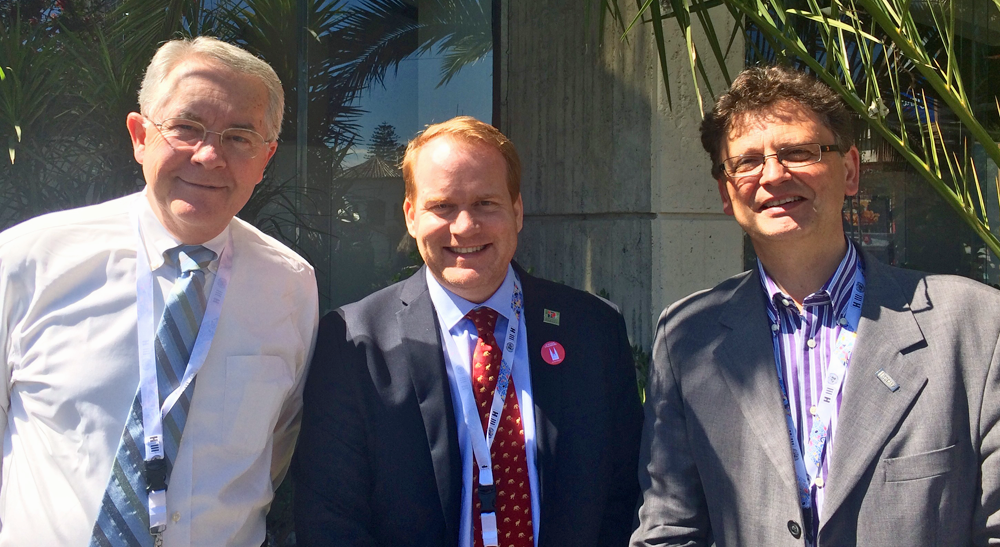 APA will continue to develop resources for APA members to use the outcomes of Habitat III in their own localities.
Fall 2016 Update
APA Prepares for Habitat III
Habitat III, the United Nations Conference on Housing and Sustainable Urban Development, is taking place in Quito, Ecuador, on October 17-20, 2016. The United Nations has called the conference, the third in a series that began in 1976, to reinvigorate the global political commitment to the sustainable development of towns, cities and other human settlements, both rural and urban.
The conference offers a chance for the international community at all levels to harmonize its understanding of the problems and opportunities posed by current trends in urbanization. This includes poverty, quality of life, environmental degradation, climate change, and other concerns on the one hand, as well as the economic, social, and creative boons provided by cities on the other. At the table will be nearly 200 national governments that make up the UN General Assembly with support from cities, the private sector, and civil society.
The focus of Habitat III is for the nations of the world to adopt the New Urban Agenda. That agenda will set a new global strategy around urbanization for the next two decades. The most recent draft of the NUA for adoption in Quito is now available.
APA is participating in Habitat III in collaboration with the Global Planners Network, the American Institute of Architects and the American Society of Landscape Architects, all of which will be sharing space under the banner of the GPN in the Habitat III Exhibition October 15-20, 2016 (Area F, Booth #155).
In addition, APA President Carol Rhea, FAICP, will share practical tools and techniques for engaging the public in planning during the GPN Side Event, "Planning for Public Engagement," on Monday, October 17, alongside representatives of the Canadian Institute of Planners, Planning Institute of Australia, and the Royal Town Planning Institute.
APA is also co-sponsoring a local intervention project with the International Council on Monuments and Sites (ICOMOS) as part of Habitat III's Urban Village the entire week of October 17. The project, titled "Quito's Historic Barrio La Alameda: Forging Heritage Tools for Urban Sustainability," invites participants to literally and digitally stroll the byways of Quito's historic Barrio La Alameda neighborhood for an authentic introduction to the neighborhood's rich mix of historic buildings, green public spaces, and cultural traditions. The project will culminate in a live charrette on Saturday, where international visitors, local experts, and neighborhood stakeholders will work together to answer questions about how heritage elements can contribute to a sustainable vision of the future.
The official APA delegation to Habitat III includes President Carol Rhea, FAICP; Chief Executive Officer Jim Drinan, JD; International Division Chair Tim Van Epp, AICP; and International Outreach Director Jeff Soule, FAICP.
Other APA members attending Habitat III include: Ric Stephens; Bruce Stiftel, FAICP; Greg Scruggs, AICP; Jennifer Senick; Scott Edmondson, AICP; APA International Division Officer Victoria Okoye; Isabel Barriga; Paul Farmer, FAICP; Patricia O'Donnell; APA Student Representatives Council Representative George Benson; and Justin Moore, AICP, APA lead on the Belize Community Planning Assistance Team.
Summer 2016 Update
GPN Preparation for Habitat III
The latest draft of the New Urban Agenda is out and comments are welcome. Thanks to the members who already provided input through the previous drafts! The main activity of PreCom 3 will be to finalize the draft ahead of the Habitat III meetings in Quito in October.
APA will collaborate on an Urban Village workshop with one of the local neighborhoods in Quito throughout the event as well hosting a side event, and partnering with many others on their side events. Under the banner of the Global Planners Network, we will share an exhibition space throughout the week. APA is joined by RTPI, CIP, PIA, AIA, ASLA, ISOCARP and ICOMOS in putting the exhibition space together.
APA is also co-sponsoring a Side Event with the International Council on Monuments and Sites (ICOMOS) entitled Governance and Planning: the Role of Cultural Heritage.
Spring 2016 Update
Member states, civil society, and other key stakeholders continue to prepare for Habitat III where the next global commitment setting the agenda on cities for the next two decades will be signed in Quito.
The Zero Draft of the New Urban Agenda was released in early May. On May 16 and 17, 2016, local authorities from across the globe participated in intersessional meetings, where they represented their cities and spoke directly with national governments — and expressed dissatisfaction with their status as mere "observers" of the multilateral process. Read what they had to say in response to the draft document. The City We Need document highlighted in the last update expresses the need for local and regional governments to take an active role in the implementation of the New Urban Agenda. As planners, we know the importance of local government in planning and development.
On June 6 and 7, 2016, stakeholders (including civil society, the private sector, academia, and grassroots organizations) had the opportunity to speak directly to the member states and respond to the Zero Draft. APA is a member of the General Assembly of Partners (GAP), chaired by Eugenie Birch, FAICP. The general public also has the opportunity to share ideas and comments on the Zero Draft through the Online Dialogues, open until July 8, 2016.
The next key meeting will be PrepComm3, taking place in Surabaya, Indonesia, at the end of July. APA is joining ICOMOS, the Regent of Geinyar Bali, Indonesia and the City of Zanzibar for a Side Event on Governance, Planning and Culture and will participate in the drafting sessions of the New Urban Agenda.
Winter 2016 Update
Over the last several months, there have been 26 Urban Thinkers Campuses around the world including one in Omaha where APA's Jeff Soule, FAICP, presented the APA Sustaining Places Guidelines as a means to help implement the Sustainable Development Goals adopted last fall.
On 22 December 2015 the United Nations General Assembly, on its 70th session, adopted the resolution on the "Implementation of the outcome of the United Nations Conference on Human Settlements (Habitat II) and strengthening of the United Nations HumanSettlements Programme (UNHabitat)" (A/70/473), which refers to the United Nations Conference on Housing and Sustainable Urban Development - Habitat III Conference's modalities. The approved rules of procedure for Habitat III recognize the participation of the representatives of local authorities accredited to the conference.
As an accredited party to the UN, APA has been active in promoting our Sustaining Places effort along with our Policy Guides in the drafting of the World Urban Campaign's "The City We Need." In early March, after hearing from over 7,000 individuals and hundreds of organizations, the World Urban Campaign released the final draft of "The City We Need."
Also in early March, at the World Urban Campaign Steering Committee meeting, the section on Urban Solutions will be discussed and finalized. Following this meeting, we will post the outcomes and more information about the events and activities leading up to Habitat III.
At the upcoming National Planning Conference, APA leadership will discuss our plan to participate in Habitat III, including information for members who plan to attend, session proposals, exhibit space and programming with our partners, and our position and policies as the relate to the outcomes of the conference. APA's efforts continue to be supported and bolstered by our International Division, chaired by Tim Van Epp.
Fall 2015 Updates
How to Talk About the UN's Sustainable Development Goals
On September 25, 2015, the U.N. General Assembly ratified 17 global goals to guide development during the next 15 years.
APA offers planners some talking points to help them discuss the goals with their colleagues and communities.
Download the talking points (pdf)
Feedback Sought on US Habitat III National Report
APA is a member of the National Report subcommittee and HUD, as chair, is encouraging our input and suggestions of examples of programs, initiatives, policies, and approaches to include or highlight in the U.S. National Report covering our efforts in Urban issues over the past two decades. We know that all of you, either directly through your own work or through the work of your colleagues, are aware of numerous outstanding programs and initiatives. Of course we will not be able to list every single effort in the U.S.; we will be looking to represent the range and diversity of approaches across the U.S. Therefore, mention of programs, links to examples and analyses will be very helpful to us as we explain the story of housing and urban development in the U.S. to domestic and international audiences.
The template to provide information to inform the National Report can be found here.
UN Summit on the Sustainable Development Goals
From September 27–29, 2015, in New York City, global leaders will convene to adopt the Sustainable Development Goals that will become the suggested policy on urbanization and development for the next 15 years. To read more about the Summit and the expected outcomes visit www.un.org/sustainabledevelopment/summit/.
APA has been a contributor to the discussions on the SDGs and more importantly, the indicators that can be incorporated into planning efforts and plans that will be needed to implement the goals. Those metrics and indicators are still being discussed and we welcome your ideas and input.
Contemporary Challenges to Urban Heritage Conservation
Over the last two months, APA collaborated on a Draft Concept Note Integrating Cultural Heritage in Planning for Sustaining Places as an effort to better integrate cultural and natural heritage into Habitat III and specifically the Sustainable Development Goals. This Concept Note includes this section on challenges:
Urbanization: In the last two decades, we have experienced and observed unprecedented and incessant urbanization. Asia alone is expected to add 800 million urban residents in the next 15 years. Rapid growth and globalized development have transformed cities especially in many countries of Asia, Africa, and Latin America while urban areas in Western Europe, North America, and Australia have in many instances seen a decline in population and economic activities or significant social changes due to global migration. These have posed persistent threats to the heritage assets and values and the identity of historic places.
Urbanization in many emerging economies has been rapid, incessant, excessive, and often uncontrolled. Rampant growth of cities has resulted in deteriorating urban environments, inadequate water supply and sanitation, a vast increase in poverty and those living in slums without access to many of the social amenities and infrastructure of the city. Such modes of urbanization have also been destructive to local ecologies, natural resources including land and water bodies, and cultural resources including built heritage, building crafts, traditional knowledge and creative industries.
Globalization and Loss of Identity: The globalization processes have resulted in increasing homogenization and standardization across the world. This in turn has led to a growing search for identity. Places are the spaces of identity; the memory of the urban system; the stable element in its dynamic change. Places assume a key role in the urbanization processes as they satisfy the need for identity. Cultural heritage plays a key role in the establishing the identity of places and their regeneration.
Tourism: Global tourism to heritage sites and cities, at times excessive and insensitive, has exacerbated the conflicts between global cultures and local beliefs and practices around cultural heritage. The flow of capital, the demands of tourists for familiar modern amenities, and the environmental externalities of tourism have distorted the value of heritage and destroyed the fragile systems that nurtured it. Tourism can introduce or accelerate social change and revive folk arts but also exacerbate commodification. In some historic places, the pressure to preserve heritage of a particular period for the benefit of tourists has stymied inclusive and sustainable development for local communities and marginalized their needs. Large-scale development, real-estate interests and tourism have often led to a superficial and decorative view of culture that threatens to erode the fragile and intangible heritage of local communities.
Disasters: In the face of increasing risks of disasters, including climate change related disasters, planning for sustainable development has become all the more urgent. The Sendai Framework for Disaster Risk Reduction 2015-2030 was adopted at the Third UN World Conference in Sendai, Japan, on March 18, 2015. It is the outcome of stakeholder consultations initiated in March 2012 and inter-governmental negotiations from July 2014 to March 2015, supported by the United Nations Office for Disaster Risk Reduction at the request of the UN General Assembly. The Sendai Framework is the first major agreement of the Post-2015 development agenda, with seven targets and four priorities for action. The ICOMOS Committee on Risk Preparedness (ICORP), along with ICCROM and the World Heritage Center, worked closely to see that cultural heritage considerations — both ways to reduce the risk to heritage from natural disasters but also how heritage, including the embedded environmental knowledge in cultural heritage, is a source of disaster risk reduction and increasing the resilience of local communities. As a result, the Sendai Framework represents a successful model within the Post-2015 agenda for addressing culture and heritage that must be closely linked to Habitat III, the SDGs and COP21. The Sendai Framework on Disaster Risk Reduction may be found at www.preventionweb.net/files/43291_sendaiframeworkfordrren.pdf.
Heritage and Local Communities: In some, histories of conflict and disasters have resulted in significant demographic changes with migrant and refugee populations in and around iconic heritage properties with no particular connection to them. In others disappearing and devalued traditional livelihoods and intangible heritage have resulted in heritage properties as empty shells filled with shops for tourists or as slums. These instances have pointed repeatedly to the need to connect and integrate tangible and intangible heritage in and around valuable cultural heritage including the traditional materials and techniques for building as well as the intangible practices that make the place meaningful.
Inadequate Urban Planning: Urban planning can be a tool for making the city more inclusive, resilient, safe and sustainable. Planning can also serve as a tool to valorize places to transforming them into catalysts for regeneration of the urban area and the city as laboratories of creativity. Regeneration of cultural landscapes is the starting point for the regeneration of cities in many historic urban areas. Haphazard urban development and inadequate planning is a major challenge to such cultural landscape regeneration.
Click here to read the full Concept Note.
The American Planning Association continues to play an active role in the global policy space and the United Nations agenda. Through our participation in the Campaign for an Urban Sustainable Development Goal (SDG), APA continues to assist in the creation of United Nations and Habitat agendas. Additionally APA continues to participate in preparations for other international development efforts like COP21, this year's Climate-focused summit held in Paris this December, as well as an Urban SDG pilot-project applying sustainable development goals to five cities across the globe in an effort to analyze the effectiveness of such implementation measures. APA's participation in this working group also relates to cutting edge financing structures for international sustainable development, as well as a whole host of fall forums hosted domestically in the United States aimed to assist The Road to Habitat III.
Summer 2015 Update
Help APA Comment on United Nations Policy
Now is the time for us to contribute to the global conversation and the New Urban Agenda. Help the American Planning Association add to the discussion.
The United Nations Human Settlements Programme (HABITAT) will be hosting its first Global Summit in over 20 years, next October in Quito, Ecuador. The American Planning Association as part of our International Outreach and Education efforts will be participating as one of the lead American ambassadors for this event, hosting workshops, engagement activities, and practitioner idea-exchanges throughout the event.
UN Habitat has now opened up its comment period for you to add your voice!
Referred to as Urban Dialogues, comments are being solicited by the UN from now until July 31, 2015. They are seeking new ideas, knowledge sharing, experiences and perspectives, from Planners and urban practitioners just like you, all in an effort to provide emerging ideas aimed at reframing urban issues worldwide.
Browse the six categories and comment on issues that you are most passionate about — issues such as: Spatial Development, or Urban Ecology and the Environment. Answer questions about urban equity such as "What can cities do to promote social cohesion and inclusion." Visit www.habitat3.org to add your comment and provide beneficial insights to real-world issues and challenges.
The New Urban Agenda is framed as a convening of minds seeking to provide solutions to the complexity of urbanization in the modern world. At current estimates, four out of every five people will be living in towns and cities by the middle of this century. In this context the agenda speaks to the dynamic and symbiotic linkages between urbanization and development, and the necessity to manage this relationship by way of sustainable growth. Habitat III will engage United Nations Member States, multilateral organizations, local governments, the private sector as well as civil society, all of whom will play a role in our collective sustainable future.
The precursor to this global forum, Habitat II, was hosted by the UN Human Settlements Program in 1996 in Istanbul, Turkey. Twenty years have passed since the world has contributed to such a dialogue. As new challenges emerge and rates of urbanization expand like never before, Habitat III provides a rare opportunity to chart a new course for human settlements and development policy across the globe.
The American Planning Association continues to play an active role in the global policy space and the United Nations agenda. Through our participation in the Campaign for an Urban Sustainable Development Goal (SDG), APA continues to assist in the creation of United Nations and Habitat agendas. Additionally APA continues to participate in preparations for other international development efforts like COP21, this year's climate-focused summit held in Paris this December, as well as an Urban SDG pilot-project applying sustainable development goals to five cities across the globe in an effort to analyze the effectiveness of such implementation measures.
APA's participation in this working group also relates to cutting edge financing structures for international sustainable development, as well as a whole host of Fall forums hosted domestically in the United States aimed to assist, The Road to Habitat III.
Spring 2015 Update
More Ways to Get Involved
There are two subcommittees of the national committee planning for Habitat III in Quito, in October 2016, in which APA is participating: Connecting the United States to Global Conversations and the National Report. We welcome contributions from APA members and partners on both topics.
Communitas, a coalition of global organizations has prepared a good summary in its FAQ about Habitat III, which may be reviewed at www.communitascoalition.org/pdf/Communitas_FAQ_Habitat3.pdf.
The Global Conversations subcommittee is co-chaired by Blair Ruble at the Woodrow Wilson Institute and our own very active Genie Birch, FAICP. In the first meeting of the subcommittee last week we discussed a way to engage all of the organizations involved to share events, activities, case studies and research. We want to bring ideas and activities globally to U.S. communities and also share what we are doing and learning here so it's a two-way street.
The National Report will be an update on activities and lessons learned relating to the state of cities and towns as well as national policies since the last Habitat in 1996 in Istanbul. The agenda that will frame the National Report will start with the Habitat II Agenda at http://ww2.unhabitat.org/declarations/ist-dec.htm.
We envision the activity to result in an actual report, but we also believe that we can use this opportunity to establish a broader platform for ongoing discussion, sharing activities and research and best practices. We will be working on the tools for sharing among our own members and partners and the myriad communications devices to help engage a broad audience including elected officials, private sector and civil society organizations. The second meeting of the national committee which will offer more information is March 11. I will share the update with you in my next update.
As an active member of the World Urban Campaign steering committee, we will be participating in the next meeting of the committee in Nairobi, April 11-12, 2015, and the following Preparatory Committee of the United Nations for Habitat III, April 12-16, 2015. Among the items for discussion is refining and editing The City We Need document, which may be found at http://unhabitat.org/the-future-we-want-the-city-we-need/.
I continue to work closely with APA's International Division and hope that you will let me know your questions and ideas as we continue toward Habitat III.
Winter 2015 Update
abitat III will be held in Quito, Ecuador, in October 2016. APA is participating in the lead up through the World Urban Campaign (WUC), a broad group of private nonprofit organizations. WUC will continue to refine this initiative by joining the Habitat General Assembly in Nairobi, Kenya, April 13, 2015.
For members interested in contributing local stories relating to the Sustainable Development Goals and Habitat III, contact Citiscope, edited by Neal Peirce, at http://citiscope.org/editorial-opportunities/write.
Sustainable Development Goals
At the 17th Triennial General Assembly of the International Council on Monuments and Sites (ICOMOS) November 2014 in Florence, Italy, APA collaborated on passing a resolution to support and to refine the Urban Goal. The resolution noted that the conservation and enrichment of cultural heritage and traditional settlement patterns represent a major contribution to sustainable development.
In December, the Secretary General's synthesis report, "The Road to Dignity by 2030: Ending Poverty, Transforming All Lives and Protecting the Planet," recommended the retention of the 17 goals — including the first-ever urban sustainability Goal 11 to "Make cities and human settlements inclusive, safe, resilient and sustainable."
Other Activities
APA is planning a webinar in March, co-sponsored with APA's International Division and featuring APA Pennsylvania Chapter member Ron Bednar talking about his work with the United Nations Association and ways in which other chapters could partner with the association's locations around the country.
Genie Birch, FAICP, chair of WUC, attended the first of several meetings in New York January 19-21, 2015, to finalize the Sustainable Development Goals. In March, the UN will take up the details of establishing metrics to use in the monitoring and review of indicators for the Sustainable Development Goals.
HUD has convened a national committee to coordinate U.S. government participation in cooperation with NGOs like APA. Subcommittees have just been established — APA is on the Connecting to the Global Urban Agenda. I will report ways that you can review and contribute to the partnership once we have our first meeting in February.
Fall 2014 Update
APA Director of International Programs Jeff Soule, FAICP, attended the first preparatory meeting leading up to Habitat III in 2016 September 15-18 at the United Nations. He reports that the stand-alone goal on sustainable urbanization is in the draft set of priorities that is moving forward.
APA joined other NGOs in June 2014, supporting the inclusion of this stand-alone sustainable urbanization goal in a letter to the U.S. ambassador to the United Nations, drafted by Eugenie Birch, FAICP, chair of the World Urban Campaign.
The World Urban Campaign steering committee meeting was joined by Dr. Juan Clos, director of UN Habitat and the lead person in charge of preparing for Habitat III. Clos challenged the group to be more explicit and focused on the issues of urbanization and not to try to put every problem in the world into making better places. He said simply that we have seen rapid global urbanization in the last 25 years, but it isn't sustainable. We need to make it clear that there are best practices that can make better cities, more human cities and more sustainable cities.
APA at the Strategic Planning Session
Caserta, Italy | October 16-18, 2014
The World Urban Campaign and a variety of other non-governmental stakeholders met for an in-depth working session aimed at the following goals:
Habitat III will be guided by the principles found in The City We Need.
That each partner organization draft detailed positions on how to achieve The City We Need objectives.
That each organization drafts a roadmap of activities and input leading up to Habitat III.
APA's proposal to have an Urban Lab at the meeting was accepted so our visibility in the program is enhanced. The program identifies the Historic Urban Landscape approach as an important planning process that integrates new development in local context. In addition, it provides a focus on the role of planning in addressing the issues we face in 21st century urbanization.
APA participated in UNESCO's drafting process of the HUL and several National Planning Conference Sessions have featured the process and case studies. The most recent blog on the use of this methodology is called "Historic Rural Villages in Yunnan."
Read the final text of "Recommendation on the Historic Urban Landscape," adopted in 2011.
View the program for the strategic planning session, Urban Thinkers Campus: The City We Need.
---
Share Your Thoughts and Materials
If you have thoughts or materials that you feel would contribute to the overall advance of cities and towns worldwide, please e-mail Jeff Soule at jsoule@planning.org.
APA's International Division is also a great way to stay engaged in this and other issues.