Promote Healthy Communities — A Joint Call to Action
Where we live, work, and play has a major role in shaping our health — and planners have a major role in shaping each of those places.
But how do we solve our growing health challenges? It requires new partnerships and collaboration between planning, public health, and allied professions. It also requires the use of evidence, policy levers, and communication tools.
The Joint Call to Action to Promote Healthy Communities brings together eight national organizations calling upon members to collaborate with one another to create healthier, more equitable communities.
Signatories include: American Institute of Architects, American Planning Association, American Public Health Association, American Society of Civil Engineers, American Society of Landscape Architects, National Recreation and Park Association, U.S. Green Building Council, and Urban Land Institute.
As a signatory to the Joint Call to Action, APA calls upon planners to contribute their skills and commitment to equity to support community well-being. When professionals in the fields of the built environment and public health work together, we multiply our potential to improve health for all.
The Joint Call to Action has four pillars:
Build Relationships
Establish Health Goals
Implement Strategies to Improve Health
Share Expertise
Promote Healthy Communities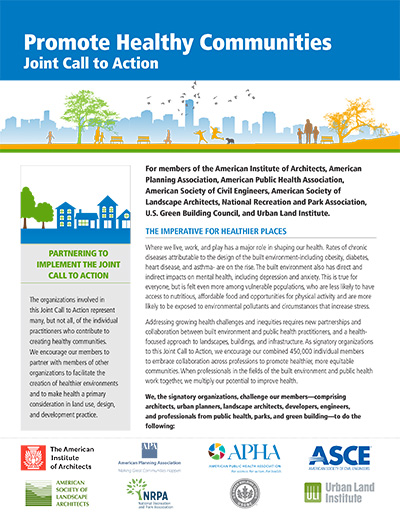 Joint Call to Action
The organizations behind this Joint Call to Action encourage their combined 450,000 individual members to embrace collaboration across professions to promote healthier, more equitable communities.
Take Action
How to take action:
Today: Check out APA's first healthy communities policy guide!
Next week: Take APA's planning and public health online course
Next month: Make a new friend and learn about health projects in your community by meeting a public health colleague for coffee.
Spring: Join APA at the National Planning Conference to learn about how your peers are already taking action to create healthy communities.
Every Day: Let us know what you're working on! Use #Build4Health and #Plan4Health.
---
About the Partnership
These organizations and action steps represent many, but not all, of the people and activities that contribute to creating healthy communities. We encourage our members to partner with members of other organizations to facilitate healthier environments and to make health a primary consideration in land use, design, and development practice.