We all know that food is a basic need, and planners have an important role to play. The time is ripe for the food system to become less of a stranger to the planning field.
PAS Reports
Urban Agriculture
Growing Healthy, Sustainable Places
Interest in urban agriculture is rising steadily in the United States and Canada. While older, industrial cities such as Cleveland, Detroit, and Buffalo, with their drastic loss of population and their acres of vacant land, are emerging as centers for urban agriculture initiatives, backyard and community gardens in places big and small have become important symbols of the local food movement.
Because urban agriculture entails the use of urban land, planners are increasingly on the front lines of the discussion about how best to craft policies and programs to support growing food while being mindful of the interests of residents living near these projects.
A Planners Guide to Community and Regional Food Planning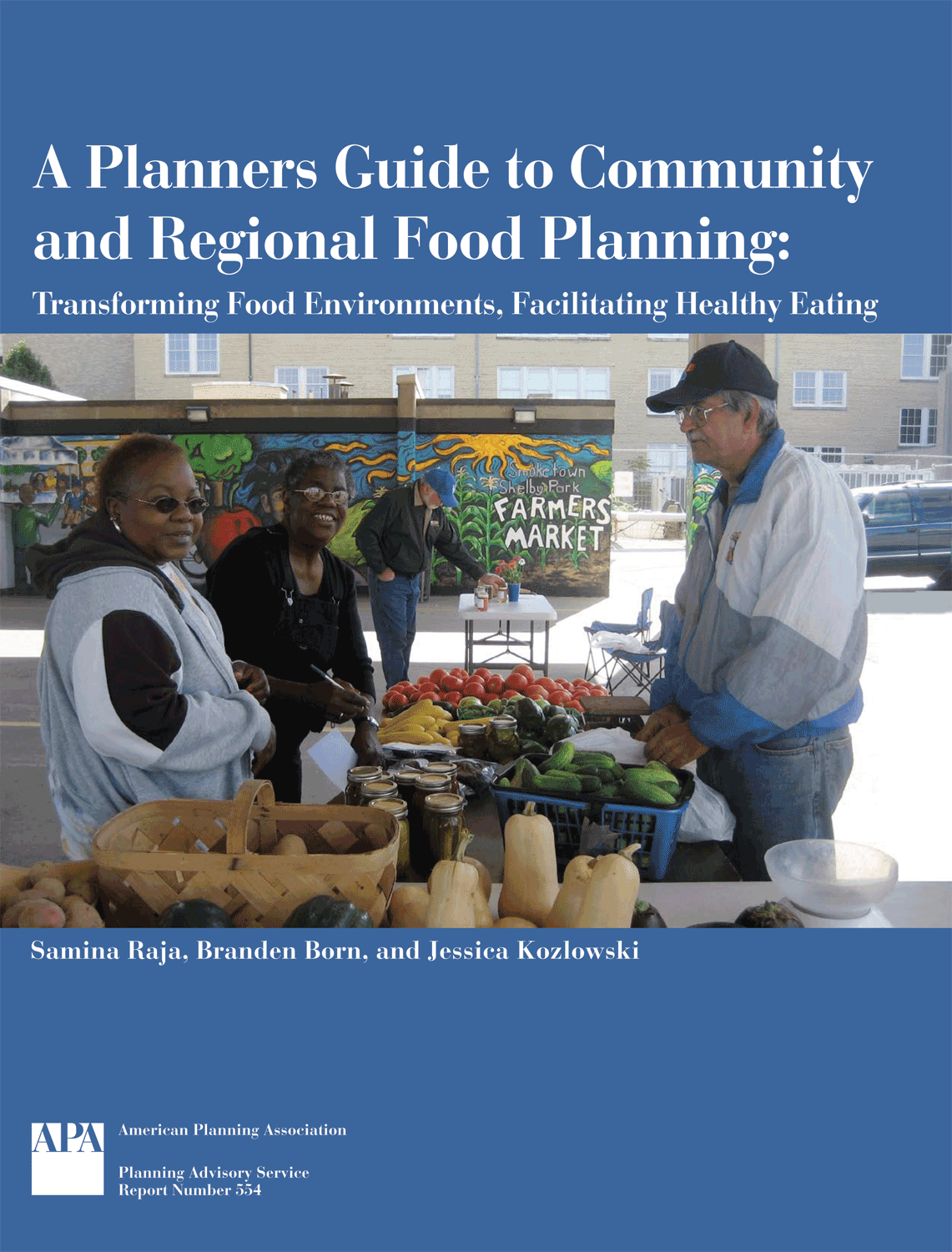 Transforming Food Environments, Facilitating Healthy Eating
Food nourishes us, enriches our celebrations, and sustains life itself. Yet not everyone in the United States has equal access to healthy food. Some of us live in neighborhoods where grocery stores carry a greater variety of potato chips than vegetables, while some of us cannot afford vegetables even when they are available.
This PAS Report by Samina Raja, Branden Born, and Jessica Kozlowski Russell shows how planners can play a significant role in shaping the food environment of communities and thereby facilitate healthy eating.
APA Resources
APA Food System Planning White Paper
APA's Policy Guide on Community and Regional Food Planning
APA's Planning and Community Health Center
The Planning and Community Health Center is one of APA's three National Centers for Planning. The center is dedicated to strengthening the connection between urban planning and community health in the U.S. It engages in collaborative, multidisciplinary research; education and outreach activities; and policy development work aimed at addressing today's pressing health issues (such social inequities, physical inactivity, poor food access) through city and regional planning.
APA Food System Planning Brochure
This PDF brochure provides an overview of APA's resources, publications, and activities related to food system planning.
APA's Food Interest Group
APA's Food Interest Group (FIG) is a coalition of APA members interested in or actively engaged in food system planning at the local, regional, state, or national level.