Slowing Down to Speed Up: Improving Planning Processes With Lean
PAS Memo — July/August 2020
By Christopher Baker, AICP, Katie Wilken, AICP, and Alissa Magley, CPM
Planners often face a variety of difficulties while managing community planning and development. Aside from dealing with a multitude of developers, resident input, and a myriad of project types, both private and public agencies must contend with budgetary restrictions. Planners have all had to learn to do more with less.
Arizona's Maricopa County has become the fastest-growing and fourth largest county in the nation (Associated Press 2019). Within the county, the City of Goodyear is home to 88,000 residents, the majority of which have located there in the past 20 years. In spite of its quick expansion, Goodyear has been named one of America's 50 best cities to live (Kent et al. 2015). With this abundant growth, however, has come challenges that all growing communities face: responsible planning, development organization, and resource management.
Goodyear's fast pace of growth continued through the economic downturn of 2008, with the city averaging an annual population increase of four percent from 2008 through 2012. However, the city's Planning and Zoning Division lost half of its staff during this time due to layoffs, while the work continued to increase. In an effort to do more — and better — with less, the Development Services, Economic Development, and Engineering Departments launched a "Lean" process improvement initiative in 2015. Between 2016 and 2018 the number of applications to the Planning and Zoning Division more than doubled, but staff were able to cut review times in half — all without adding new employees and while improving employee satisfaction.
Lean, Six Sigma, and other continuous improvement programs are becoming more popular with local governments, and many are seeing the results that Goodyear has seen. These programs focus on staff performance, and initially the city concentrated on review times and results. But over the last two years, attention has shifted to changing the culture of city departments, resulting in a great improvement in employee morale while keeping up with the increasing workload.
This PAS Memo explores a number of processes and tools that planning departments can implement to help increase productivity and manage change within a growth environment. It looks at how the City of Goodyear's Planning and Zoning Division handled the spike in development in conjunction with the rise in population and the decline in staff to show how planners can indeed do more with less.
A History of Goodyear
Goodyear, Arizona, is located just west of Phoenix, close to both the Sierra Estrella and White Tank Mountains (Figure 1). It has become one of the fastest-growing cities in the United States and recently earned a 95 percent satisfaction rating from residents (Goodyear n.d.b.).
Goodyear was originally part of 16,000 acres purchased in 1917 by the Goodyear Tire and Rubber Company to grow cotton needed for tires during World War I.
The town of Goodyear was incorporated on November 19, 1946. At that time it consisted of 151 homes, 250 apartments, and several small businesses (Goodyear n.d.a.). This small town has grown into a thriving community with a rich history in aviation and mixed use communities. Several Fortune 500 companies now call Goodyear home, including Amazon, Ball, Dick's Sporting Goods, REI, UPS, Nike, and Microsoft.
Goodyear did not escape the recession of 2008. Layoffs and furloughs occurred in every department as development slowed. The planning department was cut in half, to four planners and one planning manager. While population still continued to grow during the recession and after recovery, the city took a conservative approach to staffing, and the planning department staff numbers remained the same through 2016.
From 2016 to 2018, development applications more than doubled, and pre-application meetings, which give developers a chance to meet with staff prior to submission, have increased each year. With the increase in development, employment, and residents, municipal department workloads have increased as well.
The development boom and the demand from customers, councilmembers, and residents for faster service represented a monumental challenge — but also an opportunity. The call to speed up would force not just the Planning and Zoning Division, but all of Economic Development, Development Services, and Engineering, to slow down.
A Need for Change
The development review process in Goodyear is administered by the Planning and Zoning Division, as it is in most other jurisdictions across the county. The process is important, as it provides transparency and an opportunity for civic engagement from the public. But it is also seen by some as slow, an impediment, and often unnecessary. Planners are used to the resulting tension.
In the fall of 2015, Development Services, Economic Development, and Engineering — three separate departments all key in the development review process — existed in silos. Customer complaints about the process in conjunction with low employee morale prompted the city council and city management to establish new goals. The development review process had to be significantly improved and employee morale boosted.
The problem — and the challenge — for the Planning and Zoning Division was clear. How could it effectively tackle at least twice the amount of work without doubling its employees — and do it more efficiently with higher quality and certainty?
The answer was not simply working harder and faster, nor was it to create a system of micro-management and sweatshop-like production targets. Long-term and large-scale changes were needed, from the beginning to end of the process and across several departments. But who better to lead the change than planners — change agents who already have the skills to manage change in their communities.
Though not all may realize it, community planning comes down to change management. Planners can effectively manage change because the core of their skill set is based on empathy. They to seek to understand the experiences of others and recognize solutions and opportunities. What will do the most good, serve the greatest good, and make the biggest impact?
Planners can also use these skills to drive change within their departments and local governmental administrations. This may require asking "Why?" and challenging the status quo. According to the late planning management expert Paul Zucker (1997), "Not only must one react to changes showering down — to be effective, one must become a change agent in one's own organization."
In Goodyear, change started with the recognition that there was not one correct answer within one silver bullet. Rather, an unrelenting strategy was needed that put people first, whether they were outside customers, internal employees, or residents. A second pillar of the strategy was that people are not the problem — the process is the problem. System inefficiency happens because of misalignment of resources and a non-customer-based focus. Recognizing that a process has become overly complicated, with needless transition points and long customer wait times, was the first step.
Lean: Making the Change
Faced with the city council's directive for improvement, staff realized that change was going to happen no matter what — but they also saw that if they themselves took charge of the upcoming change, they could shape it to benefit their departments, their customers, and other stakeholders. Not knowing how to tackle such a large request, staff first turned to the city's Innovation Ambassador Team.
The City of Goodyear had begun its innovation journey in 2014 by participating in the Alliance for Innovation's Innovation Academy (an organization of government entities committed to innovation; learn more at transformgov.org). This resulted in the creation of the Goodyear Innovation Ambassador Team, a team consisting of employees from each city department, to champion innovation within the city organization.
A primary member of the Innovation Ambassador team discovered a process called Lean, which focuses on driving innovation and implementing continuous improvement within government organizations. The Lean process was brought back to the department representatives on the Innovation Ambassador Team, who decided to use it as the tool to achieve the city council's goal.
Started at Toyota (and also known as the "Toyota Way"), Lean is based upon two pillars (Koenigsaecker 2013):
The concept and practice of continuous improvement
The power of respect for people
It focuses on the "simple yet elusive goal of identifying and eliminating waste in all work activities" (Liker and Meier 2006). Lean holds that when "look[ing] at a process as a time line of activities, material, and information flows, and chart[ing] the process from start to end," one finds "usually far more waste than value-added activity" (Liker and Meier 2006). It prompts organizations to map out simple everyday tasks and ask "why?" Finding the answers helps lead the way to optimal efficiency.
With the city council's goal of increasing efficiency and delivering improved customer service, three newly hired department directors made a commitment to change the culture and improve processes with the goal of engaged and empowered employees. This was an informal agreement for interdepartmental cooperation.
These directors quickly realized that their most important job was to create a new culture that would result in new processes. Their first step in this process was to bring their departments — Development Services, Engineering, and Economic Development — together into a single unit, the "Development Continuum" (Figure 2).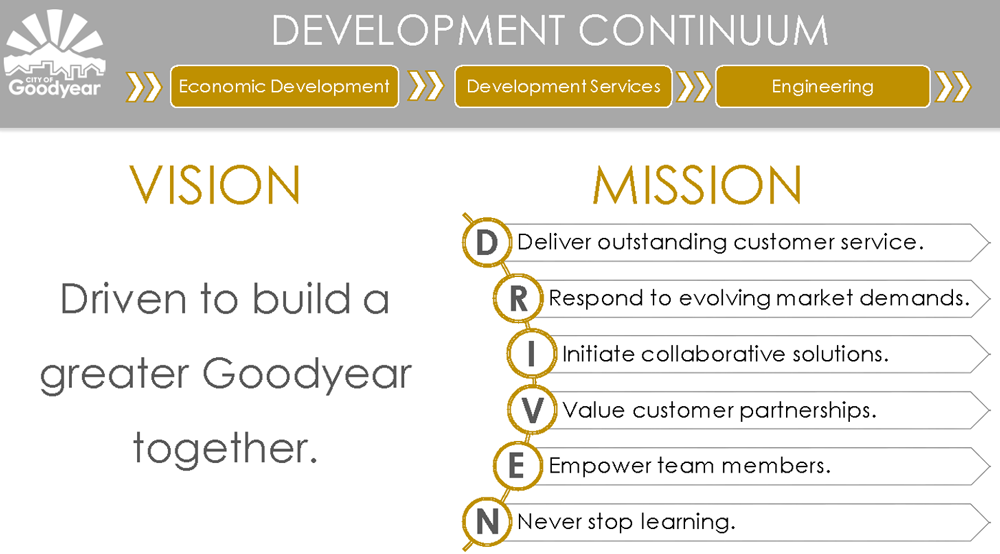 Data Collection and Tracking
The first task of the Development Continuum was to understand the current state. Three basic questions need to be answered about any process: how many, how often, and how long.
How many applications are truly coming in and out of the organization?
How many are submitted each week? When are the busy times, when are the slow times?
How long does a review take a planner to complete? How long is the project in their hands? How long does it take from application to council approval? "It depends" is not an answer.
Staff quickly realized their permitting software was not measuring the correct data. They needed to start tracking cases: where they were in the process, who had them, and how long it took. Easily available tools, such as Excel spreadsheets and Access databases, were used to begin the tracking process.
Once it was determined how long specific tasks and projects took, management began tackling how many of these items were submitted and how often. Tracking all activity became a priority, as it would help to understand the workload, eliminate confusion from the process, and focus on improving quality (Figure 3).
This was a different process for employees. This data had been previously collected, but it was not reviewed regularly. Implementing tracking systems, especially within the Planning and Zoning Division, was at first a struggle, but vital data was gleaned in order to maximize efficiency later.
Huddle Together
Another early simple process improvement was the "morning huddle." Teams in each division or work unit would come together with their managers and talk about what was happening that day (Figure 4). Each group discussed what would be accomplished that morning and afternoon, any problems that had arisen, and whether assistance was needed in helping solve those problems.
These meetings were short and happened at staggered times throughout the building so that representatives from each division could attend the other department huddles. For example, a planner would attend the engineering huddle every morning and bring back information on what they could expect back from them that day.
After the division huddles, management would have its own huddle with all managers and department directors in attendance to address and coordinate any items that needed to be elevated. This helped staff solve issues they identified as holding up work, effectively making the operation more efficient for each staff member.
Huddles were combined with data to reinforce the transparency of the work being done. Production boards gave a snapshot of projects and cases (Figure 5). Rather than having data hidden in spreadsheets and software, cases were displayed on boards so that everyone could easily see status and metrics and respond quickly and efficiently.
As previously stated, Lean has two pillars. Data gathering assists with continuous improvement, but showing respect for people and increasing employee morale means that management needs more interaction with staff. The Development Continuum established "Lean 1:1 meetings" — one-on-one meetings between an employee and either a manager, director, or representative from human resources. These meetings had two purposes:
To ask the employee, without judgment, the average time it takes them to do a task, such as site plan review, zoning review, or staff reports.
To ask the employee, if they could snap their fingers and fix any one thing, what would it be?
These items became wish-list items to be included, if possible, within the upcoming changes. Staff determined whether these changes could be made by the individual employee or by the division, or if they were system-wide wishes that required more effort to resolve. These items ranged from simple process improvements to software upgrades. All in all, approximately 80 percent of wish-list items would be addressed throughout the process.
Tools for Improvement
The planners in Goodyear had determined how long their processes took and how many times they were repeated. Now it was time to improve their practices.
Within the Lean approach, a process is laid out completely, with all steps, touch-time, and transitions mapped in order to study what can be adjusted or even eliminated. This study and the improvements made within this process is called a Kaizen.
Kaizen "is a Japanese term that literally means improvement. ... When a company adopts the kaizen model, it strives to improve its processes in small but meaningful ways, ultimately changing for the better. Kaizen is not just a one-time improvement, but rather a commitment to excellence by constantly testing and improving the workflow, day in and day out" (Allred 2019). Use of the Kaizen method reinforces the idea that a city, department, or division is a team working on fixing problems, not working against each other.
One of the processes of Lean is creating initial-state and ideal-state value streams, which showcase "the sequence of work steps that make value flow from customer request to customer fulfillment" (Koenigsaecker 2013). Goodyear applied this Lean tool to a myriad of processes that included multiple departments. Staff generated initial-state value streams representing the actual work practices that were being followed day to day. They then created ideal-state (or future-state) value streams to identify waste, defects, or waiting, and to highlight what should be kept in the forefront when reducing steps and waste from the initial-state value stream. Staff also produced interim-future-state value streams that greatly reduced the amount of steps and increased value to employees, customers, and management.
The Kaizen method, as well as initial-state and ideal-state value streams, was used in several different areas of improvement. Goodyear's planners tackled one of the more pressing issues they faced: time for completion of cases that were brought to the planning and zoning commission and council. The data collected and analyzed during Kaizens resulted in process improvements that reduced review times from 20 or 25 working days to eight (Figure 6). This was not done by adding work hours or personnel, but simply by knowing how long tasks should take and making sure people were aligned and coordinated.
Another lesson from the "Toyota Way" is the idea of leveling, in which "a slow and consistent pace of work" is most efficient (Liker and Meier 2006). The planners in Goodyear used this methodology of level loading. Instead of pushing numerous cases at the planners, the planning manager would initially accept all projects and assign work according to capacity. This slow and steady approach meant that all cases were completed within 10 days or less, with 60 percent of cases reviewed in four days or less.
A further challenge to each planner was the many interruptions from customers, emails, voicemails, and huddles. To combat these disruptions, a "Planner of the Week" was established. Each week, one planner would be assigned to attend the engineering morning huddle, answer phones, respond to emails and in-person inquiries, and handle overall customer service for the division. This reduced interruptions for all the other planners throughout the course of the day, allowing them to better concentrate on their work. Because this reduced the Planner of the Week's capacities, the planning manager decreased his or her workload for that week.
The Rocky Road to Council
Each month, the Goodyear City Council meets two to three times, and about 60 percent of their work originates in the Planning and Zoning Division. Preliminary and final plats, use permits, rezonings, and comprehensive sign packages must all be approved by the city council, and the majority of these cases must be recommended by the planning and zoning commission. With so many items following the same path for approval, this process should have been streamlined and efficient, but it was far from perfect.
For decades, staff reports going to council had been routed on paper to various people for review and approval. In 2006, the city clerk's office switched to an electronic agenda system, but after several years it started having difficulty getting the agenda out on time. This was in part due to the growing numbers of development-related items and those items being rushed through the process.
A Kaizen event was held to work on this problem, which revealed that the clerk's office had a very different view of the electronic system than staff inputting reports did. The clerk's office saw it as agenda-building software, whereas the report creators saw it as routing and review software. It was determined that planners, not the clerk's office, should be responsible for ensuring their staff reports had been reviewed by necessary departments. In exchange, the clerk's office was willing to give the planners a more flexible deadline for submitting staff reports.
By realigning tasks, and then rescheduling planning and zoning commission meetings, the time to move applications between commission and council was reduced from about five weeks to less than two weeks. Almost a month was shaved off of the process without requiring staff to "go faster." This savings in time was valuable to the customers, allowing projects to advance more quickly and reducing the biggest waste factor in any process: waiting.
Today in Goodyear
The City of Goodyear, the Development Continuum, and the Planning and Zoning Division have gone through many changes over the past several years. When Goodyear started with Lean, the focus was on review times; however, it became apparent that there were large-scale cultural and empowerment changes to be made. The new culture created allows more open dialogue, more efficiency, and greater capacity for more projects.
One of the more obvious advantages is the increase in opportunity. Building inspections have continued to increase, planning submittals and pre-applications meetings are steady, and development inquiries abound. Improvement has not stopped, as the desire to attract high-quality developments continues. Working with homebuilders associations and negotiating for better quality, the planners at Goodyear still strive to find ways of creating value for customers and residents.
And the benefits go beyond improved departmental processes. Thanks in part to the trust built between the city council and the Planning and Zoning Division through the Lean process, as described in the sidebar below, Goodyear is currently in the process of building a new city hall, a project several decades in the making.
How Leading Improvement Created Better Planning
The drive to improve review times started with a push from the city council. Responding quickly to this call and improving review times and relationships with customers has built enormous trust between the council and the Planning and Zoning Division. The relationship with Goodyear customers and the council's trust in city staff has had direct benefits to the community.
Goodyear had long had plans to build a city hall and city center. As a newer city, it did not have a downtown. The city wanted a gathering place and activity center. A long-held site for the city center sat at an intersection several miles from the interstate. Suburban-style city hall site and building plans had been approved before the economic downturn.
At another site near the interstate, a proposed mall site also sat vacant after its development was stalled with the downturn. The owners of a future power center next to the proposed mall site came to the city to discuss allowing a portion of the site to develop as residential. Initially, planners were disappointed to see proposals for lower-density residential in an area designated for commercial development, but they quickly saw an opportunity to advance good planning principles. They proposed partnering with this customer to move the city hall site there and create a mixed use, walkable "downtown" area for Goodyear (Figure 7).
The proposal was brought to city management who, with the assistance of the Development Continuum, quickly responded to the idea. In 2019, the city council approved building a city hall in a public/private partnership. The first phase includes a 120,000-square-foot city hall and library, a civic square park, a three-story mixed use building, and a three-story parking garage. Move-in is scheduled for the summer of 2022.
Without the trust that was built through the process improvement journey, there would not have been this big win for planning. Plans are now underway to create a new walkable gathering place for Goodyear, and planners are continuing to push for better development and planning within the community.
Morning huddles have been deployed for four years now. Staff has found that it is easy for them to become merely hot project reports, but they should be more than that. It is important to use this time to identify problems and discuss other impediments to getting work accomplished. A commitment to continual improvement is a vital part of the team culture being built.
A recent opportunity presented to the Planning and Zoning Division has been the implementation of electronic plan review. The division has used a hybrid electronic plan review system for several years, in which customers submit plans over the counter as well as a digital version for department review, comment letters are sent to the customer via email, and resubmittals are again taken in over the counter. Planners were the prime candidates to implement a fully electronic plan review system across three divisions — civil engineering plan review, building plan review, and planning and zoning review — because they have the insights of plan reviewers and regularly hear and field the frustrations of customers.
One of the biggest differences with this innovation is the preparation for change that was implemented by management and planners. A change management system (PROSCI) was used to educate and manage staff throughout this large-scale modification. PROSCI is a proprietary tool used to understand how individuals react, embrace, and adapt to change.
The PROSCI tool provides information regarding early adopters, the "go-alongers," and the resistors. Early adopters are those individuals who are excited about the change and help drive it to be successful. "Go-alongers" are generally neutral about the change but will not prioritize the innovation. Resistors object to change.
By being able to identify which team members fall within each group, the project team can strategically work to create individualized action plans to address any needs or concerns for employees that may need further assistance or time to adjust, which will result in the whole team adopting the change together. The electronic plan review project management team embraced the opportunity to effectively create change, avoid resistors, and inform staff.
This highlights one lesson learned by Goodyear: In the initial zeal for change, a few things were regrettably overlooked regarding the human aspect. The intent of improving the efficiency of plan review was not to have employees rush through their jobs. Regardless of how many times employees were verbally reassured not to rush, they felt pressured and that their contributions were not valuable. To enact change on a large scale at departmental or organizational levels, people must be prepared for change or it will create problems later, such as low employee morale, passive resistance, and staff turnover.
In hindsight, starting with a change management plan from the outset would have been a far more effective approach. This is a common error for many organizations. Not deploying a change management tool and a people-based management structure from the outset resulted in the creation of resistors. This resulted in adoption and implementation delays that may have been avoided if more people had been engaged in the process improvements from the start. The momentum would have been larger and more self-sustaining.
Building a new culture does not happen overnight, or even within a year. It requires constant cultivation and management. Employee recognition and celebration of small wins are essential to surviving any change within an organization. Achieving different results requires changing people's behavior. Rather than changing just a process, it is important to start with creating a system that will create the desired behavior. This means taking a step back and looking at the current system to determine if it is working to deliver the desired results for the people who use it.
A culture that is purposefully based on collaboration and engagement, in which employees are empowered and valued for their contributions, will inevitably create a more rewarding place to work. Achieving these goals will result in a high-performing team that strives for improvement and builds a great workplace.
Action Steps for Planners
While the City of Goodyear has managed to make large-scale changes, there are always more improvements that can be made. This is true no matter the size or location of an organization.
It is possible to start continuous improvement with little to no fiscal resources, as the most important resource is the people doing the work. There are ways to make processes more efficient without sacrificing the quality of the work and increasing budget or staff. Figure 8 highlights five steps directors, managers, and all planners can take to start along the path to continuous improvement.
Simply by stepping outside of the day-to-day chaos and looking around, it is possible to find solutions to problems that may not have even been apparent. What do your people need? It could be something as simple as a better means of communicating with customers, reducing a step in a specific process, or creating an outlet for their concerns.
Build the foundation of respect for people first by concentrating on staff empowerment. Decisions should not just come from managers or directors; consult with all employees and empower them to make decisions to better the organization. Planners can use these three questions to help them decide whether an action is appropriate:
Does it violate a law, policy, or administrative guideline?
Does it cost money or reduce revenue?
Are there other customers who have an interest in the outcome?
If the answer to each of these questions is "No," then it is a "Just Do It." If the answer to any of these questions is "Yes," then further consideration is needed. This does not mean action cannot be taken, it simply means that the appropriate action is to consult others and gather information before making a final decision.
Customers are another valuable resource, not just for revenue but also for feedback and innovation. Is it easy for them to give you information? What do they think of the current processes within your organization? How can you make their experience better? Data is a powerful tool. Simply document without judgment or opinion how long it takes to do a task, how many tasks are there, and how often is the task received. This base information is invaluable as a starting point for change.
Keep the momentum and truly commit to continuous improvement. Seek out stakeholders and find out how potential changes would affect them. Build the foundation of respect for people first, define ideal behaviors, and then deploy for improvements. One of the most important factors in all of this is the dedication to continuous improvement, so the processes and solutions will be continuously evolving.
Conclusion
Faced with the high expectations of elected officials and residents, planners have a choice. They can lead through innovation, change, and efficiency improvements, or they can have change happen to them.
Goodyear's Planning and Zoning Division staff used the principles of Lean to create a culture of empowered and engaged employees with no additional staff and triple the workload in three years. Vital to these successes was the creation of a new culture of continuous improvement within the division.
The challenge of continuous improvement and culture change may seem daunting and beyond the skills typically embraced by planners, but that is not the case. As planners strive to represent communities and help build special places of meaning and value, they leave a lasting legacy in the built environment. They can achieve these same impacts within their workplaces and local governments by defining ideal behaviors desired from a team and focusing on the process, not the people, as the problem.
Planners have the ability to build meaningful and rewarding work, places, and careers. They can leave cities better than they found them — and they can also create workplaces where staff become more fulfilled, better empowered, and higher-producing professionals. These outcomes are not mutually exclusive. When this is achieved, there is no better legacy. Godspeed and good luck.
About the Authors
Christopher Baker, AICP, MBA, is the director of development services within the City of Goodyear. Previously, he worked in the private sector for engineering firms, working on infrastructure projects and assisting small- to medium-sized cities throughout the southeast. He also served as the director of planning and building for the City of Fairhope, Alabama. Baker has a master's degree in city and regional planning from the University of Texas at Arlington and a master of business administration from Auburn University.
Katie Wilken, AICP, is the planning manager within development services for the City of Goodyear. She has worked with the city for 14 years. Wilken has a bachelor's degree in urban and development and a master's degree in urban and regional planning from Ball State University.
Alissa Magley, CPM, is the management assistant for development services for the City of Goodyear.
References and Resources
Alliance for Innovation. n.d. "Access the Emerging Practices in Local Government."
Allred, Jesse. 2019. "What is Kaizen?" Lean Challenge, January 9.
Associated Press. 2019. "Maricopa County is Fastest-Growing US County for 3rd Year." U.S. News and World Report, April 19.
Goodyear (Arizona), City of. n.d.a. "History of Goodyear,"
——— . n.d.b. "Living in Goodyear."
Kent, Alexander, Thomas Frohlich, Michael Sauter, Samuel Stebbins, and Evan Comen. 2015. "America's 50 Best Cities to Live." 24/7 Wall St., November 5.
Koenigsaecker, George. 2013. Leading the Lean Enterprise Transformation (2nd ed.). Boca Raton, Fla.: CRC Press.
Liker, Jeffrey, and David Meier. 2006. The Toyota Way Fieldbook: A Practical Guide for Implementing Toyota's 4Ps. New York, N.Y.: McGraw-Hill.
Miller, Ken. 2006. We Don't Make Widgets: Overcoming the Myths That Keep Government From Radically Improving. Folsom, Calif.: Governing Books.
Shingo Institute. 2019. Shingo Model Booklet.
Stulberg, Brad, and Steve Magness. 2017. Peak Performance: Elevate Your Game, Avoid Burnout, and Thrive with the New Science of Success. Emmaus, Pa.: Rodale Books.
Zucker, Paul C. 1997. The ABZs of Planning Management. San Diego, Calif.: West Coast Publishers.
---
PAS Memo is a bimonthly online publication of APA's Planning Advisory Service. Joel Albizo, FASAE, CAE, Chief Executive Officer; Petra Hurtado, PhD, Research Director; Ann F. Dillemuth, AICP, PAS Editor. Learn more at planning.org/pas.
©2020 American Planning Association. All Rights Reserved. No part of this publication may be reproduced or utilized in any form or by any means without permission in writing from APA. PAS Memo (ISSN 2169-1908) is published by the American Planning Association, which has offices at 205 N. Michigan Ave., Suite 1200, Chicago, IL 60601-5927, and 1030 15th St. NW, Suite 750 West, Washington, DC 20005-1503; planning.org.