Intersections
Association and APA Member News
Members Helping Communities: Greensboro CPAT
APA's Community Planning Assistance Teams program is working with Greensboro, North Carolina, to transform an underdeveloped area into a well-planned, vibrant community.
Dubbed the "Innovation District," the area had always lived on the city's fringe. A recent influx of new businesses, retail, and community services made obvious the lack of a unified vision for future. The community needed help, and APA's CPAT program answered.
After a preliminary visit in May, team leader Jeff Taebel, FAICP, returned last December with Kimberly Bares; Triveece Penelton, AICP; Joanne Shelly, AICP; and CPAT programs manager Ryan Scherzinger, AICP, to help the community develop a "plan for planning." The team held stakeholder discussions, met with residents to gather ideas, and shared the results in a video distributed by the city.
Based on those findings and other local research, the CPAT team recommended strategies to help the community maintain public engagement, support quality housing development, and create a governing structure to guide implementation in the face of future change and growth.
Great job, team!
To learn more about the Greensboro CPAT team's efforts, go to www.planning.org/communityassistance/teams/greensboro.
The CPAT program serves communities by pairing expert planning professionals with residents to address issues like social equity and affordability, economic development, sustainability, consensus building, and urban design. To learn more, go to www.planning.org/media/video/9142146.
Members on the Move
Adhi Nagraj joined the San Francisco Bay Area Planning and Urban Research Association as San Francisco director.
John Marshall, AICP, was hired as the new transportation planning manager for Hickory, North Carolina.
Kathleen Horne, AICP, joined infrastructure solutions firm HNTB as group director and vice president, in Austin, Texas.
Tim Burman, AICP, has been named the Community Development Director for Port Orange, Florida.
Evan Seeman was promoted from associate to counsel at Robinson+Cole.
Curt Paddock, AICP, retired as director of the land-use department in Will County, Illinois.
Kudos
Justin Garrett Moore, AICP, executive director of the New York City Public Design Commission, was named by Black Enterprise magazine as one of BE Modern Man's 100 Men of Distinction.
Madelyn Robinson, AICP, director of administration and economic development for the town of Summerville, South Carolina, was selected in January to receive a special scholarship to attend the prestigious two-week Advanced Economic Development Leadership Program, a collaboration of four major southern universities.
The 2018 winners of APA's Outstanding Planning Student Organization Awards are the American Planning Association of the University of New Mexico; the University of Illinois at Chicago's Urban Planning and Policy Student Association; and the Arizona State University's Student Planning Association. Congratulations also to the winning PSOs' student representatives to APA, Kate McMath, Justin Keller, and Genevieve Pearthree, for their leadership.
More Online
APA members are a busy bunch. For additional kudos, comings, and goings, see the APA News blog at www.planning.org/apanews/.
Got Something You'd Like to Share? Send notices and photographs for potential publication in Intersections to intersections@planning.org.
Association News
APA Sets 2018 Policy Priorities
The APA Board of Directors met earlier this year in St. Petersburg, Florida, for its annual winter retreat. Board action included approval of APA's 2018 legislative priorities:
Critical infrastructure
Affordable housing and inclusive growth
High-quality federal data
Healthy and safe communities
The board also approved the development of a communications strategy on planning's role in affordable housing, as well as policy principles. Stay tuned for more details.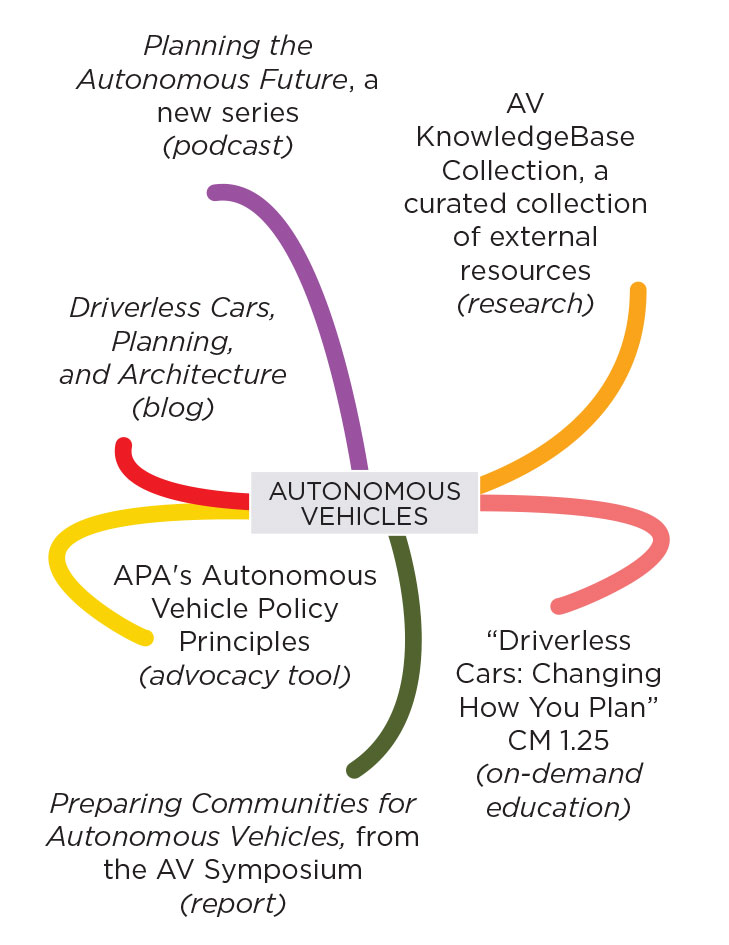 Tools of the Trade
Autonomous Vehicles
Autonomous vehicles will be a gamechanger for communities. APA has been hard at work, creating resources to help planners prepare: www.planning.org/resources/av/#KnowledgeBase.
APA Awarded Health Impact Grant
APA was recently named one of five national grantees of the Health Impact Project, a collaboration of the Robert Wood Johnson Foundation and the Pew Charitable Trusts.
As part of the 18-month partnership, APA will receive $45,000 to advance the application of the Sustaining Places Comprehensive Plan Standards at four sites. The work will focus on training around the health and equity standards specifically, as well as core planning competencies, and develop resources and tools to facilitate implementation by members.
Disaster Recovery Fundraising
Last fall, the APA Foundation issued an appeal for donations to aid disaster recovery, and APA members responded. All donations and the Foundation's match will be distributed as grants to communities affected by recent hurricanes and wildfires. Thank you to all who contributed. For more, see www.planning.org/foundation.
We Ask, You Answer
Last Month's Question
What are you most looking forward to at NPC18?
Your top three answers:
Mobile workshops
Reconnecting with friends and colleagues
Experiencing New Orleans
This Month's Question
When will you start planning for autonomous vehicles?
Fill us in at www.surveymonkey.com/r/Intersections0418.
Dates to Remember
April
1. The APA Foundation begins accepting scholarship applications. Get them in by June 1.
20. Head to New Orleans early for a course on equity, resiliency, and climate protection in community development, cohosted by the APA Sustainable Communities Division and EcoDistricts.
21. NPC18 kicks off in Crescent City with more networking, new topics, and fresh perspectives. Personalize your schedule at www.planning.org/conference/schedule.
25. The window for Great Places in America suggestions closes. Recommend a special neighborhood, street, or public space at www.planning.org/greatplaces/suggestion.
27. Today is the last day to register for the May AICP exam.
30. The grace period to log AICP certificate maintenance credits for 2016–2017 ends.
---
Intersections is compiled and edited by Planning editors. Send notices and photographs for potential publication to intersections@planning.org.