Aug. 5, 2021
As planners, we shape the future of our communities — an undertaking that is getting ever more complex because of the accelerated pace of change; technological, societal, and economic disruption; and increased uncertainty in just about everything.
But to be able to shape the future, we first need to be able to imagine it. That's why, together with the Lincoln Institute of Land Policy and as part of APA Foresight, APA is exploring the drivers of change that will impact the planning profession in the coming years — as well as tracking interesting patterns that could signal new ones.
Here are six of the biggest on our watchlist. (Spoiler alert: imagination required.)
1. Restorative investments and creative economic development could kick start socioeconomic equity.
All over the country, Americans are demanding new and effective investment solutions to respond to the inequalities of the past and present. Local governments and others are looking to address the mistreatment of specific populations, with approaches like reparations for Black communities and Native American groups. Other moves make payments that reach multiple populations, such as COVID-19 stimulus checks and universal basic income. Trying to use traditional forms of community investment to fund these out-of-the-ordinary efforts just won't cut it, especially when achieving socioeconomic equity is the goal.
Imaginative community investment programs aim to tackle the root of inequalities. Such programs are just one part of a larger push to undo current and historic harms, such as disinvestment, and to restore the collective well-being of the populations that have been harmed. Planners must start preparing to adapt to — and inspire — new forms of economic development. They will have to reconsider and reimagine what community-driven investment can look like. Seeking out the expertise and vision of residents is one way to start, and from there planners will need to help local governments to develop pilot programs that bring new forms of community investment to life.
DIG DEEPER ON THIS TOPIC
Planning: The Call for a New Fiscal Architecture
PAS QuickNotes: Investment Crowdfunding
PAS Memo: Partnering with Health Systems on Affordable Housing Investments
2. 3D printing could solve the housing crisis, improve our infrastructure, and revolutionize retail.
Also called additive manufacturing, 3D printing is a process of creating three-dimensional objects based on a digitally designed model. So what does that have to do with planning? There are several obvious direct and indirect connections planners should be watching.
The general idea of 3D printing has been around for a long time, but in the last few years, the technology has become ever more sophisticated. The cost has steadily gone down, while the quality continues to improve. Today, different materials can be mixed in one 3D print. In the U.S., Europe, the United Arab Emirates, and India, entire houses have been successfully 3D printed — in a matter of five days, and for half the price of a conventional house. That could shape up to be an attractive solution in cities facing a housing crisis. Plus, the world's first 3D-printed bridge was recently inaugurated in Amsterdam, potentially providing a new way to solve infrastructure issues in the U.S.
But why stop there? 3D printing also could revolutionize retail. If we can 3D print just about everything in the future, maybe consumers will go online, buy an idea or the design of a product, and have it printed in their local 3D print store. Think about what that would do to Main Street shopping.
While the 3D print option for housing is a trend that planners should already consider in their work, we should also keep an eye on where this technology is going, and how else it might disrupt our communities.
3. Main Street might make a big comeback — with the right incentives and economic development programs.
Speaking of Main Street, we have all seen how lockdowns and the shift to online shopping during the COVID-19 pandemic have forced many brick and mortar stores to permanently close. The post-pandemic commercial corridor is faced with empty storefronts, while e-commerce giants are planning for their next goal — the 20-minute delivery.
But before we start repurposing these once-vibrant retail zones into Amazon fulfillment centers (a 20-minute delivery will also require closer proximity to the customer), it's worth looking into a signal we have been observing that might help revive Main Street with a focus on small, local businesses instead of big chain stores.
During COVID-19, millions of new businesses were founded, most of them based online. Those businesses range from handcrafted products sold on Etsy to delivery companies to a multitude of creative services that the pandemic made necessary.
The combination of empty storefronts downtown, lower than normal rents as landlords scramble to fill vacancies, and new sources of funding for economic recovery could provide planners with an incredible opportunity to revive the once thriving main drag in their communities, while fostering local and small businesses and creating a more inclusive environment. Now is the time to provide the right incentives and create economic development programs that allow for these from-the-ground-up businesses to open up shop on Main Street.
LEARN MORE ABOUT ECONOMIC DEVELOPMENT
APA Podcast: Planners Are Helping Small Businesses Become Resilient Amidst the Pandemic
APA Blog: Six Ways Planners Can Help Local Business in a Crisis
Planning: Make It, Springfield — How a collaborative workspace is breathing new life into a Massachusetts legacy city.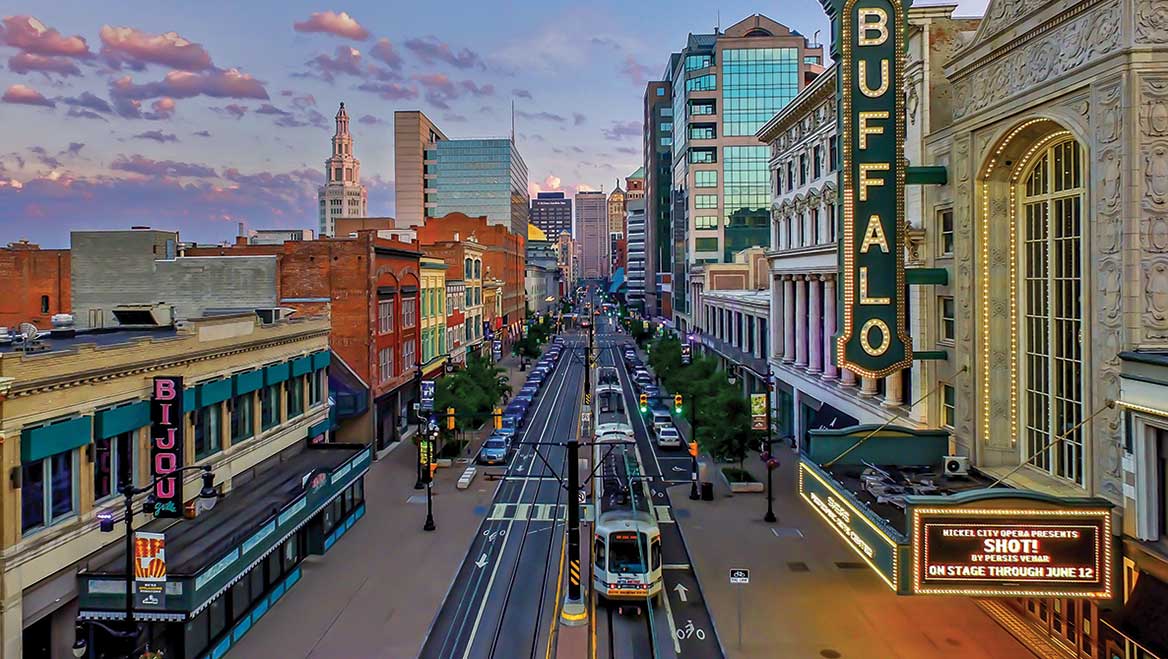 4. Climate change will likely displace millions, triggering large-scale migration to more Resilient "receiver cities."
Worsening climate change events threaten the future viability of some communities. Extreme hazards like heat, wildfire, drought, and flooding will likely make parts, or all, of certain existing communities uninhabitable. As a result, other communities out of harm's way — commonly referred to as "receiver cities" — will see an influx of climate migrants.
Large-scale migration is not an unprecedented phenomenon. But paying attention to this signal early is one way that planners can help manage the long-term, irreversible impacts of climate change.
Receiver cities need to be able to accommodate rapid and periodic influxes of people, particularly after natural disasters. By factoring climate migrants into long-range plans, planners and other community leaders can ensure there is adequate housing, transportation, and other services for future populations. Some planners might seize this opportunity to revitalize cities and small towns after decades of population decline. But equitably accommodating climate migrants should not come at the expense of existing residents whose histories and connections are rooted to the place. Communities that invest in a sustainable future today will be attractive to those displaced, nationally and globally, by climate change.
Meanwhile, places at risk of climate change events need to start being realistic about which areas are unsafe to continue living in or developing. Planners should start looking to restore the ecological function of local land, as well as protecting residents who might be left behind, such as those unable (or unwilling) to relocate.
GET MORE ON THE IMPLICATIONS OF CLIMATE CHANGE
Planning: Climate Migrants Are on the Move
Zoning Practice: After the Buyouts: Managing Land in the Floodplain
Zoning Practice: Climate Action and Transferable Development Rights
5. Diminished reality technology could give everyone the power to customize their surroundings — for better and worse.
After virtual reality and augmented reality, the next big thing is diminished reality (DR) — cancelling things instead of adding them.
The concept isn't new. You might even be wearing a DR product right now, in the form of noise-cancelling headphones. Also in the mix are smart eyewear products that reduce visual "noise" for the wearer. And what about noise-cancelling buildings that can soften and obscure sounds from their surroundings? That's here, too, and the technology is maturing.
DR could eliminate trash on the ground during our walk through the park or make highway-cluttering billboards disappear. And just as DR could cancel out nuisances in our surroundings, we can also use it to customize the environment to our liking — virtually. DR could provide great opportunities for people who suffer from PTSD or for those who are not neurotypical and may have a lower threshold for stimuli. It might also be a solution to traffic-related noise and negative visual impacts of various land uses within a community.
But this also raises the question of what negative and reverberating effects it might have on our society. Virtually erasing all the less-desirable parts of our surroundings doesn't make them disappear in reality. Will we stop caring about our surroundings? Will this undermine environmental justice efforts? Will we be able to not see people who might not fit the desired aesthetic, like unhoused people? And who will be able to afford this customized reality, and who will be stuck with potential disinvestment in the real place?
No matter what happened with this technology, planners should use it in their work to improve reality instead of faking it virtually. DR can help planners and stakeholders to envision what a community could look and sound like with all the negatives removed, so that they can plan for a better reality together.
LEARN ABOUT THE LATEST TECH IN PLANNING:
Planning: Virtual Horizons — Four trends in immersive technologies that are redefining the planning and design process.
Planning: Using Your Illusion — Virtual reality and other immersive environment tools for planning.
6. Efforts to decarbonize transportation could push the U.S. to revamp our railroads.
Decarbonizing transportation by shifting from fossil fuels to electric vehicles, taking public transit instead of driving, or simply walking or riding a bike has been on the planning agenda for some time now. Today in Europe, recent transportation sector developments aimed at lowering emissions and slowing climate change are targeting air travel. France, for example, is planning to ban any flight connection that can be replaced by a train trip of two and a half hours or less. The Netherlands, Austria, and other places in Europe are discussing similar moves.
While this might be an easy shift for countries with well-established railroad networks, high-quality train services, and a population willing to use them, this would be a tougher sell in the U.S. However, the Biden administration is signaling optimism about climate action in the U.S., including a potential revamp of the national railroad network.
While this isn't a trend yet, talks in Europe could help drive similar discussions in the U.S., especially in the context of climate change, and could shift future planning priorities toward creating, improving, and expanding regional rail connections.
RECOMMENDED ARTICLES