March 21, 2022
The crisis gripping coastal California — explosive job growth and opportunity souring due to a severe lack of housing — hasn't spared San Diego. Like other Golden State metros, it's incredibly unlikely to meet state-assigned housing goals, and prices have been skyrocketing.
There have been recent successes, like a 25 percent boost in housing starts and affordable housing production in 2020. Still, the region built just shy of half the homes mandated by the state over the previous decade.
But trends and shifts by city and regional planners and policy makers in recent years suggest it may be tackling issues like affordability and transportation more effectively than Los Angeles and San Francisco.
Until the last couple of decades, "San Diego was seen as a sleepy town with the character of a beach community," says Professor Isaac Martin, chair of the Department of Urban Studies and Planning at the University of California, San Diego (UCSD). "The city's growing beyond its reputation from decades past as not being an innovator in this space, and in the last few years, everything seems to be coming together."
A series of significant political and policy shifts in recent years have helped the city and region adopt a more holistic approach to housing, transportation, and economic development. To name a few notable developments: A homegrown YIMBY movement and more forward-thinking city council have passed zoning and development policies accelerating denser development and new transit investments. The newly opened Mid-Coast Trolley extends the Blue Line another 10.9 miles; stretching from the Mexican border to University City near La Jolla, the full route is now the spine of a potential game-changing public transportation network. The life sciences and tech community, an economic powerhouse that gained strength during the pandemic, has exploded. And a new executive director for the San Diego Association of Governments (SANDAG), LA-transplant Hassan Ikhrata, oversaw the draft of an ambitious regional plan that, if fully funded and adopted, would push the region towards meeting equity and environmental goals.
"We're a big city," says Martin. "This is a big shift culturally, but also from a political and policy standpoint. We've connected at every level, from the municipal level to the federal level, and want people to stop thinking like a small town, because we're not."
YIMBYs, youth, and a Beach City build up
Both demographics and geography prodded San Diego planning to shift forward, pushing city to an inflection point. Hemmed in by natural limits like the Pacific Ocean, the Camp Pendleton Marine base, conservation land, and the border with Mexico, the city and region have little choice but to densify and build up, as space for standard issue master-planned communities has run out.
Then there is the self-fulfilling cycle of young knowledge and tech workers, as Martin and others explain. Especially focused in biotech, newcomers are arriving and seeking out dense urban environments in which to live, creating a market incentive for more such development — and, in turn, attracting more demographic change. (That certainly isn't the only important demographic shift: The city is also planning for a population in which the number of adults over 65 will increase 106 percent by 2035. The Age-Friendly San Diego Action Plan aims to add and expand recreation and transportation options while focusing on housing transition options and wellness.)
The area has radically changed from its 20th-century roots, a tangle of Spanish and Mexican design and cultural influences that shaped the northernmost city in Baja California, its role as an emerging resort town during the Hotel del Coronado era, and a massive post-World War II military buildup. In the 1970s, an influential planning document about the region dubbed it a "Temporary Paradise."
"Our 2020 mayoral race, the most recent election, basically boiled down to two candidates offering the YIMBY and NIMBY options," says Dike Anyiwo, a member of the YIMBY Democrats and vice chair of the Midway-Pacific Highway Community Planning Group, one of several citizen-led groups formally recognized by the city that make recommendations to the San Diego Planning Commission about land-use decisions. "Democrat Todd Gloria, the YIMBY, won, running on a platform of housing affordability, transit opportunity, and climate action."
Perhaps the most optimistic vision of what this shift means can be found in the pages of the SANDAG 2021 Regional Plan proposal, a bold, $172 billion vision for reworking the transportation network, an opportunity seized after previous plans didn't meet the state's emissions-reduction targets.
One key proposal eliminates highway expansion, opting to transform many existing lanes into managed lanes for carpools, rapid bus service, and those paying tolls. The plan includes "5 Big Moves" geared toward active transportation advancements, like a better bike network, micromobility and new transit tech, coastal rail trails, and a long-term proposal for a major light rail extension and towering central city mobility hub. It adds up to a blueprint for transit-centered density, connecting more workers to jobs and opportunity.
Colin Parent is a council member in La Mesa (one of the 18 cities in San Diego County) and the executive director of Circulate San Diego, a local transit- and urbanism-focused nonprofit. He argues that the plan is just a "big document with lots of ideas," mainly speculative and uncertain.
The political realities of securing funding, currently subject to as-yet-approved bonds and ballot measures set to be evaluated by voters beginning in November 2022, have dampened some of the enthusiasm. Nevertheless, many see the upcoming SANDAG 2023 Regional Transportation Improvement Plan as a solid first step toward the larger innovative roadmap.
San Diego policies push density
San Diego's continued embrace of more aggressive zoning and development policy to encourage downtown growth and density, particularly around transit corridors (the downtown was first rezoned for higher densities in 2006), is one reason many remain optimistic.
In reaction to gridlock in localities that repeatedly fall short of housing production goals and an ever-spiraling affordability crisis (the San Diego countywide median home price is $842,000, a 17 percent increase in the last year), California state leaders and legislators have in recent years been more aggressive in enforcing housing rules and have passed laws to prod cities to build. Two passed in late 2021 stand out: SB 9, which allows single-family lots to be split in two and permits duplexes on each of the new lots (effectively allowing for four homes where there was one), and SB 10, which allows local governments to rezone for developments of 10 units or fewer in urban infill or transit-adjacent parcels without additional environmental review.
San Diego has long had geographically focused community plans, both downtown and throughout the city. Many were updated recently to allow for significantly more housing growth than before, and in some cases, the zoning changes and other policies go further than state housing laws require. The State Density Bonus Law, for instance, offers a 35 percent bonus for developing on-site affordable units; San Diego bumped the bonus to 50 percent. A citywide ballot measure in 2020 eliminated the region's 1972 30-foot height limit, but in December 2021, a court blocked San Diego from putting the measure into effect. That ruling is being appealed.
The 2020 Complete Communities plan allows relief from some density- and height-limit restrictions for developments near transit with significant low- and middle-income housing. This policy was built upon California's Sustainable and Affordable Housing Act from 2018, which also boosts residential density near transit and was authored by current San Diego mayor Todd Gloria when he was a California state assemblymember.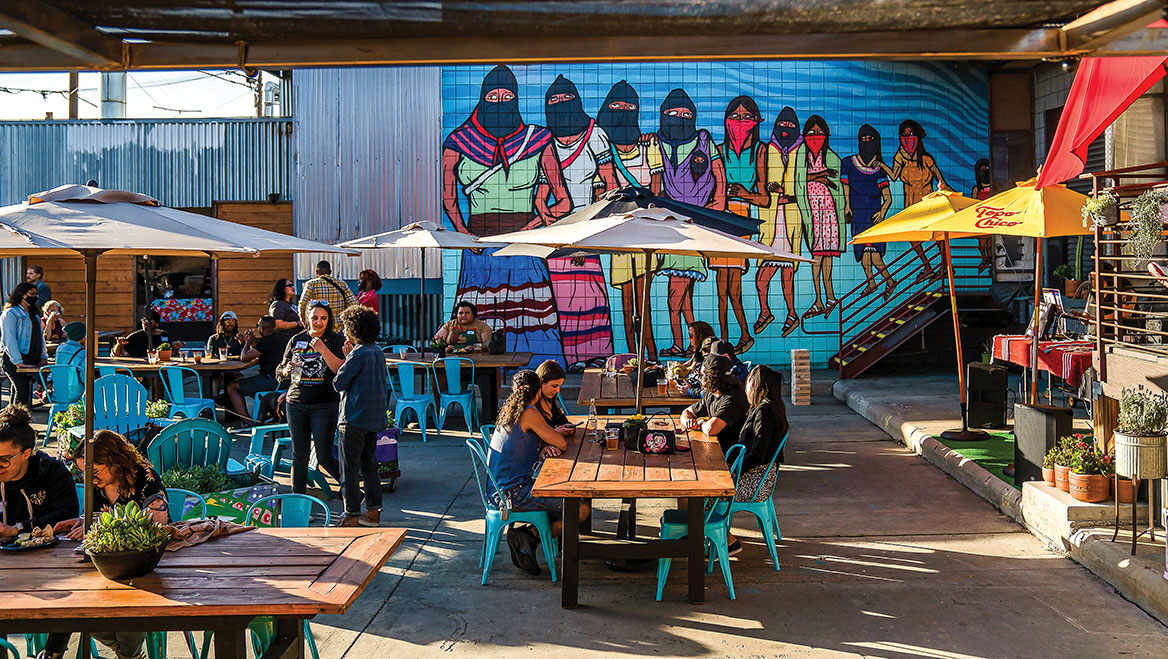 Another key shift was approving by-right development for projects that meet certain criteria around local design standards and proximity to transit. This shift from discretionary approval to ministerial approval avoids the state's infamous California Environmental Quality Act review process, saving months and significant money for developers. In effect, these programmatic changes add up to a new focus on transit-oriented development, says Parent.
"The city's moves have really transformed what we can do on urban infill lots that were zoned very low density," says Kelly Modén, president and CEO of infill and multifamily housing developer cREate Development and a member of the city planning commission. She notes that a market-rate multifamily project she's currently developing on a half-acre site in the Golden Hill neighborhood would have previously supported 14 units, not quite enough to pencil out, but the combination of provisions from Complete Communities (it's inside a transit corridor and near downtown employers) and transit adjacency (a rapid bus stop is directly in front of the property) means she can now fit 91 units on the same space.
"I don't think any other jurisdiction within the state of California allows for such streamlining of a project," she added.
As developers use these tools to their advantage, and as the formerly sacrosanct single-family home neighborhood is being given all manner of means to get dense and go vertical, a new generation of megaprojects showcase the kinds of large-scale, transit-friendly, urban infill developments San Diego wants to champion.
As an example, in Mission Valley, the Riverwalk Golf Club is undergoing a transformation into a 4,000-unit mixed-use village adjacent to a transit stop. The massive Sports Arena redevelopment, which has stumbled after procedural issues with city proposals and the state's Surplus Land Act, is finally poised to move forward, with five competing bids and plans to add 4,000 units, 20 percent of which will be affordable, plus a 12-acre park.
Housing, jobs, and a cleaner climate
The most important addition — and most expensive, at $2.17 billion — to the region's transit system is the extension of the Mid-Coast Trolley. It runs 26.3 miles north from Mexico through San Diego's downtown to the labs and lecture halls of UCSD and its surrounding area, known as University City.
Its relevance lies not just in the scale of the expansion north, which added nine stations parallel to Highway 5, but the way its completion (in late 2021) created a backbone of transit access. It's a one-seat ride connecting downtown — as well as low-income communities — with high-paying job centers up north. With rezoning and neighborhood planning currently in the works in the University City district, the trolley's arrival can ideally catalyze more high-rise development.
It also provides a central node of the regional plan's ambitious transit expansion, a trunk line for branches of micromobility and rapid bus service investments. SANDAG plans to create a large, central mobility hub — a San Diego Grand Central — that would link rail, bus, and multimodal alternatives, itself becoming a new node of transit-oriented development (sites downtown and a former Navy site have been debated for years).
"San Diego has one of the worst job-housing imbalances," says Diego Velasco, AICP, founder and principal of Citythinkers, a planning, urban research, and design firm. "A lot of the high-paying jobs are up in the northern part of the county in Kearny Mesa, Mira Mesa, Sorrento Mesa, and the University-Torrey Pines area. And the majority of people live in the southern or eastern parts of the county where it's more affordable."
The Trolley also serves as a down payment on the city's efforts to slash greenhouse gas emissions. Much more will need to be built — or, in the case of highways, not built — but the city's draft Our Climate, Our Future: Climate Action Plan calls for 25 percent of residents who live near transit to become transit commuters by 2035, an achievable goal with already planned investments. Convincing the region's governments — not just SANDAG and San Diego — to fund the regional plan's transit vision will be the key challenge.
The combination of denser housing and transit links to UCSD can help bolster and build upon the region's success as a biotech center and the rabid demand for more lab space. (Arguably, biotech is the sexiest of the industries in San Diego, and it's getting a lot of attention. Other stalwarts of the region's economy include tourism, the military, and activities related to the border with Mexico.)
One of biotech's three biggest markets, San Diego's life sciences industry, generates $27.7 billion annually and employs 72,000 workers at a time when new technological developments and a pandemic-era boost in interest has made this one of the nation's brightest sectors for start-up funding and real estate development.
The city's main research hubs all plan expensive and extensive expansions: the Salk Institute for Biological Studies is building a $250 million Center for Science and Technology; Scripps Research is adding a new $100 million laboratory facility; and UCSD has plans for both a new Herbert Wertheim School of Public Health and Human Longevity Science and another biomedical lab complex.
The University City rezoning, which carries the promise of adding more housing close to cutting-edge laboratories and research centers, hits at a central issue with industry expansion. It also requires the fruits of good planning, including more affordable housing options and transportation options. Expansion into downtown San Diego, including a massive redevelopment of the former Horton Plaza mall and waterfront development by homegrown developer IQHQ across from a potential transit hub, suggests that the biotech industry is racing to acquire space and attract workers.
"Firms that count on being able to recruit top talent from around the world to come work in life sciences in San Diego are losing the competition for talent in some cases because we can't pay people enough for them to find houses," says Martin.
San Diego's success has come in large part from using smart growth policies to incentivize private development to meet public goals. As the city and region explore ways to fund transit expansion and boost housing production, meeting these lofty goals will depend on creating city- and region-wide regulations that can reverse steadily rising housing costs and emissions.
The real test will be whether the infrastructure and development that this new denser, transit-diverse region requires will be welcomed and used — or spark backlash from residents who, accustomed to a more car-centric past, feel threatened by a rapidly changing San Diego.
RECOMMENDED ARTICLES