May 5, 2023
Indiana cities and towns have a problem: too many vacant or underused churches.
The Episcopal Dioceses of Indianapolis and Northern Indiana oversees 82 of them, many with deteriorating buildings and empty pews, says Bishop Jennifer Baskerville-Burrows, who holds a master's degree from Cornell University in historic preservation planning. She was determined to do something. "Our properties were underutilized, not fully connected to the communities they serve," she says.
The dioceses launched an initiative, Church Buildings for Collaborative Partnerships, to look at how to reuse and redevelop the properties, as well as how to use real estate as a tool to meaningfully engage communities. It's not always easy. "They haven't been teaching this in divinity school," says Baskerville-Burrows.
The dilemma facing Episcopal churches in Indiana is happening all over the country and across religions and denominations of all kinds. A 2020 Gallup survey showed that, for the first time in the survey's eight-decade history, fewer than half (47 percent) of all Americans belonged to a church, synagogue, or mosque — a huge dip from 70 percent in 1999.
The sanctuaries themselves are also in decline. A Protestant denomination in New Jersey rated its 500-plus churches on 10 factors and reported that 20 percent were in critical condition, with tiny congregations, precarious finances, and deteriorated real estate. Forty percent were right behind in serious condition.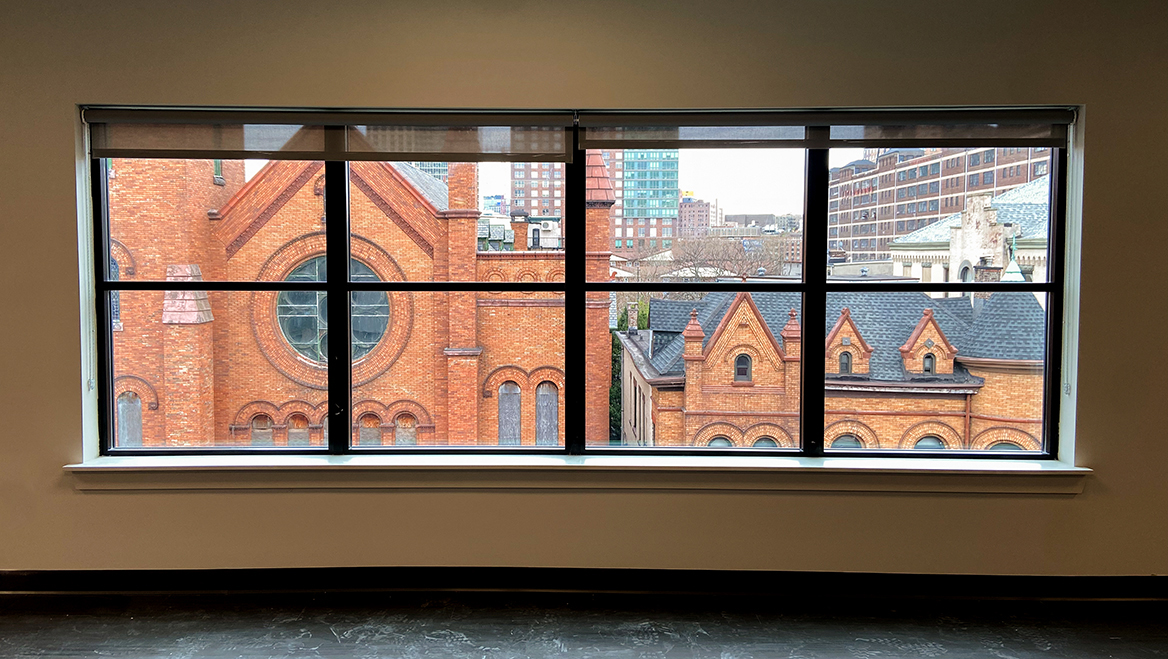 But in some places, the transition of a church building or other property from its strictly institutional use can be a blessing in disguise. Reusing and redeveloping houses of worship is particularly attractive for affordable housing because the need is so great. The U.S. has a shortfall of 3.79 million housing units, according to the report Housing Underproduction in the U.S. Plus, providing affordable housing often aligns with faith institutions' values and missions.
Now, some municipalities, religious organizations, planners, and developers are embracing the concept and putting in place the zoning changes, financial support, and incentives to turn houses of worship into homes.
The practice can also benefit struggling religious institutions in need of extra revenue, as well as add to a city's property tax rolls. And, while there are no national records tracking the number of faith-owned properties or the acreage they occupy, several state and local efforts show there is plenty of land available for redevelopment.
A different kind of stewardship
A 2020 report by the Terner Center for Housing Innovation at the University of California, Berkeley, used county assessor data to calculate the land used for religious purposes and how much of it could be developed for housing. The statewide effort identified about 12,000 acres of church-owned land in five California counties with the best potential for affordable housing redevelopment.
In Seattle, and in many places, planners and congregations are eyeing empty church parking lots for redevelopment. "Faith institutions that have these large parking lots are driven by a vision of maintaining their properties, staying in the neighborhood, and continuing to serve affordable housing or other services," says Stephanie Velasco, housing levy communications manager with the Office of Housing in Seattle.
The city has identified about 300 acres of church-owned land (out of a total 53,163 acres) and is offering a density bonus to churches that develop affordable housing on their land. Importantly, there's a movement to redevelop Black-owned church properties to create affordable housing in Seattle; Oakland, California; and Washington, D.C..
For houses of worship struggling to make ends meet, renting out underused property with a strong lease agreement is an obvious path to financial sustainability. "Selecting a tenant that aligns with the congregation's personality can also help to expand the church's mission," says J. Howard Kucher, DPA, associate professor and program director in social entrepreneurship at the University of Maryland at Baltimore.
Kucher uses local market data to help determine potential rental revenue. The weak spot in this strategy, says Kucher, "is that the congregation tends to want to charge below-market rates as they see it as ministry," and that approach might not pencil out.
Most houses of worship are exempt from paying municipal property taxes. Several municipalities — especially old, industrial cities — can find that more than 50 percent of their property value is tax-exempt.
Adding those parcels to the tax rolls could help balance city budgets and fund essential services. When First United Methodist Church in downtown Seattle sold its property to developers for $30 million and relocated to more modest quarters a few blocks away, it provided a sizable boost to the city's commercial tax base.
The possibilities for redevelopment are many, but success does depend on that old real estate adage: location, location, location. In weaker markets, religious properties can sit vacant for years, often at the most prominent intersections in town.
That was the case in Ottumwa, Iowa, where eight houses of worship have closed in recent years in the city of 25,451 people, says Fred Zesiger, executive director of Main Street Ottumwa. Three have discovered alternate uses — a creative arts space, a medical office, and a residence — and another hosts a small, immigrant church. One is struggling to be converted to a women's shelter, one was demolished for a parking lot, and the other two sit empty.
In robust real estate markets, faith properties more readily transition to housing, commercial, retail, or mixed-use developments, but development pressure and financing could make choosing affordable housing or other community uses more difficult.
Plenty of challenges
As communities consider redeveloping houses of worship into affordable housing or other uses, there are likely to be challenges — some of them significant. Although a major part of a pastor's job may be managing a large church property, divinity schools teach little about real estate or urban planning.
There is a learning curve to working with religious institutions, which might base decisions on emotion rather than logic. Organizational structure differs, too. Some denominations employ top-down decision-making, with a bishop or like official calling the shots. Others call for the congregation to vote on major moves. Understanding the decision-making process can be frustrating and time-consuming — and to a developer or financier, time is money.
Repurposing churches and other religious institutions to another use could also mean the loss of space for social services — like childcare centers, clothing closets, health clinics, and self-help groups — that often greatly outweigh the size and scope of a congregation.
There is an "economic halo effect," with the average urban congregation creating more than $140,000 per year in value through the contribution of volunteer time, the provision of space at below-market rates, and cash and in-kind donations to community-serving programs, according to research from Partners for Sacred Places, a Philadelphia-based not-for-profit organization working on saving historic churches, and the University of Pennsylvania School of Social Policy and Practice.
Many houses of faith have limited access to capital, especially for the predevelopment studies required to launch a reuse or redevelopment initiative. Hierarchical denominations such as the Roman Catholic Church, Lutheran Church, or United Methodist Church may have access to loans or grants, but others rely on traditional financial institutions — and banks might not be comfortable loaning money to a house of worship that may struggle to show it can repay a loan in 25 or 30 years. Further, high development costs per unit (and a small number of units) might mean typical sources of financing for affordable housing projects won't work.
Zoning reform, funding, and other support
Local regulations can limit what a house of worship can do with its property, but in a number of places that is changing for the better.
In San Diego, Clairemont Lutheran Church was struggling to build affordable housing on its parking lot because parking requirements were tied to the linear amount of pews in the sanctuary. The church approached the city and an advocacy group, Yes in God's Backyard (YIGBY), for help. The collaboration paid off. In 2019, San Diego passed zoning reforms that reduce or remove parking requirements for redevelopment for affordable housing.
"The parking requirement was really outdated for churches," says Brian Schoenfisch, deputy director of the City of San Diego's Department of Development Services, Urban Division. He notes that the regulations were created a half century ago when the city operated under "a very different model of suburban development." Planners worked with transportation and engineering staff to create a new formula.
In 2020, California followed San Diego's lead. The state passed AB1851, legislation that reduces or eliminates parking requirements for faith-based affordable-housing developments. And in Pasadena, the zoning ordinance was changed to permit religious institutions in certain areas of the city to build up to 36 affordable dwelling units per acre.
In addition to zoning reforms, planners across the country have been working with houses of worship and cities to support the construction of affordable housing in other ways.
Washington State signed HB1377 into law in 2019, allowing municipalities to provide a density bonus for housing on church-owned properties as long as it is affordable to those making up to 80 percent of the area median income (AMI) and remains affordable for 50 years. Seattle adopted the legislation in 2021 after holding public outreach sessions, but it deepened the affordability requirement to 60 percent of AMI — and won the Governor's Smart Housing Strategies Award for its work. Lutheran Church of the Good Shepherd is the first to use this new tool to construct a seven-story, 92-unit building in Seattle's Central Area.
Atlanta and San Antonio launched initiatives that provide technical assistance and predevelopment grants, which often are a major obstacle to getting a project going. The Atlanta program aims to create 2,000 units in collaboration with religious institutions.
Bishop Baskerville-Burrows is optimistic about initiatives to involve congregants and the community over church real estate. "Our program teaches people to see the value that their properties can offer the community," she said. "Partners can come together quickly" as houses of worship look for a renewed mission and municipalities seek affordable housing and other community assets.
RECOMMENDED ARTICLES