Development Review as Economic Development
Zoning Practice — February 2014
By Michael Blue, FAICP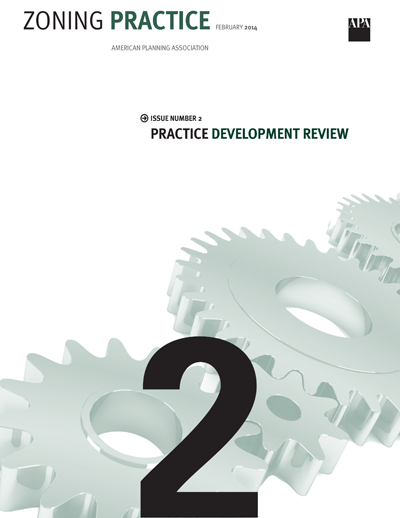 ---
This article offers suggestions for planners and public officials to help them audit development review processes with an eye toward improving predictability, emphasizing open and continuous communication, and, ultimately, adding value to their communities.
---
Details
Date Published
Feb. 1, 2014
Publisher
American Planning Association
About the Author
Michael Blue, FAICP
Michael Blue, FAICP, is a principal at Teska Associates, Inc. in Evanston, IL. Mr. Blue has a unique background working in the public and private sectors of the planning profession. Having started his career as a consultant, he worked extensively in the areas of comprehensive and special area planning, development land use and economic impacts, commercial district planning, and public participation. After more than a decade, he moved to the public sector and spent the next 15 years working as a community development department manager. There his focus shifted from broader policy development to day to day operations of development approval, economic development, managing public commission processes, personnel, and municipal governance. Having now returned to consulting, this diverse background allows Mr. Blue a wide perspective in conducting planning assignments, appreciating the multiple viewpoints of various stakeholders, and understanding how they fit into the issue at hand.