Is Your Community TDR-Ready?
Zoning Practice — September 2009
By Richard Pruetz, FAICP, Noah Standridge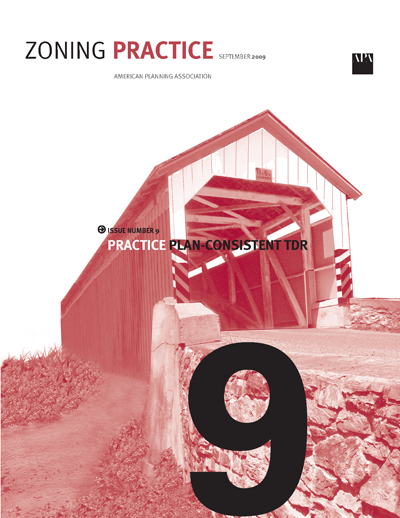 ---
This article defines the concept of plan-consistent TDR and includes a diagnostic tool for communities to see if they are ready for TDR.
---
Details
Date Published
Sept. 1, 2009
Publisher
American Planning Association
About the Authors
Richard Pruetz, FAICP
Rick Pruetz, FAICP, is a planning consultant specializing in the implementation of community goals using TDR. He has prepared or assisted with the preparation of TDR studies and ordinances for over 30 communities. He has written three books on TDR and was one of three coauthors of The TDR Handbook: Designing and Implementing Transfer of Development Rights Programs (Island Press 2012). He also wrote Lasting Value: Open Space Planning and Preservation Successes (APA 2012). Pruetz maintains the website SmartPreservation.net, which features profiles of over 300 TDR programs. He has a Master of Urban Planning degree and 41 years of planning experience including 14 years as the city planner of Burbank, California.
Noah Standridge