Regulating Sex Businesses
Zoning Practice — October 2006
By Connie Cooper, FAICP, Eric Kelly, FAICP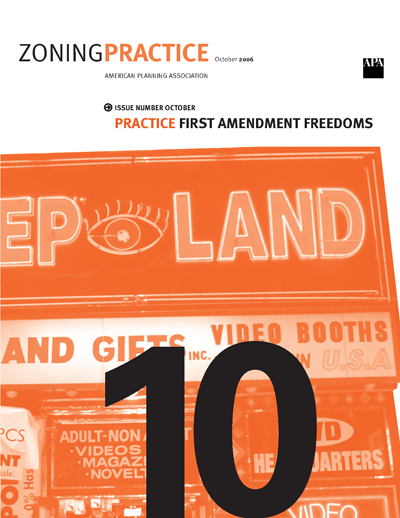 ---
This article discusses the legal protections applicable to adult uses and offers guidelines for zoning and licensing regulations.
---
Details
Date Published
Oct. 1, 2006
Publisher
American Planning Association
About the Authors
Connie Cooper, FAICP

Eric Kelly, FAICP
Emeritus Professor of Urban Planning at Ball State University (retired in 2017) and an independent planning consultant. A frequent litigation consultant and expert witness on cases involving the regulation of signs, billboards and/or adult businesses. Has consulted with more than 100 local governments in more than 35 states. Since 1995, Kelly has been general editor of the 10-volume Matthew Bender set Zoning and Land Use Controls. An author or co-author of seven technical reports published in the Planning Advisory Service Reports series of the American Planning Association, including Everything you always wanted to know about regulating sex businesses with Connie Cooper. Kelly is a past national president of the American Planning Association, and in 1999, he was inducted as one of the members of College of Fellows of the American Institute of Certified Planners. Kelly holds Master of City Planning and Juris Doctor degrees from the University of Pennsylvania and a Ph.D. in public policy from the Union Institute. He is a member of the Colorado bar. He completed Yoga Teacher Training in 2017 and now teaches Yoga -- mostly for people new to Yoga -- at several locations.