Development Review as Economic Development
Zoning Practice — February 2014
By Michael Blue, FAICP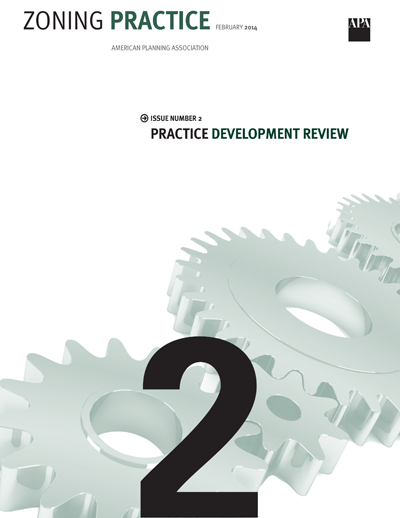 ---
This article offers suggestions for planners and public officials to help them audit development review processes with an eye toward improving predictability, emphasizing open and continuous communication, and, ultimately, adding value to their communities.
---
Details
Date Published
Feb. 1, 2014
Publisher
American Planning Association
About the Author
Michael Blue, FAICP
Michael is a Principal Consultant at Teska Associates in Evanston, IL. His work includes preparing comprehensive and strategic plans, zoning regulations, conducting staff and organizational development, and a performing development approval audits. He previously worked as Community Development Director for Highland Park, IL and Deputy CD Director for Mount Prospect, IL. Work in those communities included long range planning, current planning, and support of Council and Commission activities. Active in national and IL APA, Michael currently is chair of ILAPA Commissioner Training Committee and the APA's Planning Officials Committee, he also serves on the AICP Membership Committee.